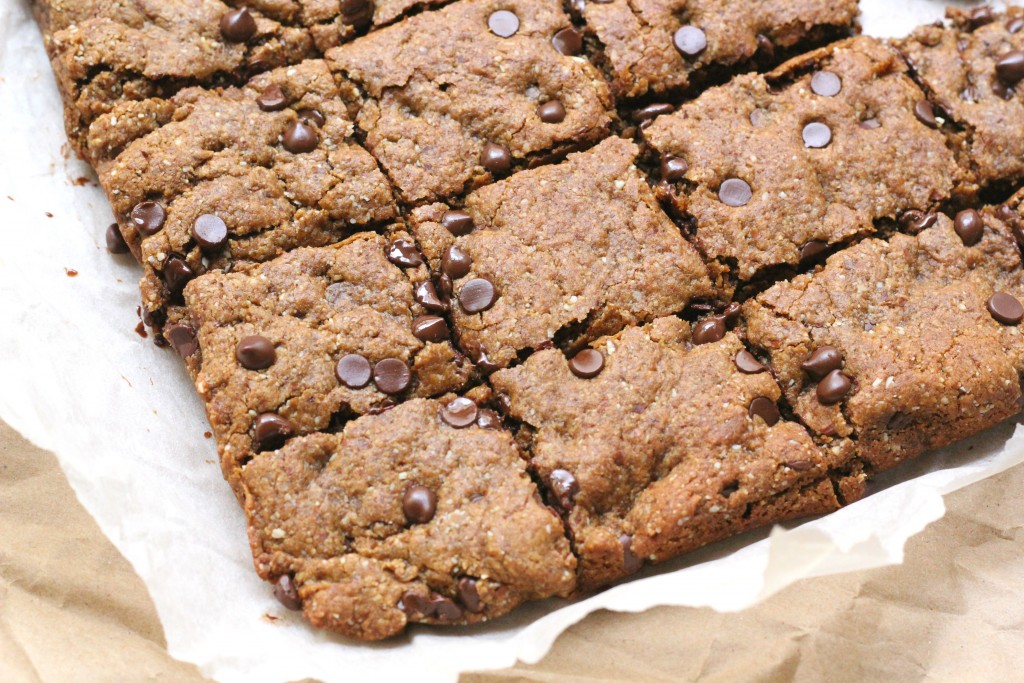 Soo I was going to share a bright and tasty Summer salad with you guys today but I asked you on Instagram which recipe you'd rather see today and these Healthy Chocolate Chip Blondies won by a landslide! Stay tuned for one of my favorite, everyday salad recipes I'll be sharing with you in a couple days.
I've been working on these Healthy Chocolate Chip Blondies for awhile and I finally made a recipe that I loooovee and got J's stamp of approval last night when he came home from work. 
I've been waiting to share this blondie recipe with you until I achieved the perfect amount of super chewy, crispy on the outside as well as thick, goeey and slightly soft in the middle to balance them out. I also wanted to make these Healthy Chocolate Chip Blondies gluten free because I know a few of you have been requesting more gluten free recipes lately!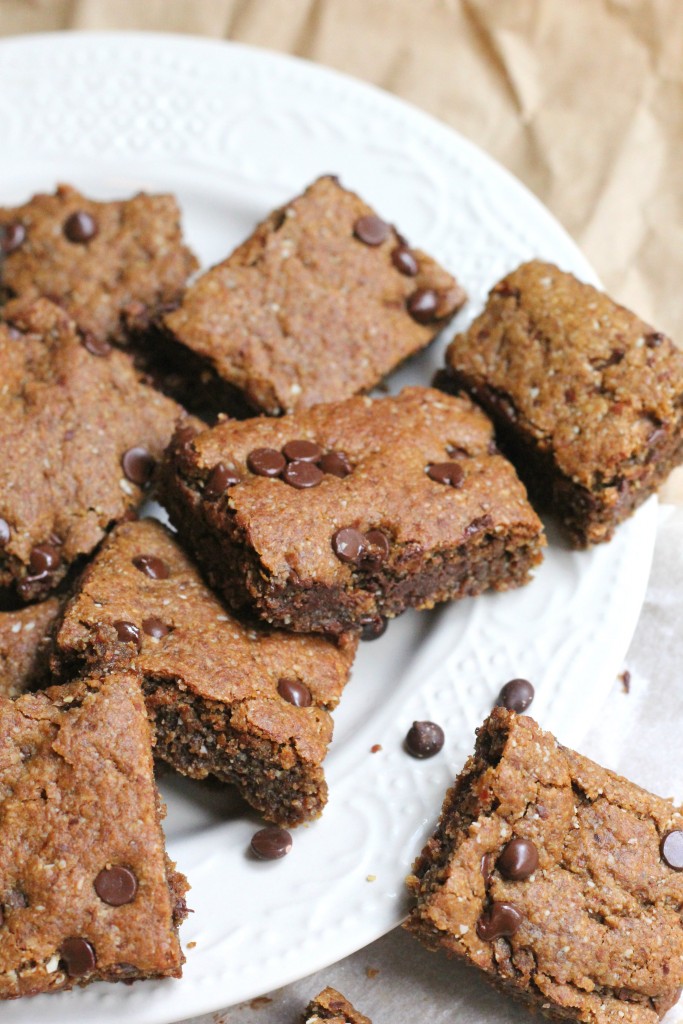 I made these Vegan Healthy Chocolate Chip Blondies yesterday before going for a run. I was rushing to get them in the oven and in the process spilled my new cacao powder all over my running pants (can we all agree, spilling expensive baking ingredients on yourself is the worst). I brushed the cacao powder off, got these blondies in the oven and set up my "photography set" (if you can call it that) by the window, in our humble, little apartment.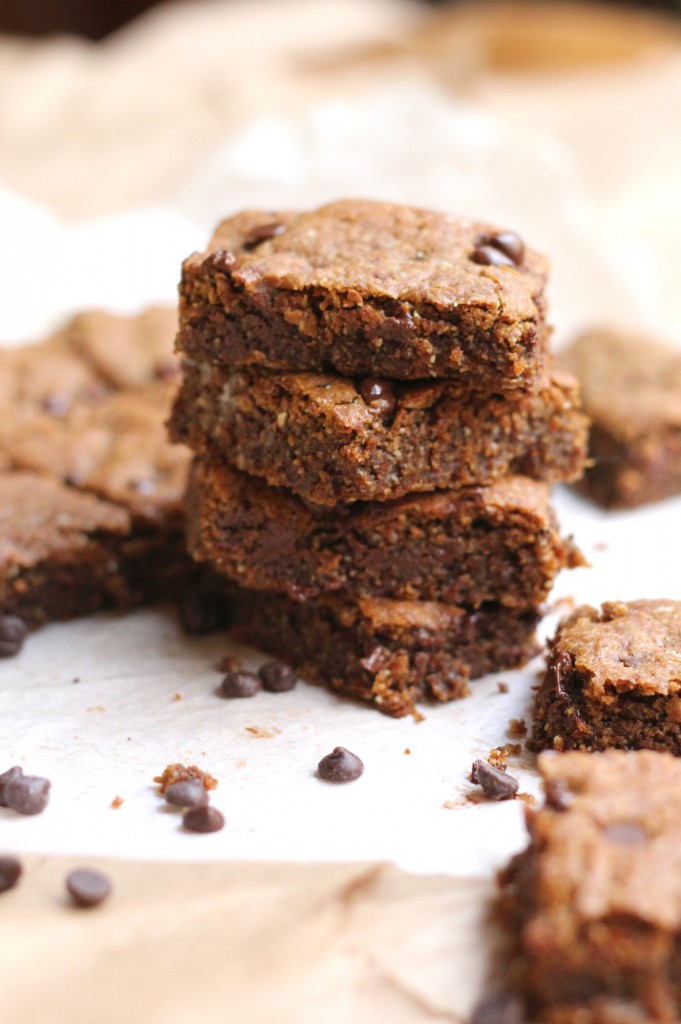 I took the Healthy Chocolate Chip Blondies out of the oven, waited for them to cool slightly and resisted the urge to shove them all in my mouth before getting a few shots of them to share with you guys.  I took a few photos and then left for my afternoon run.
Sidenote: I need to start following social rules better and do a quick check in the mirror before leaving the house. 
Halfway through my run, I looked down and noticed one of my legs was covered in cacao powder and the other oat flour! #WillRunForChocolate #IRunBecauseIHaveABakingAddiction
So, note to self, always check your outfit before leaving the house in case you are covered with flour or chocolate, and in most cases you probably are, so do yourself a favor and wipe it off 😉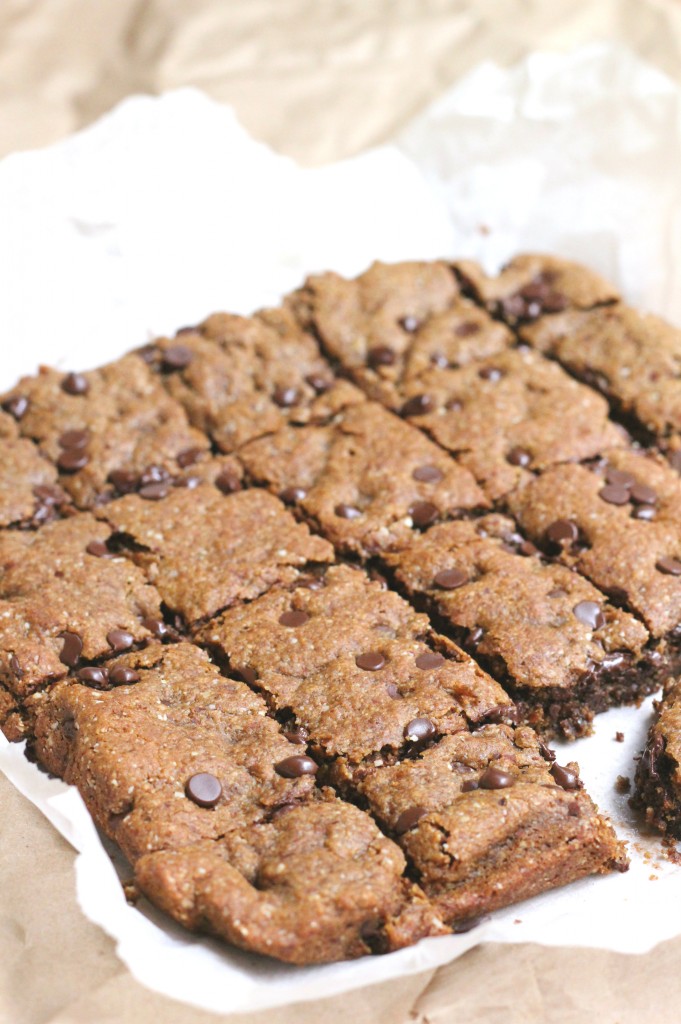 Healthy Chocolate Chip Blondies
These Healthy Chocolate Chip blondies are the perfect amount of super chewy, crispy on the outside as well as thick, goeey and slightly soft in the middle to balance them out. They make an awesome dessert or mid-afternoon snack.
Directions
Pre-heat oven to 350F/180C. Line a square pan (8 x 8 inches/20 x 20 cm) with parchment paper. Mix together the ground flax seed and water in a large mixing bowl and leave to thicken for 5 minutes until it forms a "gel-egg-like" mixture. While the flax egg is thickening, melt the coconut butter in the microwave or over the stove-top, *making sure to not burn the coconut butter!!*
Once the flax egg is thickened, add the melted coconut butter, coconut sugar, vanilla extract and molasses to the mixing bowl. Stir together.
Whisk in the baking soda, sea salt and tapioca starch to the wet mixture. Add in ⅓ cup of the chocolate chips at this point (it's easier to add them in now than to add them in at the very end when the dough is thick).
Add the oat flour and almond meal to the wet mixture. The dough will be thick but as you stir it altogether it will get easier to stir. Add a drop of water (1/2 tbsp) if the dough is too thick to stir (I added a ½ tbsp to the batter).
Press the dough into the pan with the palms of your hands or a pastry roller. Smooth it out with the back of a spoon/pastry roller and lightly press 2 tbsp of chocolate chips on top. Bake for 15 - 19 minutes (my blondies took 17 minutes to bake but the amount of time will depend on your oven). They are ready when they are golden brown on top. Leave to cool in the pan for 5 minutes before moving to a cooling rack. Leave to cool for 20 minutes before slicing into the blondies to serve. Enjoy!
Notes
1) Make sure all ingredients used are gluten-free or vegan if necessary.
2) Make your own almond meal and oat flour by grinding up whole almonds/oats in the blender until a fine flour-like consistency is formed.
3) Use ½ cup of coconut sugar if you have less of a "sweet-tooth" and an entire ¾ if you have more of a "sweet-tooth".
4) Replace coconut sugar with cane sugar BUT you will lose the delicious "caramel" undertones of the coconut sugar and the rich color of these blondies.
5) Replace tapioca starch with corn starch.
6) I used mini chocolate chips in this recipe, but chocolate chunks or normal sized chocolate chips will also work well.
Nut-Free Version
: Substitute the almond meal with an additional ½ cup (60 grams) oat flour. So you'll be using a total of 1½ cups (178 grams oat flour) and leave out the almond meal altogether.
Inspired by my:
Healthy Chocolate Chip Banana Bread Bars
and
Chocolate Chunk Cookies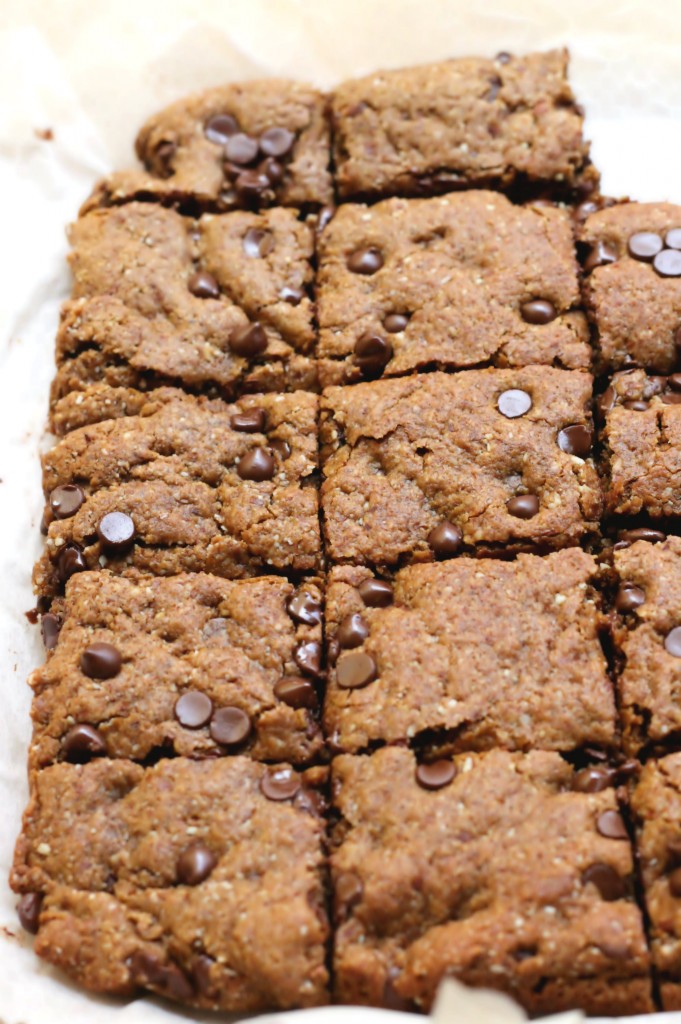 If you try these Gluten Free Vegan Healthy Chocolate Chip Blondies, I love hearing about it and seeing your delicious #CearasKitchen creations. Share your photos with me on Instagram @CearasKitchen (and remember to tag #CearasKitchen so I don't miss it!) or share it on my Ceara's Kitchen Facebook page. Wishing you a wonderful day!!