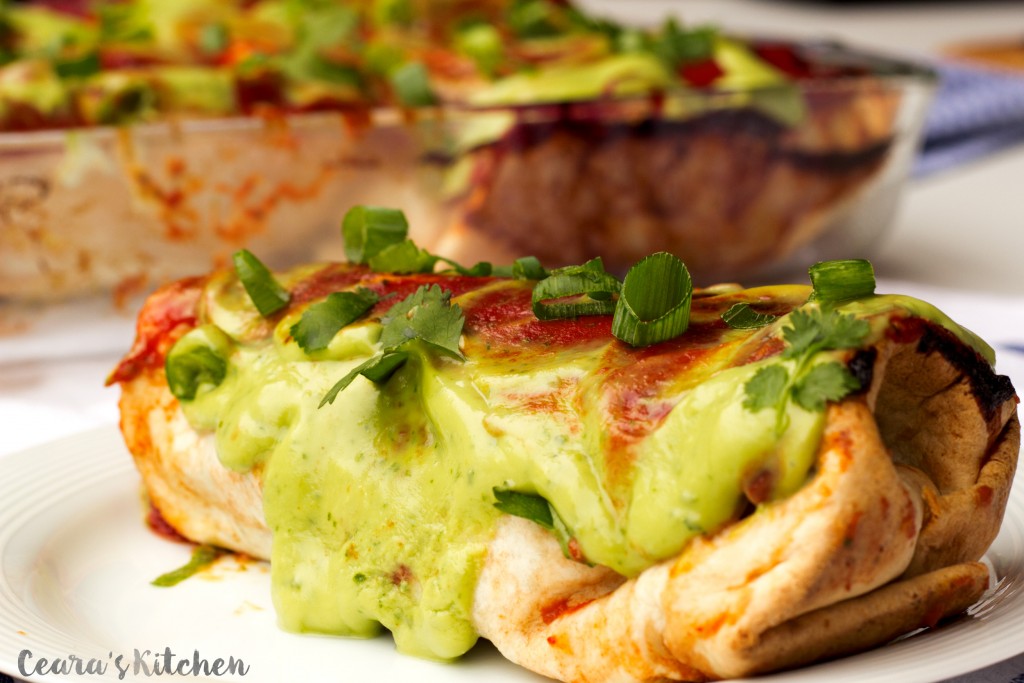 Guys, I am SO darn excited to share these White Bean and Avocado Baked Burritos with you today. I teased you with them a couple of days ago on Instagram and Facebook and have been itching to post them here on Ceara's Kitchen since.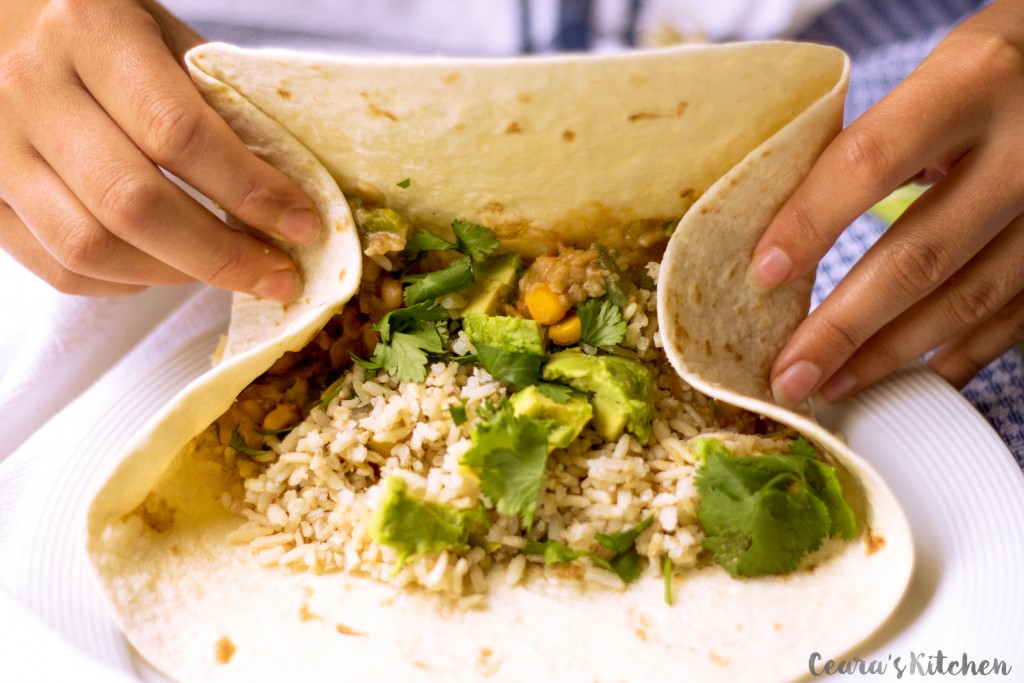 I don't mean to toot my own horn or anything but these White Bean and Avocado Baked Burritos are darn good.
I usually eat avocado cold (like in guacamole) but warm avocado is where it is AT y'all. These Vegan Baked Burritos are stuffed with a hearty bean, mushroom and corn filling PLUS chopped avocado and cilantro. They are then wrapped tightly, snuggled up beside each other in the casserole dish and smothered in tomato sauce.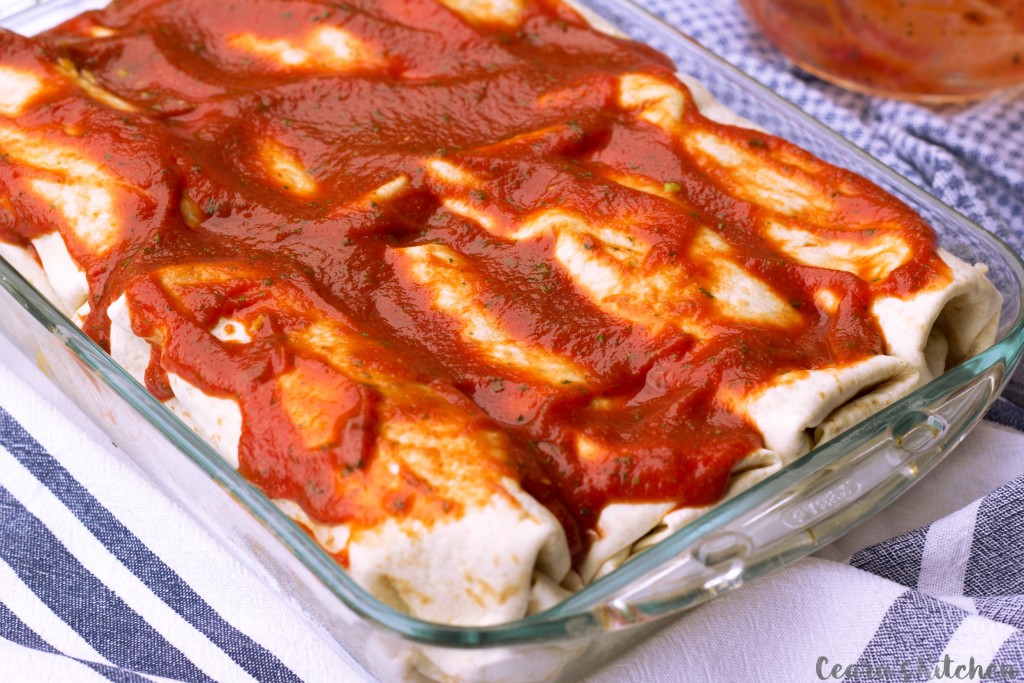 Fresh from the oven, my partner J (who hardly swears!) took one bite of these White Bean and Avocado Baked Burritos and said "Holy S)@!" these are good.
I'll take that as a good sign any day. 😉 #BestReactionEver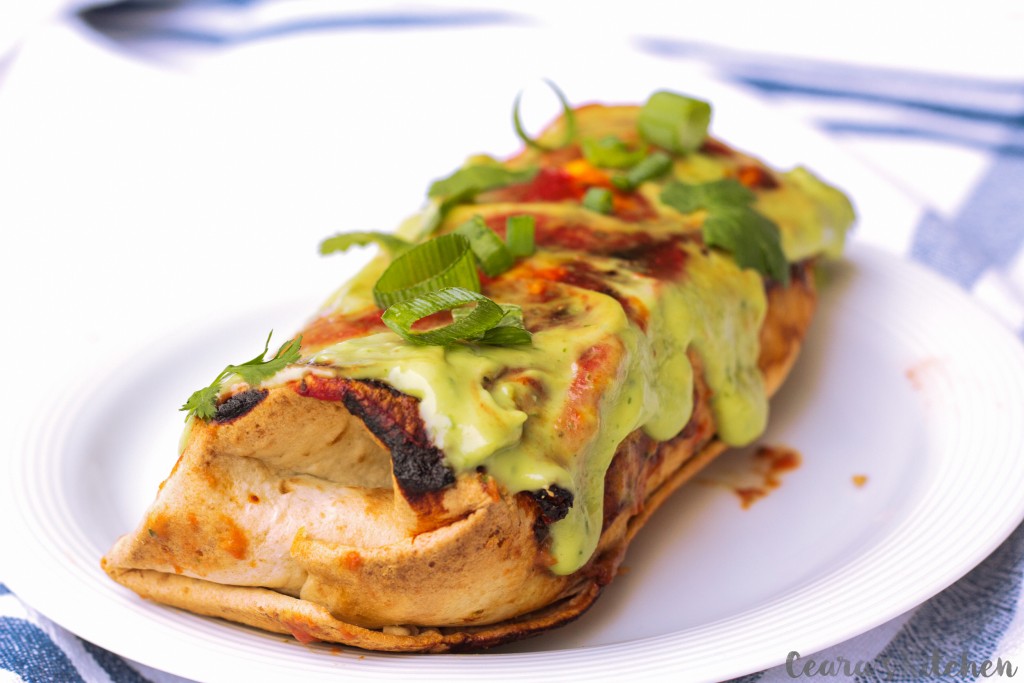 And if there wasn't enough avocado stuffed inside these Baked Burritos, I smothered them with my Creamy Zesty Avocado Lime Dressing. If you are using the dressing on top (which I'd definitively recommend), make sure to add a couple extra tablespoons of water to the dressing so you can easily pour it over freshly baked burritos straight out of the oven.
This recipe is a bit more involved than let's say my typical dinner recipes (you know how I love my One Pot Meals) but the results are worth it. This recipe makes 12 baked burritos. You could half the recipe to make less but I love making enough so we have some leftovers as well for during the week. I love making these Baked Burritos on a Sunday and enjoying the leftovers for lunch on Monday. I may or may not have eaten these cold for lunch over the next two days. Soooooooo good. #EatHappyLiveHappy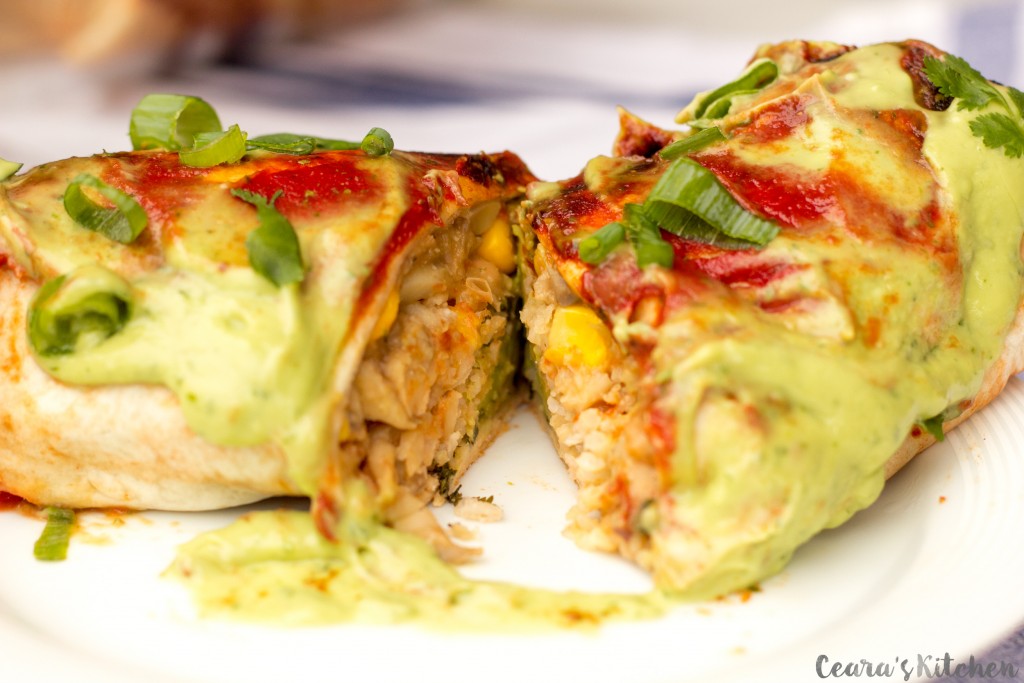 White Bean and Avocado Baked Burritos
Author:
Prep time:
Cook time:
Total time:
Serves:
12 tortilla wraps.
These White Bean and Avocado Baked Burritos make the perfect dinner – stuffed with white beans, mushrooms, corn + lots of avocado! This recipe makes enough for a family of 4 and for lunch the next day. Feel free to half the recipe if you are serving this to a smaller crowd.
Ingredients
Rice
1 1/2 cups brown rice
1/2 tsp vegetable bouillon
Burrito Filling
1/2 cup vegetable broth for sauteing
5 cloves garlic, diced
1 1/2 cups white onion, chopped (2 medium)
1 tsp cumin
7 cups mushrooms, chopped
1 red pepper, 1 yellow pepper, 1 green pepper
1-2 jalapeno peppers
1 sprig fresh cilantro, chopped
3 heaping cups white beans
1/2 cup tomato sauce
1/4 cup nutritional yeast*
Sea Salt and Pepper
1 1/2 cups corn
Tomato Sauce
3 cups plain tomato sauce
1 1/2 tsp garlic powder
1 1/2 tbsp cane sugar
2 sprigs fresh cilantro, chopped
1/2 tsp cumin
For the Burritos
Handful fresh cilantro, chopped
3 avocados, chopped
12 large tortilla wraps
Garnish
Fresh Cilantro
Green Onion
[url href="https://www.cearaskitchen.com/zesty-avocado-lime-dressing/" target="_blank"]Zesty Avocado Lime Dressing[/url]
Instructions
[b]Preheat:[/b] Oven to 350F/180C. Lightly spray two casserole dishes (9×13 and 8×8 – or whatever large casserole dishes you have on hand) with a bit of oil (so the burritos don't stick to the pan when baking) OR line the casserole dishes with parchment paper.
[b]Rice:[/b] Prepare the rice while making the burrito filling. Boil and simmer the brown rice and vegetable bouillon in water 1 3/4 cup water (you might need to use a bit more or less water depending on the brown rice you use).
[b]Burrito Filling:[/b] In a large pot, over medium-high heat, saute the garlic and onions with cumin in a couple splashes of vegetable broth for a couple of minutes.
Add the mushrooms and peppers (seeds in the jalapenos if you like it spicy!). Saute for 5-7 minutes until the mushrooms and peppers are lightly cooked. Add splashes of vegetable broth when necessary so the vegetables don't stick to the pan.
Add the fresh cilantro and white beans. Saute for 2 minutes. Stir in the tomato sauce and nutritional yeast. Add sea salt and pepper to taste.
Turn off the heat and blend 1/3 of the mixture. Stir in the corn.
[b]Tomato Sauce: [/b]Stir together tomato sauce, garlic powder, cane sugar, cumin and fresh cilantro.
[b]Assemble the Burritos:[/b] Lay the tortilla wrap on a plate. Stuff with 1/2 cup of the Burrito Filling, 1/4 heaping cup of brown rice, a small handful of chopped avocado and a few pieces of cilantro. Roll the tortillas and place them in the casserole dish [b]seam down[/b]. Continue filling, rolling and placing the tortillas in the pan until all the tortilla wraps are used up. They can be tightly squeezed together in the pan (see photo). Use any additional rice and bean mixture for a salad the next day. Cover with the tomato sauce mixture.
[b]Bake:[/b] Bake for 25 minutes uncovered. Garnish with [url href="https://www.cearaskitchen.com/zesty-avocado-lime-dressing/" target="_blank"]Creamy Zesty Avocado Lime Dressing[/url], fresh cilantro and green onion.
Notes
1) Use 2 jalapeno peppers (some seeds left in) if you want these burritos spicier. I use one jalapeno (seeds out) when making this for family.[br]2) I like this recipe with nutritional yeast because it gives the filling a "cheesy" taste. Leave it out if you do not desire a cheesy taste[br]3) Use gluten free tortilla wraps if you need this recipe to be gluten free.[br]4) To keep this recipe oil-free, line the casserole dish with parchment paper.