This is the second part of my vegan wedding guide where I share my tips and tricks for planning the ultimate vegan wedding that will leave all your guests in awe (even your non-vegan, meat-loving uncle!). Today, I am sharing with you our vegan wedding menu from the standing reception we held during an intimate and elaborate evening in my parent's backyard downtown Toronto. 
---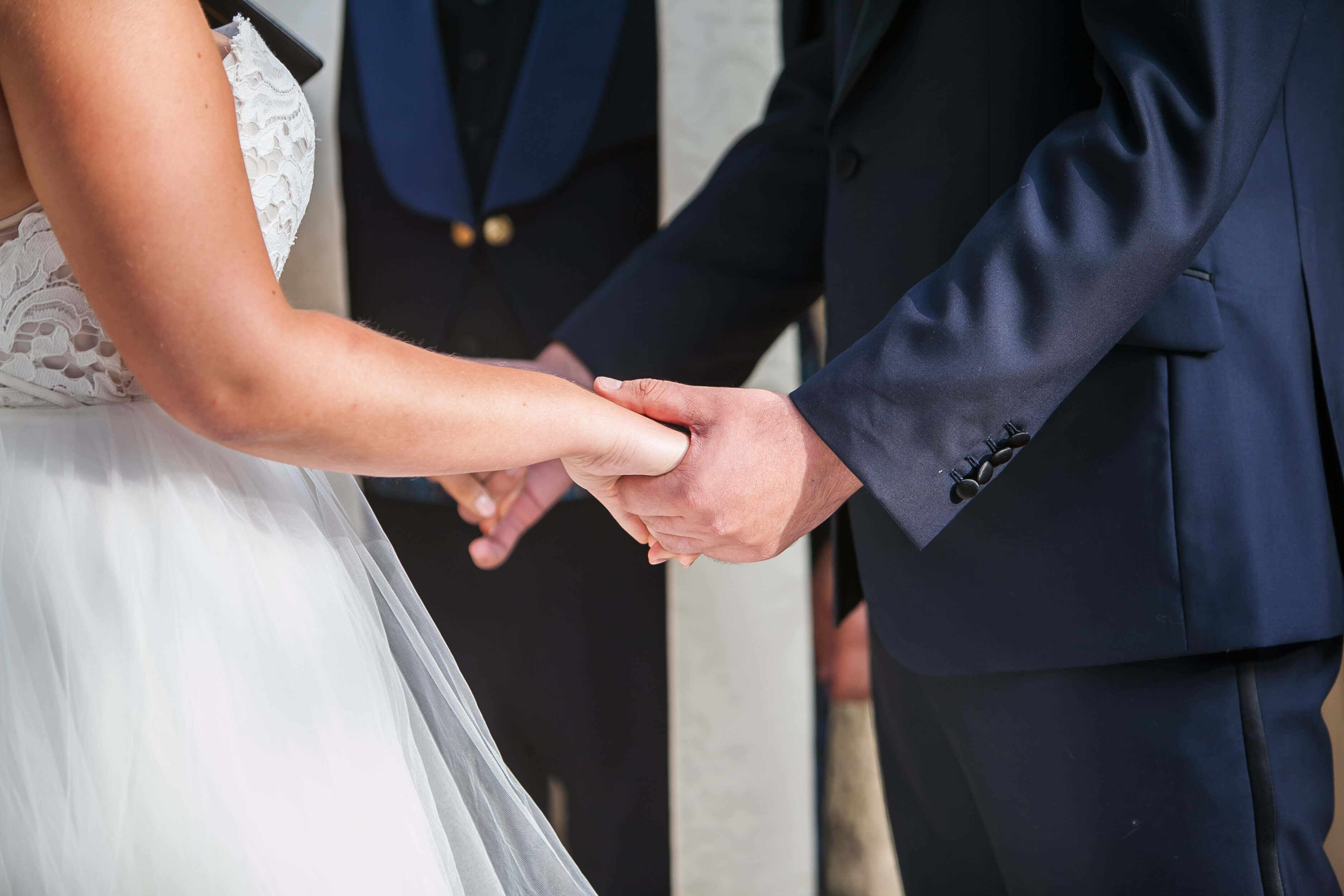 ---
Ceara's Kitchen Vegan Wedding Guide
Planning a Vegan Wedding Menu (Standing Reception)*

Planning a Vegan Wedding Menu (Sit Down Dinner)

Buying Ethical and Conflict-Free Wedding and Engagement Rings

Finding Ways to Save Money and Stay Organized When Wedding Planning

Where to Even Begin? Should We Throw a Vegan Wedding?
---
And, in true Ceara's Kitchen fashion, the first thing we have to talk about is the FOOD. Good food is one of the most important components of any good event – especially a wedding.
To be blunt, if the food at your wedding is disappointing, your guests (and you) will be grumpy and h-a-n-g-r-y – definitely not the mood you're looking for at one of the most romantic days of your life. When J and I started talking about our vegan wedding, we knew that the food had to be even better and more thought out than the food we've had at most weddings since people do have certain predispositions towards vegan food. 99% of our friends and family are not vegan, so we wanted to make sure the food at our wedding would blow their non-vegan socks off!
Let's start out by talking about where we went wrong. We did make one mistake. Shortly after getting engaged, J and I had an engagement party. My stepmom planned a beautiful vegan menu with passed hors d'oeuvres, vegan charcuterie, and a mix of vegan cheeses. J and I were so excited to be having a vegan engagement party, we told all our all guests in advance about the plant-based menu. The party was a blast but we did notice there was A LOT of food leftover – people came with their own ideas of "vegan" food and picked at it but did not devour it like at our wedding.
Things we heard when discussing our vegan menu.
Will I be hungry?
Will I be eating tofu and grass?
Can I bring a BBQ and make myself a steak? 
Should I grab a bite on my way over?
We decided to take a different approach at our weddings; not tell anyone about the vegan menu. And guess what? Barely ANY food was leftover and our non-vegan guests were calling us after the wedding raving about the delicious food. The moment the food was brought out, any concerns some of our guests had were gone. People genuinely ENJOYED and SAVOURED the vegan hors d'oeuvres we carefully chose.
Even my non-vegan family members who rarely eat vegetarian (let alone vegan) couldn't stop talking about the delicious plant-based fare.
Top Tips for Planning Your Vegan Wedding Menu
Tip #1: When planning your vegan wedding, don't tell your guests in advance that your wedding menu will be plant-based. Let your guests enjoy the food without any pre-judgment of how they would expect a vegan wedding to be.
Tip #2: When testing your vegan wedding menu, bring a non-vegan loved one who can taste the food to ensure it will appeal to all – vegans and non-vegans alike.
Tip#3: You need about 7 to 9 different types of hors d'oeuvres for your guests to feel satisfied at a standing wedding reception.
Tip#4: Have a hearty plant-based midnight snack for your guests (we opted for vegan sliders and fries) – they'll need it after a night of celebrating and dancing! 
Tip#5: Don't shy away from asking non-vegan restaurants/caterers to create your vegan wedding menu. You'd be surprised how excited a lot of chefs are to take on the "challenge" of creating a delicious, plant-based menu.
Tip#6: Put your own personal spin on a few of the hors d'oeuvres. The beauty of a standing reception menu is all the choice – my stepmom made our family's homemade hummus, lentil kofta, and dolma – this gave the wedding a personal touch!
Who Did Your Wedding Photography?
I have to thank my dear colleague and wedding photographer Roland Isberto for our stunning wedding photos. Roland is an amazing, super organized, and professional photographer in Toronto. He captured all the best moments from our wedding day including all the stunning food photos featured in this post. Roland even had all our photos available the next day. If you are looking for a wedding photographer in the Toronto area, look no further. 🙂
Who Catered Your Vegan Wedding?
Believe it or not, our local neighbourhood burger restaurant, The Burger Cellar, catered our vegan wedding. My family are regulars at the restaurant and after contacting several, vegan Toronto caterers and not getting overly enthusiastic responses from any of them, we were delighted when the Burger Cellar offered to put together a vegan menu for our wedding.
The Burger Cellar chef designed a completely vegan menu paired with two signature C & J cocktails made by the bartender, Dan. The "C" was a tequila lemonade cocktail and the "J" was a bourbon cocktail. The fresh gazpacho to the pasta bar to the midnight sliders, everything was to die for! The beer battered cauliflower wings even made it onto the regular menu at The Burger Cellar.
We partied at my parent's house until around 10:00 pm with a live band and then walked over to The Burger Cellar which they had decorated and turned into a club with a DJ. We danced until the wee hours of the morning and it was absolutely perfect.
I cannot say enough AMAZING things about The Burger Cellar team – the enthusiasm, love, and care they put into our wedding made our day so incredibly special. <3
Now, let's look at that Vegan Wedding Menu!

The Ultimate Standing Reception Vegan Wedding Menu
Fresh Herb and Tomato Gazpacho
Salad Wraps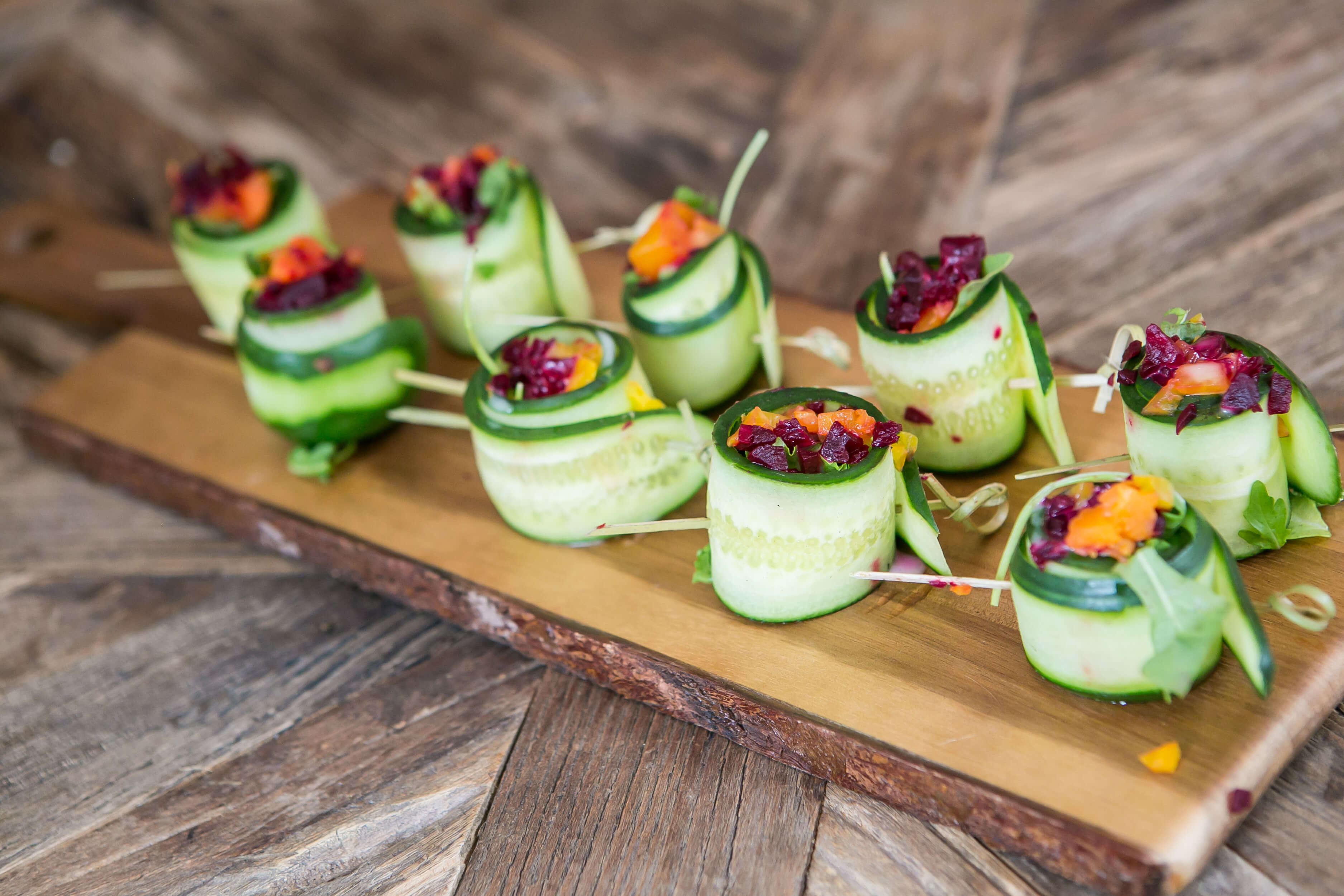 Pasta bar with sauteed vegetables and a choice between fresh tomato and cream sauce
Fresh Turkish Dolma and Red Lentil Kofta (both family recipes made by my stepmom – find the lentil kofta recipe here!)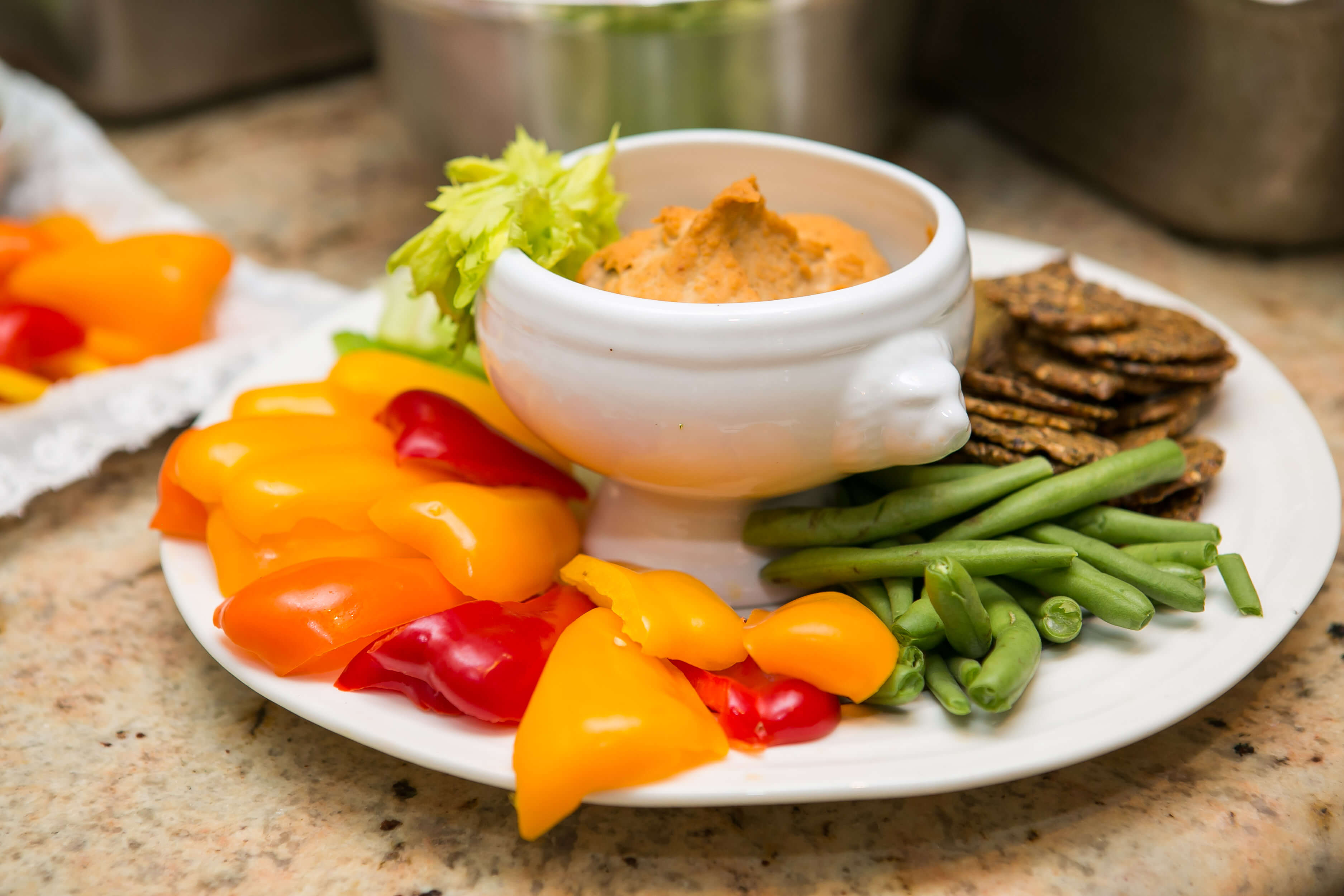 Stuffed Cherry Tomatoes with Vegan Goat Cheese and Pesto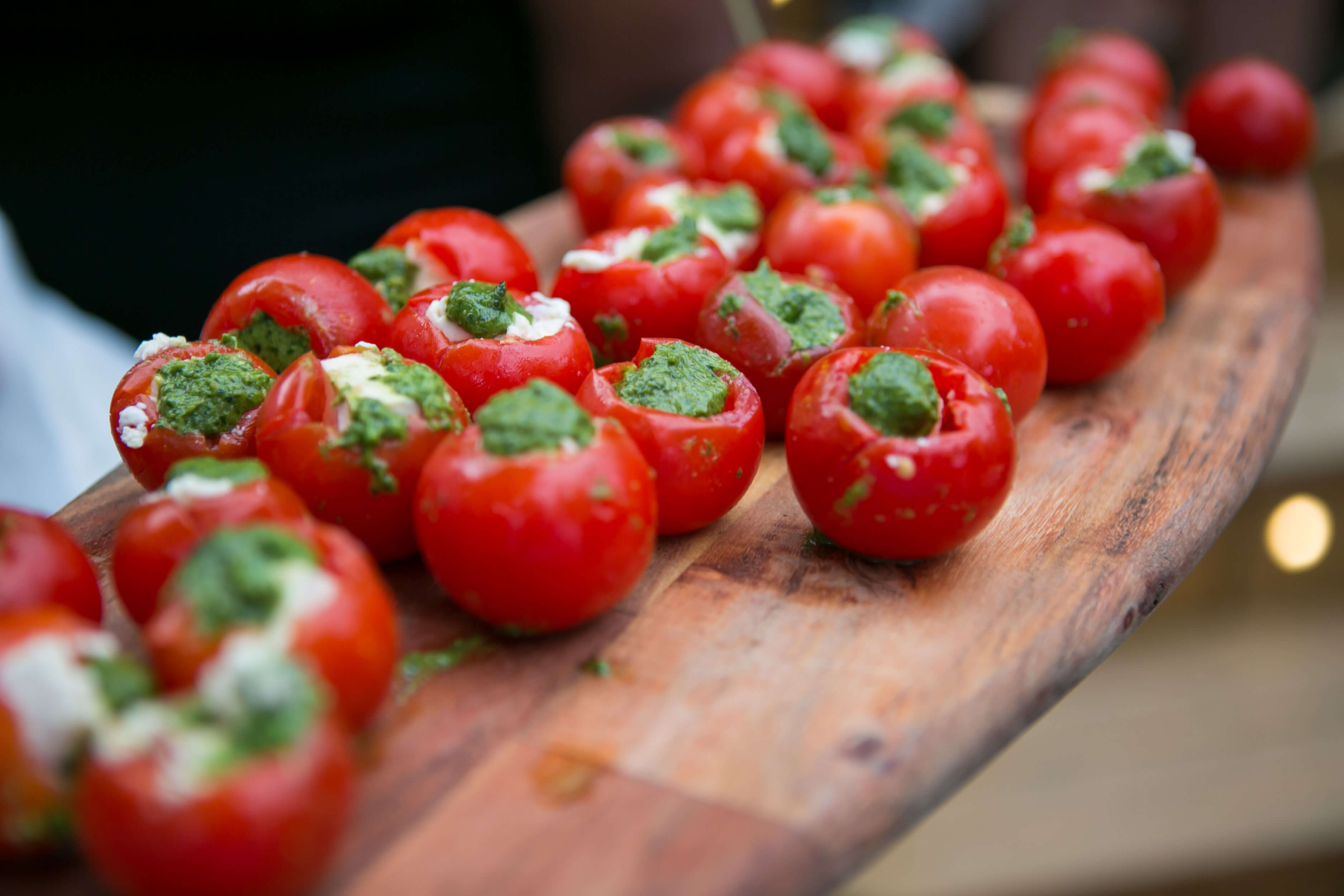 Mini Vegan Bruschetta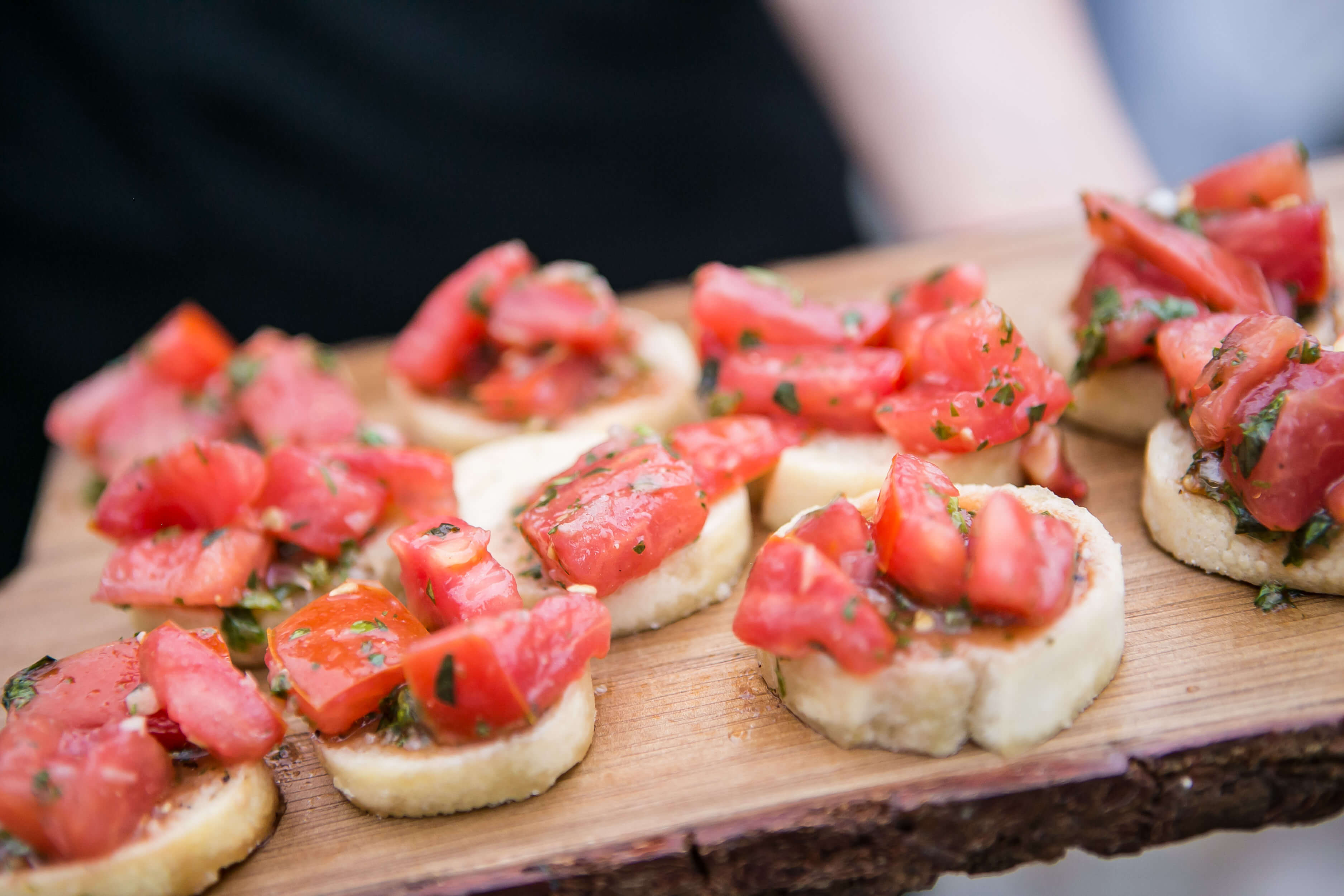 Mini Meatloaf Sliders on Potato Latkes Topped with Crispy Onions (holy these were good!!)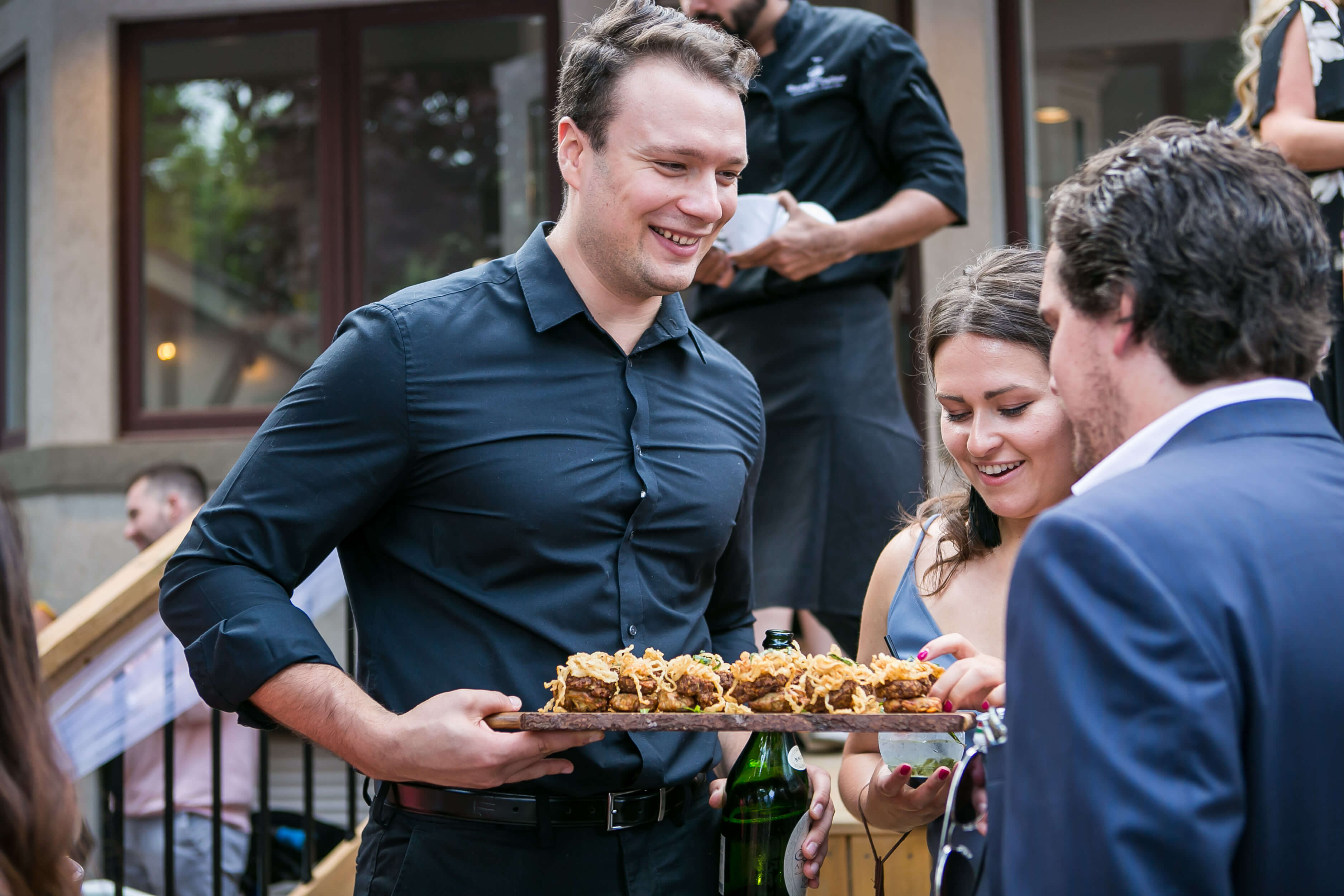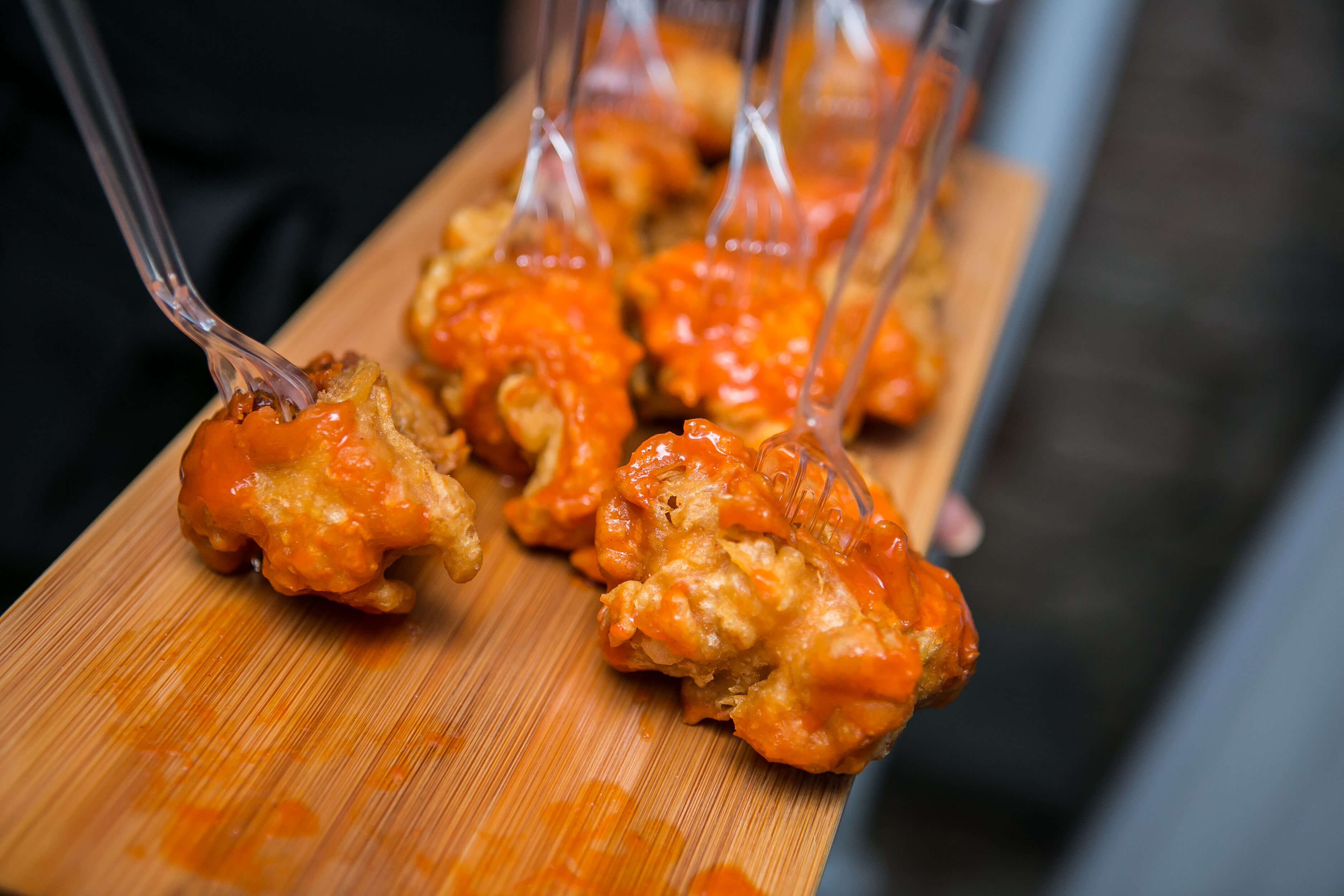 Risotto Balls Topped with Marinara Sauce and Fresh Basil
Refreshing Fruit Cups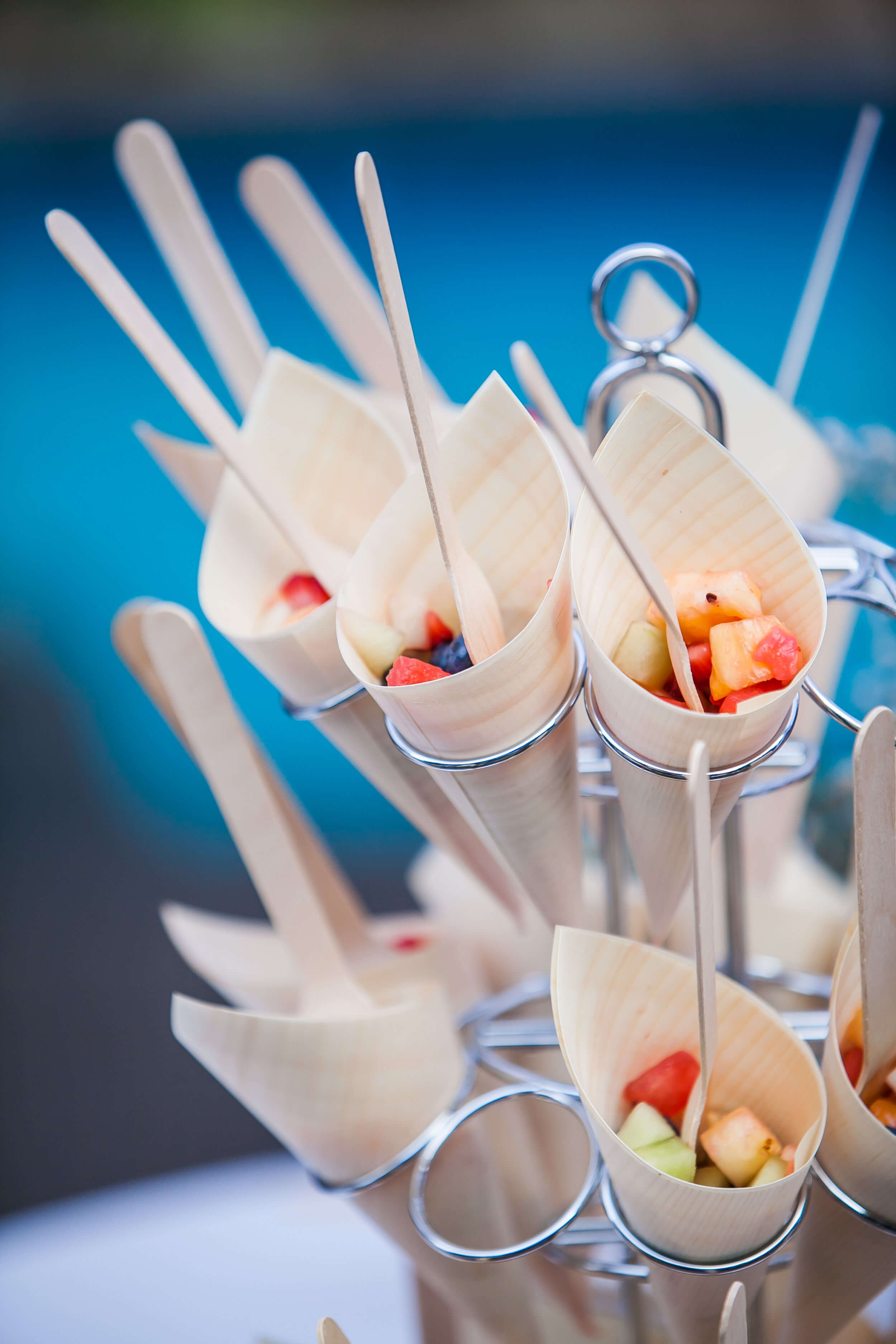 Halvana Ice Cream Pops (The Perfect Dessert Instead of Cake on a Hot Summer's Day)
*Not pictured are the sliders and fries served at midnight to all our hungry guests after a night of dancing (and drinking!).
There you have it! A delicious vegan wedding menu for a cocktail style, standing reception wedding. You can imagine that all of our guests went home happy, full of fantastic, plant-based food, and perhaps with a new perspective on how amazing vegan food is. I'm getting hungry again just looking at the menu. <3
What would you serve at your vegan wedding? Share below!