Hi there! It's Jeroen – the technical & analytics guy behind Ceara's Kitchen. Do you want to share your ideas with the rest of the world!? Ceara had the same idea over a year and a half ago and started Ceara's Kitchen. We've learned a lot along the way and started this Blogging 101 series to share with you some tricks and tips we've learned about blogging! Because we want to support others who want to set up their own blogs, I made an easy tutorial with step by step instructions on how to start a blog seamlessly! By following these steps, you'll be online in no time with your very own, personal blog!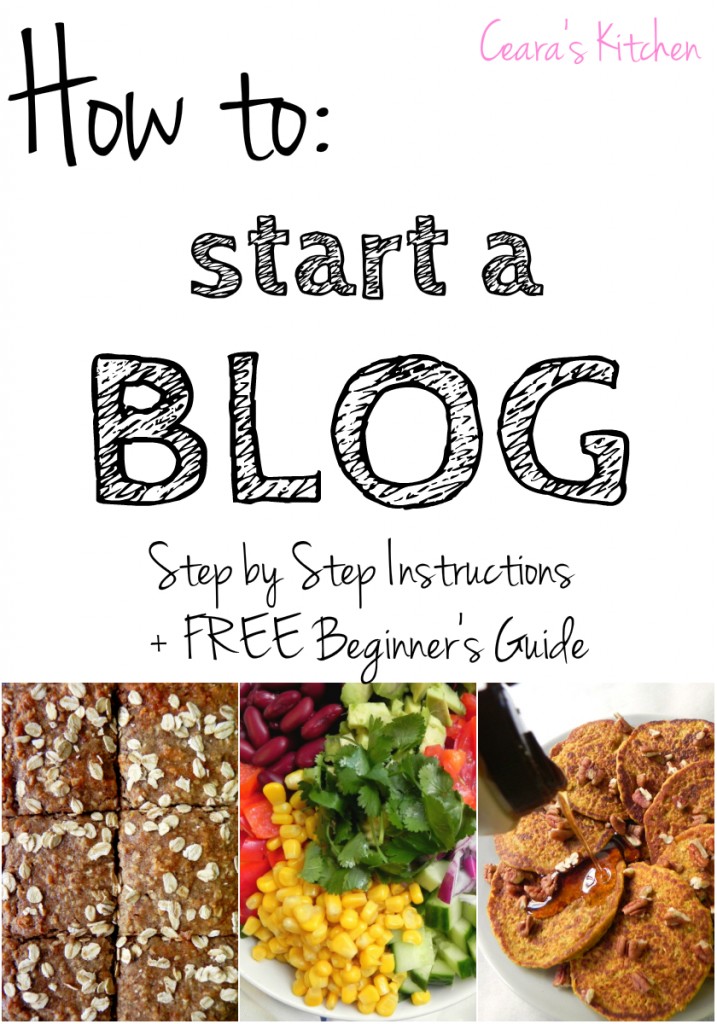 *Disclaimer: Some of the links in this post are affiliate links meaning we make a commission if you purchase them from us! We only genuinely promote products we have used in the past, love and trust. The products in this post are products we have recommended to numerous friends and family members who have started up their own websites.
Let's get started – How to start a blog 101!
Choosing your own domain name & hosting plan
Installing WordPress
Making your blog YOU!
BONUS: Setting up Google Analytics
Why bluehost?
Bluehost is the ultimate, user friendly self-hosting web-host. Since we started self-hosting our blog (when we switched from Cearaskitchen.blogspot.com to CearasKitchen.com) we've used Bluehost.
Why exactly? Because they offer very competitive rates, deliver awesome customer service if you have any questions at all (I've used their online help chat countless numbers of times!), you can easily back up your blog on their system and it is very easy to upgrade if you ever need to. A lot of our close blogging friends rely on Bluehost and are very happy with their services as well – they are the go-to web-host in the blogging world! After signing up through us, we will send you a FREE Blogger Starter Guide with our tips + tricks about how to get your blog out there + how to generate your very first visitors!
SIGN UP HERE to get your blog started + we will e-mail you our free Blogger Starter Guide!
Choosing your own domain name & hosting plan
Sign Up: Once you've clicked the link to sign up you'll be brought to this page. Click on "get started now" and you are officially on your way to starting your very own blog!
Choose your plan: You don't want to pay too much when you just start out! I advise to start with the "starter" package. We started with the "starter" package and it will support up to a couple thousand visitors a day. After your blog takes off and you want a server that can support more visitors, you can easily switch by sending an e-mail to Bluehost. They'll switch over everything with you!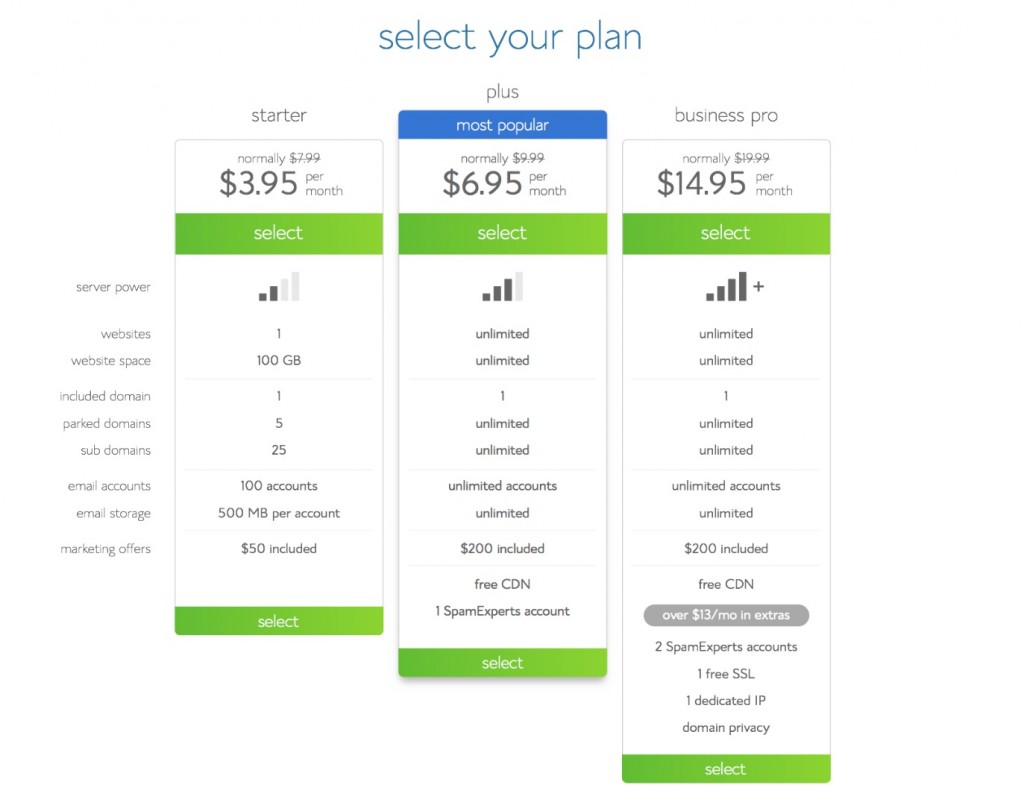 Choose your Domain: The best part! Of course, you want to have an AWESOME name for your blog. Think about it and check if it's available. If it's not, don't wait to register your new domain before somebody takes the cool name you have in mind. PLUS, buying a domain is free when you register with Bluehost! Woop woop!

Enter your contact details: Fill in your details to get registered.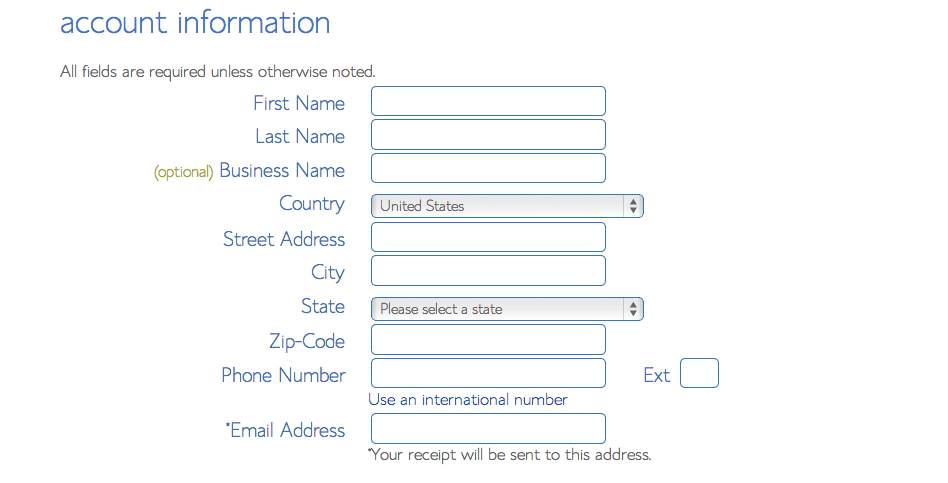 Select your plan: Select the plan you want. We did the 36 month plan because you get a better deal in the end. You can always cancel or change your package whenever you please. We recommend getting the "Domain Whois Privacy" because it blocks the public from seeing your personal phone number and address.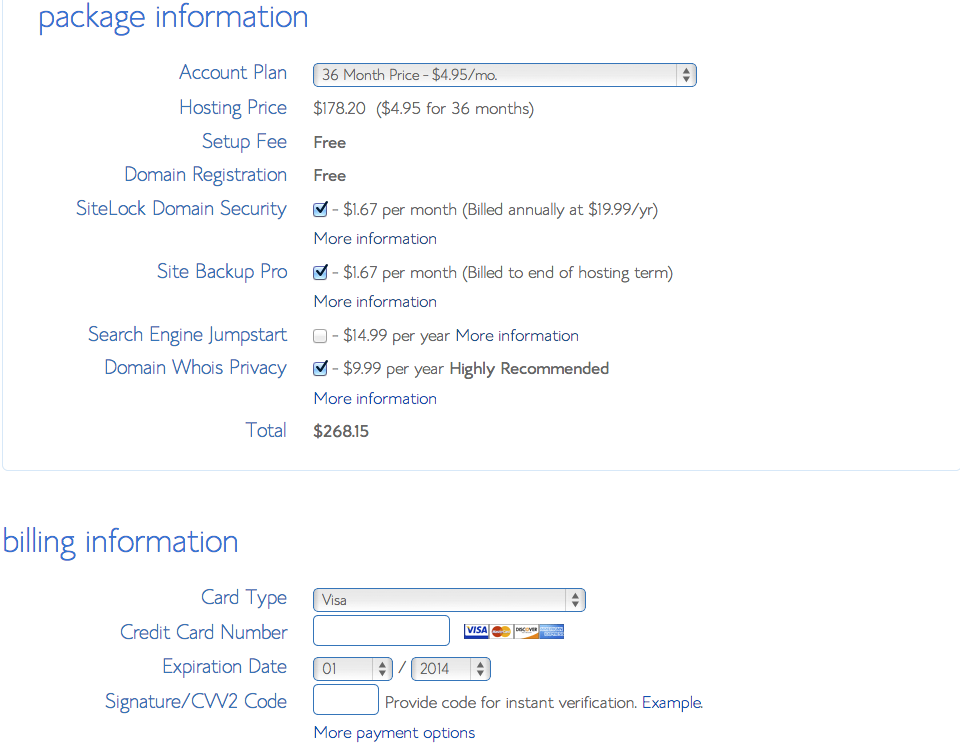 Congratulations! You have successfully set up your web-hosting and chosen your domain!
Installing WordPress
Connect to WordPress: The next step is to connect everything to WordPress. This is very easy, just click on "Install WordPress" under "Website Builders" on your C-Panel (pictured below).
I recommend using WordPress.org because you own your site and can add in awesome plugins. When Ceara started the blog, she used blogger but she was overall not very happy with it because it was very hard to customize plus you don't really own your website. WordPress.org is very easy to customize with fun plugins and easy to install themes (which we'll get to later!).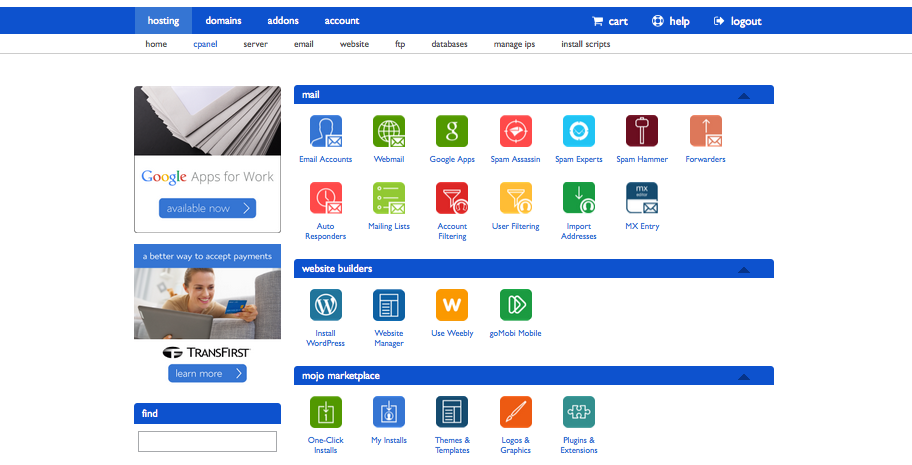 Click "Start" to start your installation onto WordPress.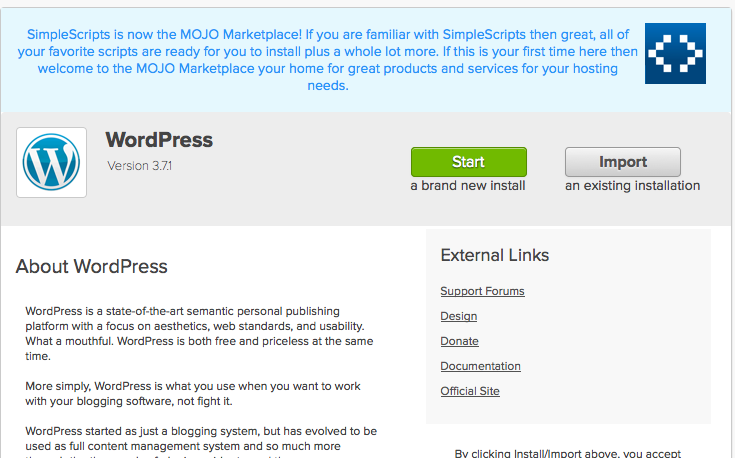 Select the domain name you used to register your web-hosting. Leave the other text box blank. Click "Check Domain".
After this, you are at the last step!

Enter your admin Username, Password, and Email for your WordPress account. Don't lose this information – you'll need it to sign into and update your blog. Check "Automatically Create A New Database For This Installation" and click "Install Now".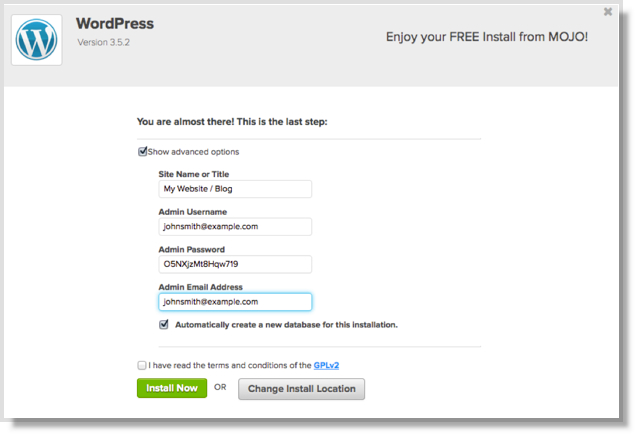 Your WordPress blog is now installing. You can now log-in to your WordPress blog.

Well done! You are ready to take off with your blog now and customize it. Have fun with your blog and I'm looking forward to visiting it. Feel free to leave a comment below if you have any questions about how to set up your blog!
Making your blog YOU – Choose your theme!
Now for the fun part – customizing your blog, making it POP, reflecting what YOU have in mind and making it appealing to your visitors!
Mojo Marketplace: Free and paid themes that come with the Bluehost to WordPress web-hosting. There are tons of free Wordpress themes available that you can install and customize yourself.
Here below, you find some themes Premium themes which are great for bloggers. They are easy to customize, mobile-friendly (very important if you want to show up in Google!) and look professional (which is key if you want to grow your blog).
Genesis Framework: Think of Genesis like the ultimate powerhouse to power your blog theme. To install a lot of the premium Wordpress themes (like the one we use), downloading the Genesis Framework is necessary.
Studio-press Themes: These are the premium themes powered by the Genesis framework. There are a ton of themes for every blogging need out there. We love their themes because they are mobile-friendly. We particularly love the look of this Lifestyle Theme + this Cafe Pro Theme for food or wellness blogging.
The Foodie Pro Theme: *Our personal fave* This is what we use on our Ceara's Kitchen and we could not be happier that we invested the money in it because it is a beautiful, user-friendly theme designed for food blogging that is very easy to install and customize! Plus, it comes with an amazing recipe index that automatically updates every time you post a new recipe!
Should I use a free or paid theme?
When Ceara started Ceara's Kitchen, she initially hosted her site on Blogger and tried to customize everything herself. This was not only time consuming and a huge headache (learning how to code a ton of HTML) but her website never turned out exactly how she wanted it. When she initially switched over to WordPress she first looked into getting a free theme. She was impressed by the tons of free themes available but none of them offered *exactly* what she was looking for. Her search led her to the Genesis Framework and the Foodie theme. She was impressed by how clean the Foodie theme looked and how she could customize it according to her needs! It is more expensive than some of the other themes available but we've quickly earned back the money due to the increased visitors we've had since switching over! Let's just say having a site that looks great and is unique to YOU pays! 🙂
Setting up Google Analytics
After customizing your theme and telling all your fiends and family about it you'll want to know HOW MANY people are visiting your blog and WHERE they are coming from (plus so much more!). It's so exciting having your first visitor visit YOUR blog. Imagine how excited you'll be when you watch your blog start to grow and take off! I made a tutorial here to show you how to configure Google Analytics with your blog when you just start out (I'll also be releasing a detailed manual in May with my Google Analytics Tips & Tricks for bloggers). If you are interested in learning more about Google Analytics you can check out the Google Analytics Academy where you can look up everything you want to know about Google Analytics in detail.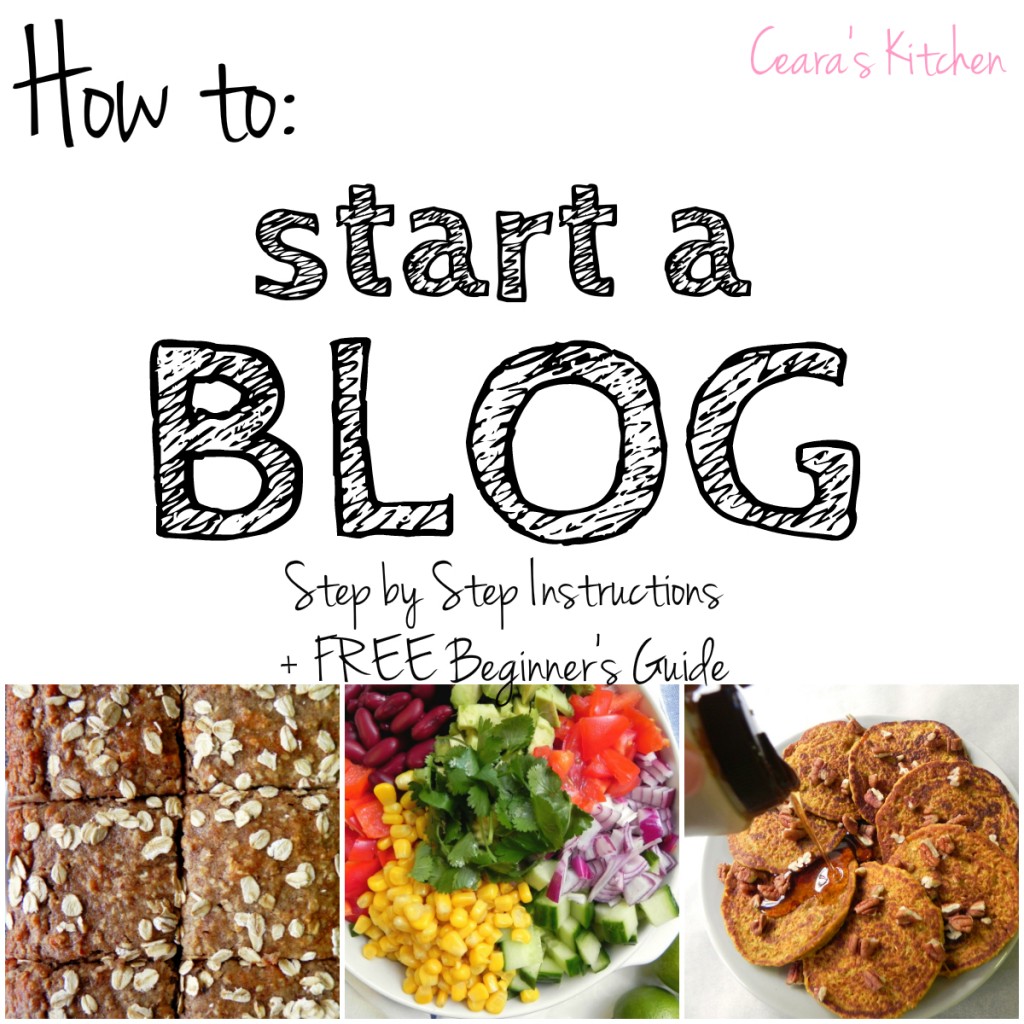 Have fun blogging!
Greetings,
Jeroen