Vegan Cheese Sauce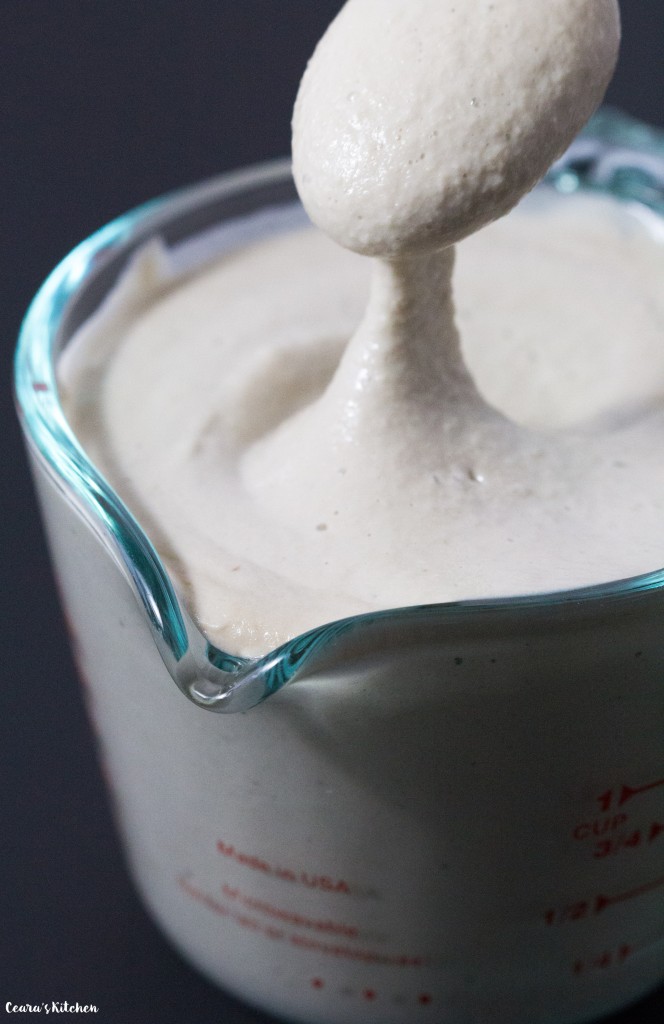 1 cup sunflower seeds (raw and unsalted)
½ heaping cup mashed potato (1 small to medium potato)
2 cloves garlic, finely chopped
1 medium white onion, chopped
¼ tsp sesame oil,
¾ veggie bouillon cube
1 tsp apple cider vinegar
2-3 tbsp nutritional yeast
⅛ tsp nutmeg
¼ tsp mustard powder
1¼ - 1½ cups water
Pinch sea salt and black pepper to taste
Pre-soak your sunflower seeds for 5 hours in cool water. Or, soak your sunflower seeds for 5 minutes in boiling water while sautéing the onions and garlic. Note: If you do not have a high-speed blender like a vitamix, I would recommend soaking the seeds for 7-10 minutes in boiling water until soft.
Poke hole in your potato and place it in the microwave for 3-5 minutes until soft. Mash with a fork and measure into ½ heaping cup.
While the potato is cooking, over medium high heat, sauté garlic and onion in a medium size pan until the onions are translucent (3-4 minutes) Add a couple splashes of water so the onion and garlic do not stick to the pan.
Drain and thoroughly rinse the sunflower seeds. Add the sunflower seeds to the pan with the sesame seed oil. Sauté for one to two minutes to slightly roast the seeds.
Add the mashed potatoes, sunflower seeds, garlic, onion, bouillon, apple cider vinegar, nutritional yeast (2 tbsp) nutmeg, mustard power and one cup water to a high speed blender. Blend for 2-3 minutes until creamy (you might have to blend a bit longer if you do not have a high speed blender). Taste test and add salt and pepper to and extra nutritional yeast to taste. If you want a thinner sauce, add up to an extra ½ cup of water. I add 1¼ cup of water for sauces, macaroni and cheese and in lasagna. For a dip, I add an extra tbsp of water. Sauce will thicken as it sits.
Serve vegan cheese sauce as a dip, on pasta, on pizza, baked potatoes, vegetables or eat with a spoon - enjoy!