Blueberry Oatmeal Muffins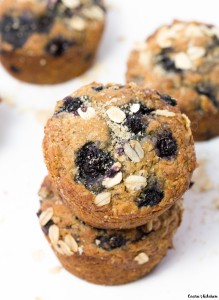 1½ cups white spelt flour or all purpose flour
½ cup rolled oats
½ cup + 2 tbsp cane sugar or light brown sugar
2½ tsp baking powder
½ tsp baking soda
½ tsp sea salt
2 tsp pumpkin pie spice*
¾ cup frozen wild blueberries
2 tsp vanilla extract
⅔ cup applesauce
½ cup + 1 tbsp full fat coconut milk
1 tbsp apple cider vinegar
1 tbsp unsulfured molasses
2 tbsp wild blueberries, 2 tbsp oats, 2 tbsp cane sugar/light brown sugar
Pre-heat oven to 400F/205C. Grease a muffin pan with coconut oil or non-stick cooking spray.
In a large size bowl, mix together the flour, oats, sugar, baking powder, baking soda, sea salt and pumpkin spice. Stir together until the spices are evenly distributed throughout the flour.
In a medium size bowl, add vanilla extract, apple sauce, coconut milk, vinegar and molasses. Whisk together until creamy.
Add the frozen blueberries into the dry ingredients and stir them around once until they are well coated with the dry ingredients.
Slowly add and fold the wet ingredients into the dry ingredients until they are combined. *Do not over-mix*.
Scoop the batter into the muffin pan with an ice cream scoop for easy clean up or a ⅓ cup measuring cup. Press a few blueberries into the tops of each muffin. Sprinkle sugar and oats on top of the muffins.
Bake for 18- 22 minutes in total until an inserted toothpick comes out clear. The amount of time your muffins will take to bake will depend on your oven and pan - mine took 21 minutes. After 4 minutes of baking reduce the heat to 350F/175C. (Baking the muffins at a high temperature at first helps them to rise!). Your muffins are ready when the top is golden and an inserted toothpick comes out clear. Leave to cool in the pan for 5 minutes before moving to a cooling rack. Sprinkle with additional sugar and oats (optional). Enjoy!
1) Replace pumpkin spice with equal parts cinnamon, nutmeg, cloves and ginger (I would add ½ tsp of each).
2) I would only recommend using frozen blueberries in this recipe straight from the freezer (with any ice formed on the frozen blueberries removed)
Recipe by
Ceara's Kitchen
at https://www.cearaskitchen.com/vegan-blueberry-oatmeal-muffins/