Roasted Cauliflower and Tempeh Tacos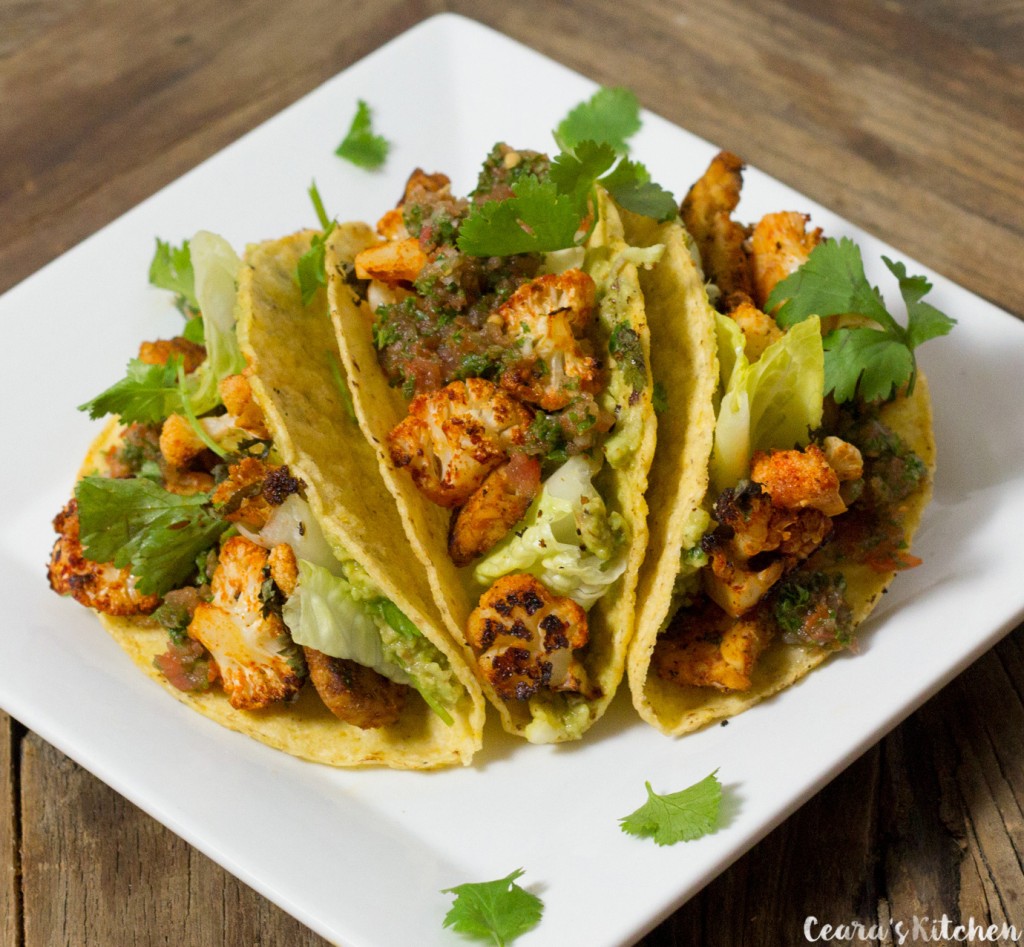 1 heap cauliflower (8 cups chopped)
2 tbsp fresh lime juice
2 tbsp avocado oil (optional)
1 tsp ground cumin
1 tsp onion powder
1 tsp garlic powder
1 tsp paprika
pinch cayenne
10 hard taco shells
2 cups iceberg lettuce, chopped
hot sauce
fresh cilantro, chopped
Slice you tempeh into thin ¼ inch (1/2 cm) strips (see photo for reference).
Add all the marinade ingredients to a bowl or ziploc bag (lime juice, 1 tbsp avocado oil or vegetable broth, soya sauce, cumin, garlic powder, onion powder and cilantro).
Add the tempeh to the bowl or ziploc bag and toss until the tempeh is well coated in the marinade. Cover the bowl (or seal the bag) and leave to marinate for an hour. Note: you can make the tempeh the night before and leave it to marinate in the marinade overnight.
Pre-heat the oven to 400F/205C.
Chop the cauliflower into bite sized pieces (see photo for reference).
Add the remaining ingredients (lime juice, avocado oil, ground cumin, garlic powder, paprika and cayenne to a bowl or ziploc bag. Add the chopped cauliflower and toss until the cauliflower is well coated with the marinade.
Spread the cauliflower out on a lined or lightly oiled pan and roasted for 35 - 40 minutes until crispy and slightly blackened on the outside. Do not place the cauliflower too close together or it will not get crispy. Stir the cauliflower halfway through the roasting time to ensure it cooks well and does not burn.
Warm 1 tbsp avocado oil in a large pan over high heat. When the pan is hot, carefully add the tempeh strips to the pan. Cook on each side for 3 minutes or so until lightly crispy.
Turn the oven down to 375F/190C. Place the tacos on a pan and warm up before assembling for 5 minutes in the oven.
Scoop and spread a spoonful of the guacamole and salsa into each warm taco shell.
Place a small handful of chopped lettuce into each taco.
Add a couple slices of tempeh and ¼ cup of roasted cauliflower into each taco shell.
Add hot sauce (optional) and fresh cilantro on top of the tacos.
1) For an oil-free version leave the oil out of the recipe. Replace the oil used in the tempeh marinade with vegetable broth. Leave the oil used to roast the cauliflower out altogether. Use a non-stick pan to 'fry' the tempeh.
2) Make sure your tempeh and taco shells are gluten free if necessary.
Recipe by
Ceara's Kitchen
at https://www.cearaskitchen.com/roasted-cauliflower-and-tempeh-tacos/