Vegan Walnut Mushroom Tart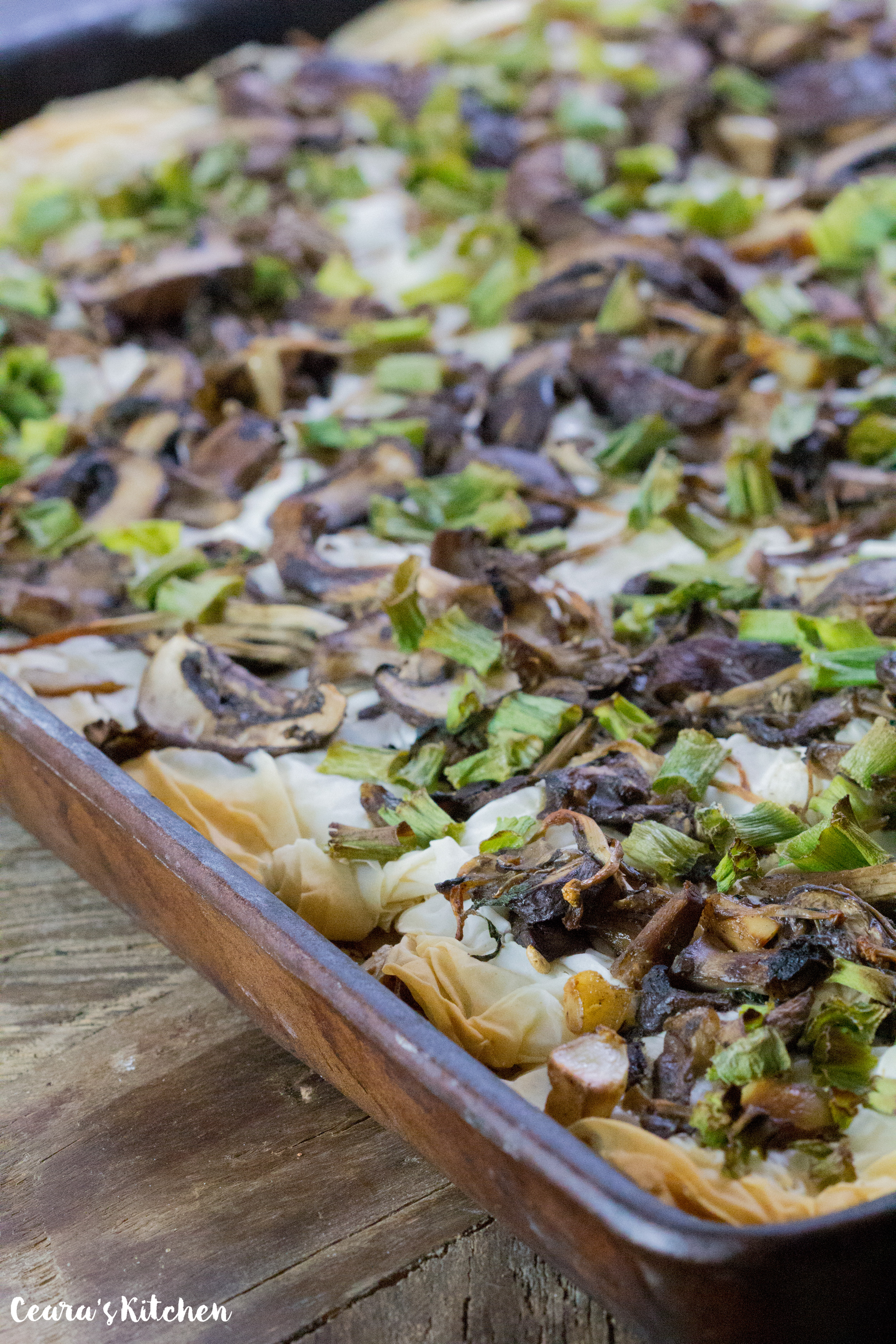 4 cups cremini mushrooms, sliced (see photo)
1 red onion, chopped
3 cloves garlic, minced
2 sprigs thyme (hard stems removed)
1 sprig rosemary (hard stems removed)
pinch salt and pepper
½ cup olive oil
½ cup water
1 roll filo pastry roll, thawed according to directions (1 roll from the 454 g/16 oz. package)
½ cup walnuts, roughly chopped
5 sprigs green onion, finely chopped (*only green parts)
1½ tsp truffle oil (optional)
Pre-heat oven to 375F/190C. Brush a standard size baking sheet with olive oil (preferably stone baking sheet - the stone will make your filo extra crispy).
In a large pan over high heat, saute garlic and onion until soft. Add the thinly sliced mushroom, fresh thyme and rosemary. Saute for a couple minutes until the mushrooms are soft. Add salt and pepper to taste.
Mix together olive oil and water (you will not use all of it - it is to brush between the filo layers).
Roll open filo pastry so it is flat. Place the first layer on the pan. Lightly brush it with the oil-water mixture. Add the second layer of filo pastry. Lightly brush it again with the oil-water mixture. It is okay if the pastry tears a bit - simply mold it back together with your hands. Don't worry about getting the layers perfect. Keep doing this until you have used up around half of the filo roll.
Sprinkle half the walnuts and green onions onto the filo roll.
Add the rest of the filo pastry roll. Keep alternating between adding the filo and oil-water mixture until the entire pastry roll is used up. Roll the sides up a bit like you would pie (see photo).
Top the filo pastry with the mushroom mixture, the rest of the crushed walnuts and green onions. Season with salt and pepper. Bake for 15 - 20 minutes until crispy and light brown around the edges. Drizzle truffle oil on top (optional).
Leave the pastry to cool before cutting into small sizes and serving.
1) I used one roll of the "Krinos" filo pastry found in the freezer section of the grocery store.
Recipe by
Ceara's Kitchen
at https://www.cearaskitchen.com/vegan-walnut-mushroom-tart/