Vegan French Toast with Berry Compote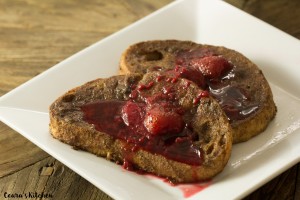 1 tbsp ground flax seed
3 tbsp ground chia seeds
3 cups vanilla almond milk*
1½ tsp vanilla extract*
1-2 tsp cinnamon
pinch sea salt
1 loaf white bread, cut in 1 inch/2.5cm sllices
Coconut oil
2 heaping cups strawberries
2 heaping cups raspberries
½ cup maple syrup
2 tbsp lemon juice
Berry Compote
Coconut Oil
Maple Syrup
If your flax and chia seeds are not already ground, grind them in a spice grinder until fine. Add ground flax seed, ground chia seed, vanilla almond milk, vanilla extract, cinammon and sea salt to a large bowl. Whisk together and leave to chill in the fridge for 30 - 40 minutes until thickened up to a milk and egg consistency. Give an extra stir before dipping the bread.
To make the berry compote (if using), remove the stems from the strawberries and chop in half. In a medium pot, simmer strawberries, raspberries, maple syrup and lemon juice on a medium low heat for 30 minutes while preparing the french toast.
Preheat oven to 375F/190C. Grease a sheet pan with coconut oil or line with parchment paper.
Dip the bread in the milk mixture and leave it to soak for up 10-30 seconds (depending on how dry your bread is).
Place milky bread on the pan in a single layer. Continue until all sauce is used up. Drizzle any additional sauce on top of bread (up to ⅓ cup - any more will make the bread soggy).
Bake in the oven for 35 - 40 minutes until the bread is golden brown on top and the liquid is soaked up.
Serve warm and brush with coconut oil. Garnish with berry compote and maple syrup! Enjoy!
1) This recipe works best with vanilla almond milk or regular almond milk. I've tried it also with soy milk but the results are not as "eggy" and creamy. If you are using plain almond milk, adjust with extra sweetener and vanilla to taste.
2) Reduce the vanilla extract by ½ tsp if you are sensitive to vanilla extract in recipes.
3) I like to use organic white bread in this recipe but you can experiment with other breads as well (whole wheat, etc.). The amount of slices you use will differ based on the brand of bread you use, how thick it is slices, etc...
4) I like using one or two day old bread in this recipe.
5) Line pan with parchment paper and do not top french toast with coconut oil for an oil-free version of this recipe.
6) Frozen or fresh berries work great in the berry compote.
Recipe by
Ceara's Kitchen
at https://www.cearaskitchen.com/vegan-french-toast-with-berry-compote/