Roasted Garlic and Kale Potatoes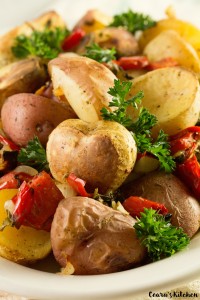 3 pounds baby potatoes* (1.4 kilos)
2 white onions
2 red bell peppers
8 cloves garlic
8 cups kale
3½ tsp herbes de provence
2 tsp sea salt
1 tsp black pepper
Fresh Parsley
2 tbsp apple cider vinegar
3 tbsp olive oil (*optional, see note)
Preheat oven to 400F/200C. Line a sheet pan with parchment or brush with olive oil.
Chop the baby potatoes in half or quarters. Remove the hard stems from the kale and chop the kale into medium size pieces (not too small, not too big). Chop the onions and red bell peppers into medium size pieces.
Toss the potatoes, kale, onions, peppers and garlic with the herbes de provences, sea salt, black pepper, apple cider vinegar and olive oil until evenly coated with the spices.
Transfer the potatoes to a sheet pan and spread the potatoes and vegetables evenly over one layer.
Roast in the oven for 45 - 60 minutes, flipping the potatoes twice so they do not burn. Roast until the potatoes are brown and crispy on the outside and soft and cooked on the inside. Garnish with fresh parsley. Serve warm.
1) I like to use a mix of red and white baby potatoes for some extra color.
2) For an oil-free version, leave the olive oil out of the roasted potatoes. I prefer this recipe with olive oil though.
Recipe by
Ceara's Kitchen
at https://www.cearaskitchen.com/roasted-garlic-and-kale-potatoes/