Chocolate Chip Pumpkin Zucchini Bread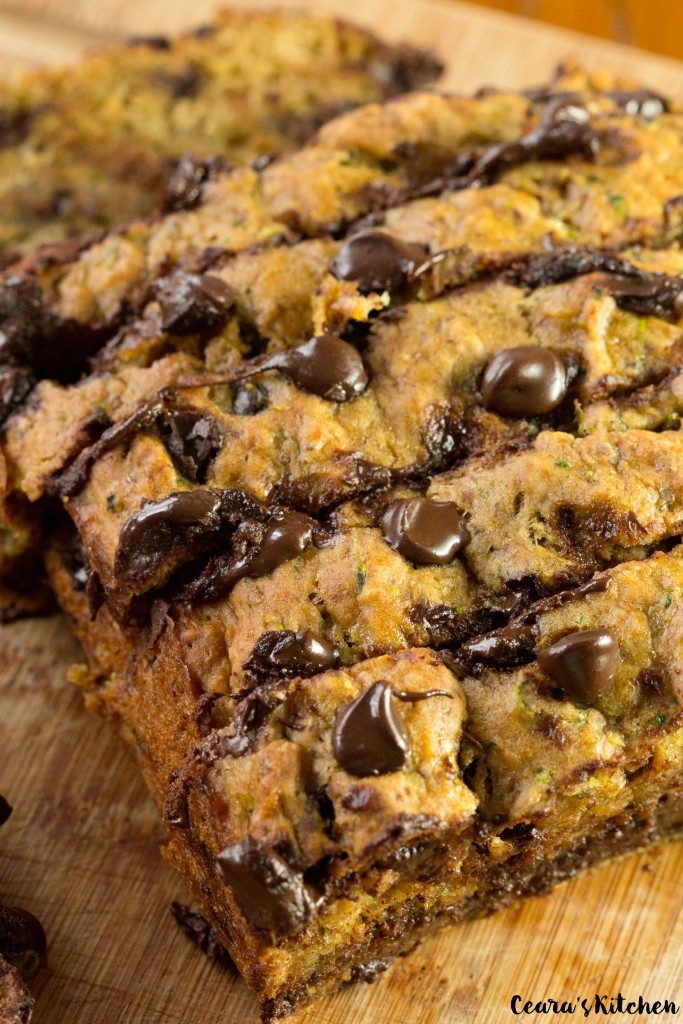 1½ cups light spelt flour
½ tsp sea salt
½ tsp baking soda
2 tsp baking powder
1 tsp cinnamon, 1 tsp nutmeg, 1 tsp ginger
2 flax eggs (2 tbsp ground flax seed + 6 tbsp water)
½ cup + 3 tbsp pumpkin puree
¾ cup coconut sugar or cane sugar
½ tbsp unsulfured molasses
2 tsp vanilla extract
½ tbsp apple cider vinegar
1 cup shredded zucchini (from 1 medium size zucchini) *see notes
½ + 3 tbsp on top cup chocolate chips
Pre-heat oven to 350F/180C. Grease a loaf pan with coconut oil or non-stick cooking spray.
Mix the ground flax seed with the water in a large mixing bowl. Stir and leave it to thicken while preparing the dry ingredients.
In a medium size bowl, mix together the spelt flour, sea salt, baking soda, baking powder, cinnamon, nutmeg and ginger. Stir together until the spices are evenly distributed throughout the flour.
Grate the zucchini (see notes for how to grate, measure and drain the zucchini - very important!). The flax "eggs" should be thickened by now. Add the pumpkin puree, sugar, vanilla extract, apple cider vinegar and grated zucchini to the flax "eggs". Whisk together. Stir in ½ cup of the chocolate chips.
Slowly add and fold the dry ingredients into the wet ingredients until they are combined. *Do not over-mix*.
Pour the pumpkin zucchini bread batter into the loaf pan. Sprinkle with additional chocolate chips. Bake for 40 - 49 minutes. The amount of time your zucchini bread takes to bake will depend on your oven and pan - mine took 46 minutes. Your bread is ready when the top is golden and an inserted toothpick comes out clear. Leave to cool in the pan for 5 minutes before moving to a cooling rack. Leave the bread to cool before slicing into it. Enjoy!
1) An important step in making this bread is how you prepare the zucchini. Grate the zucchini on the small side of the grater (not the super tiny, just the small side). Pack 1 cup of the grated zucchini into the measuring cup and drain off the excess liquid. Do not drain off all the liquid just the excess that pours out of the cup as your pack it into the cup.
2) Replace light spelt flour with white whole wheat or all purpose flour.
2) Replace dark brown cane sugar with regular dark brown sugar and cane sugar with regular sugar.
Recipe by
Ceara's Kitchen
at https://www.cearaskitchen.com/chocolate-chip-pumpkin-zucchini-bread/