Creamy Healthy Roasted Red Pepper Soup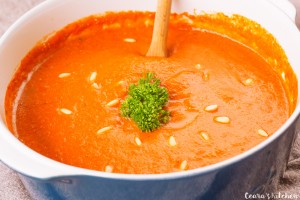 8 red bell peppers
3 small white onions (or 2 medium)
1 garlic head (use 8 cloves in soup)
2 tsp herbes de provence
½ - 1 tsp smoked paprika
¼ - ½ tsp cayenne pepper
4 - 5 cups low sodium vegetable broth
⅓ cup pine nuts
Sea Salt and Black Pepper
Preheat the oven to 450F/220C. Cut the red peppers into fourths and place them skin side up on the baking sheet. Cut the onions in half and place them round side up on the baking sheet. Place the garlic on the baking sheet. Season with sea salt and black pepper. Wrap the whole garlic head in aluminum foil. Roast for 25 - 35 minutes in the oven until the skin of the red pepper begins to blacken and bubble (watch closely to not burn vegetables!). Turn the pan around 15 minutes into the roasting time.
Set aside a medium size pot with a lid or a bowl with a plastic cover. When the vegetables are roasted and the skin of the peppers blackened, carefully place the red peppers in the pot and cover it right away with the lid. Leave the pot for 10 minutes. The steam in the pot makes the skins slide right off the red peppers. After the 10 minutes, with your fingers, peel the skin off the peppers. Discard the red pepper skin.
Take the roasted garlic head out of the aluminum foil. Squeeze out 8 garlic cloves into a large pot to use in the soup. Save additional garlic cloves for later use. Place the onions (removing any black or burnt parts before blending it with the soup), peeled red peppers, smoked paprika, herbes de provences, vegetable broth and pine nuts into the pot. Blend with an immersion blender for a couple minutes until perfectly creamy (or place the ingredients in a blender if using a high speed blender). Add a splash more vegetable broth until your desired "soup" thickness is reached.
On medium high heat, in the same large pot, simmer the soup for 10 minutes. Taste and season with additional herbes de provence, smoked paprika, sea salt or pepper to taste.
Serve warm with fresh parsley and pine nuts.
1) For a nut-free option, replace pine nuts with ½ - ¾ of a cup of unsweetened soy or coconut milk.
Recipe by
Ceara's Kitchen
at https://www.cearaskitchen.com/creamy-healthy-roasted-red-pepper-soup-vegan-glutenfree/