Easy One Pot Mexican Rice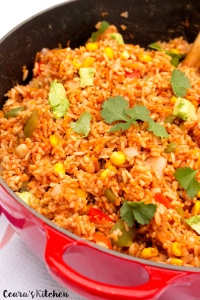 2 - 3 small white onions
4 cloves garlic
1 tsp cumin
1 tsp smoked paprika
½ tsp cayenne pepper
1-2 jalapenos, finely chopped*
3 cups shredded carrots
3 cup leeks, chopped
1 red pepper, 1 green pepper, 1 yellow pepper*
4 cups brown rice or long grain white rice
6 - 7 cups low sodium vegetable broth
2 cups plain tomato sauce
3 cups white beans
2 cups corn
⅓ cup nutritional yeast (optional)
Salt and Pepper
Cilantro
Green onions
Guacamole
Hot Sauce
Over medium-high heat, in a large pot (or dutch oven), saute onions and garlic with the spices (cumin through to cayenne pepper) in a couple splashes of vegetable broth for a couple of minutes until the onions are soft.
Add jalapenos, carrots, leeks and peppers. Stir and saute for about 3 - 5 minutes until the vegetables are lightly cooked. Add vegetable broth when necessary so the vegetables do not stick to the pan.
Add the rice. Stir and brown the rice slightly over the heat for a minute or so before adding the vegetable broth. Add 4 cups of the vegetable broth, tomato sauce, white beans and corn. Cover and cook for 10 - 15 minutes. Stir the rice mixture every so often in the pan. Add additional vegetable broth towards the end of the cooking time if necessary (I used 6 cups in total). Note: The amount of time your rice takes to cook and how much vegetable broth you need will differ depending on the rice you used).
Once the rice is cooked, fluff it with a fork. Season with salt and pepper and stir in the optional nutritional yeast. Garnish with cilantro, green onions, guacamole and hot sauce! Enjoy!
1) Leave the seeds in the jalapeno if you want this dish to be spicier. I like to leave the seeds in.
2) I like using 1 red, 1 yellow and 1 green pepper because it makes this rice dish so colorful! Use all red, all yellow or all green peppers depending on your preference
3) Add in the nutritional yeast at the end if you want a bit of a "cheesy" flavor to this dish.
.
Recipe by
Ceara's Kitchen
at https://www.cearaskitchen.com/vegan-easy-one-pot-mexican-rice/