Creamy Zesty Avocado Lime Dressing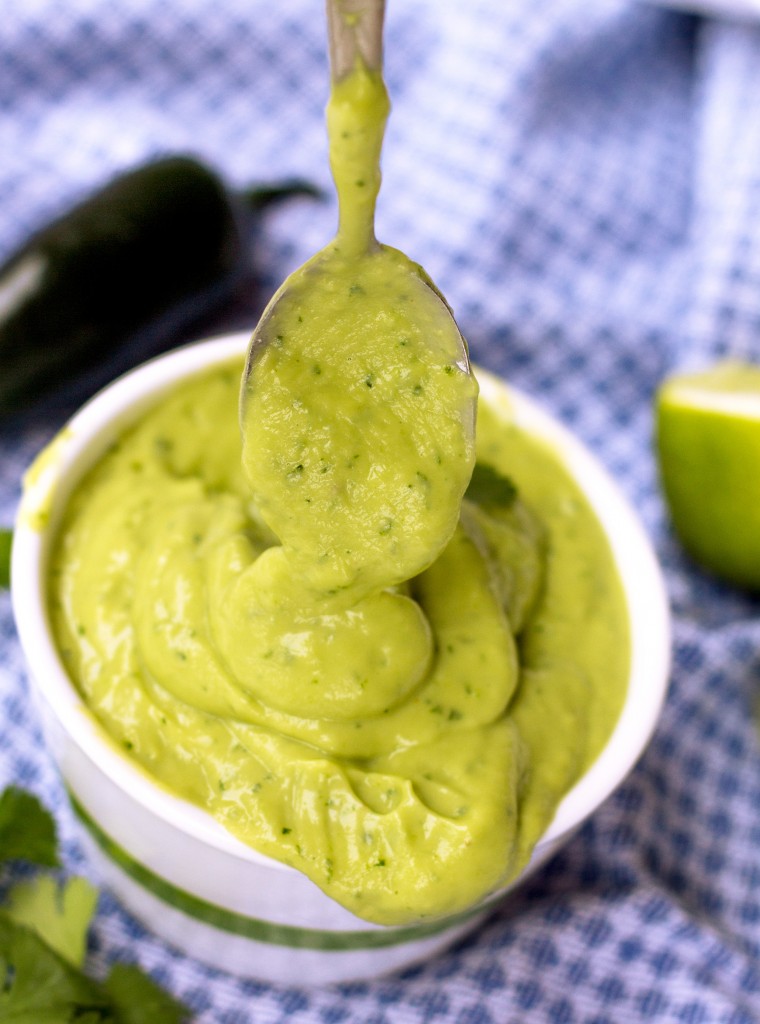 Serves:
1 heaping cup sauce
2 avocados
¼ cup fresh lime juice*
⅓ cup fresh cilantro, lightly packed
¼ jalapeno pepper*
1 clove garlic
½ tsp sea salt
¼ tsp cumin
½ tbsp coconut sugar or cane sugar
⅓ - ½ cup water
Add all the ingredients into a blender (I used an immersion stick blender - a high powered blender will also work) and blend for a minute or so until creamy smooth. Note: Start with ⅓ cup of water and add more water by the tbsp until desired consistency is reached. I use ⅓ cup of water if using this recipe as a thick dressing (see photo in bowl) or ½ cup of water if using this dressing as a sauce (see burrito photo).
Smother onto burritos, tacos, enjoy as a salad dressing or a dip for quesadillas!
1) If you are generally sensitive to lime flavors in recipes, start out with 2 tbsp of lime juice and work your way up to 4 tbsp of lime juice to taste. I like a really pronounced lime taste so I use a ¼ cup in this recipe.
2) If you want this dressing spicier, add half of the jalapeno pepper or some of the jalapeno seeds into the dressing before blending it.
Recipe by
Ceara's Kitchen
at https://www.cearaskitchen.com/zesty-avocado-lime-dressing/