Banana & Oat Breakfast Cake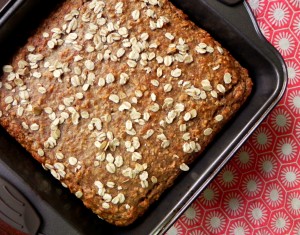 1 tbsp flax seed, ground (+ 3 tbsp water)
5 medium sized bananas, mashed (1¾ cup mashed bananas)
¼ cup maple syrup
¼ cup coconut oil, melted
⅓ cup cane sugar or coconut sugar
1 tsp vanilla extract
1 tbsp apple cider vinegar
1 tsp cinnamon
½ tsp sea salt
1½ tsp baking powder
1½ cup quick cooking or small flakes oats
½ tsp baking soda
1 cup white whole wheat or spelt flour
Preheat oven to 360F or 180C. Lightly oil a standard square baking or loaf pan with coconut oil or non-stick spray.
In a small bowl, stir together flax seed and water. Set aside to thicken while mixing together other ingredients. This is your flax 'egg'.
In a large size bowl, mash bananas. Add the maple syrup, melted coconut oil, cane sugar, vanilla extract, apple cider vinegar, cinnamon, sea salt and baking powder to the banana mixture.
Give the thickened flax egg an extra stir if it is not fully combined with water. Add to the wet ingredients. Whisk together with a hand or electric mixture until the ingredients are well combined.
Add the quick cooking oats to the wet ingredients. Stir together. Add flour and baking soda to the banana bread batter. Combine the baking soda and flour together on top of the banana bread batter before folding it into the batter. With a spatula, fold the flour and baking soda into the banana bread batter until fully combined. Leave to thicken for a minute before adding it to the loaf pan.
Add banana bread batter into the oiled loaf pan. Smooth out the top of the batter with the back of a cold spoon.
Bake for 35 - 40 minutes or until a toothpick comes out clear.
Leave to cool down in pan & voila your Banana & Oat Breakfast cake is ready to be devoured and enjoyed!
Feel free to substitute white vinegar for the apple cider vinegar as well as light brown sugar for the cane sugar. This Banana Bread tastes even better and banana-y the next day after the flavors have been left to fully develop in the baked banana bead. This banana bread keeps for up to 5 days in a sealed container and also freezes well for up to a month (if it lasts that long!).
Serving size:
9
Calories:
215
Fat:
7g
Saturated fat:
5g
Unsaturated fat:
1g
Trans fat:
0g
Carbohydrates:
38g
Sugar:
19g
Sodium:
204mg
Fiber:
3g
Protein:
2g
Cholesterol:
0mg
Recipe by
Ceara's Kitchen
at https://www.cearaskitchen.com/healthy-vegan-banana-oat-breakfast-cake/