Comforting Red Lentil Mash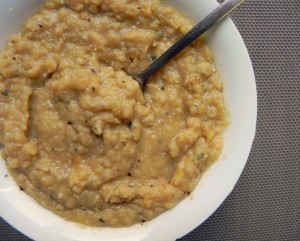 2 cups red lentils, rinsed
2¾ - 3 cups water
1 tsp basil
1 tsp oregano
1 tsp cayenne pepper or paprika
1 tsp onion and garlic powder
1 tbsp coconut oil
1 tbsp nutritional yeast (optional but recommenced)
Salt and Pepper to taste
Thoroughly rinse red lentils and pick out any pebbles found in lentils.
Add lentils, water (only 2¾ cups), spices and nutritional yeast to a medium size pot.
Bring lentils to a boil over medium high heat. Once the lentils are boiling give the lentils a stir, reduce heat and simmer over medium heat until all the water is absorbed. If needed, slowly add additional ¼ cup of water. You want the lentils to be soft enough to mash but not in any way shape or form soupy (this is not lentil soup!).
Once all the water is absorbed, with a wooden spoon or masher, mix in coconut oil while mashing and mixing the lentils until desired consistency is formed. The warmth of the lentils will met the coconut oil. The lentils should easily fall apart when mixed.
Taste and season with salt and pepper and additional spices if desired.
Leave to sit for 5 minutes in a covered pot. The lentils will thicken up upon sitting.
Serve as a nutrient packed side with dinner or lunch. Enjoy!
Feel free to substitute your own favorite dried herbs. Use these spices as a suggestion and season your comforting red lentil mash to taste!
Serving size:
6
Calories:
252
Fat:
4g
Saturated fat:
2g
Unsaturated fat:
2g
Trans fat:
0g
Carbohydrates:
40g
Sugar:
0g
Sodium:
37mg
Fiber:
8g
Protein:
17g
Cholesterol:
0mg
Recipe by
Ceara's Kitchen
at https://www.cearaskitchen.com/comforting-red-lentil-mash-vegan-gluten-free-low-fat-high-protein-iron/