My Favorite Perfect Guacamole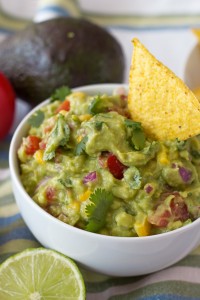 4 avocados
⅓ - ½ cup chopped cilantro (lightly packed)
1 garlic clove, minced
½ heaping cup red onion, chopped (1 small red onion)
2 roma tomatoes, chopped
1 jalapeno pepper, chopped* (optional)
1 cup corn
1½ limes, juiced
2 - 3 drops hot sauce
¾ tsp sea salt
Mash the avocado with a fork (or blend 1 or 2 pulses with an immersion/stick blender to get the guacamole really creamy) in a medium size bowl.
Add the chopped cilantro (start with ⅓ cup if you are not a huge cilantro fan), minced garlic, red onion, tomatoes and jalapeno pepper to the mashed avocado. Stir. Add the corn. Stir everything together.
Add the fresh lime juice, hot sauce and sea salt. Stir. Taste the guacamole if the amount of sea salt and hot sauce is to your taste. I like 3 drops of the hot sauce. Serve with tortilla chips. Enjoy!
1) Use defrosted, fresh or canned corn.
2) Take the seeds OUT of the jalapeno if you are not a fan of spicy food. Leave out the jalapeno altogether if you are sensitive to spicy food.
3) Adjust cilantro to taste.
Recipe by
Ceara's Kitchen
at https://www.cearaskitchen.com/my-favorite-perfect-guacamole-vegan/