Summer Ratatouille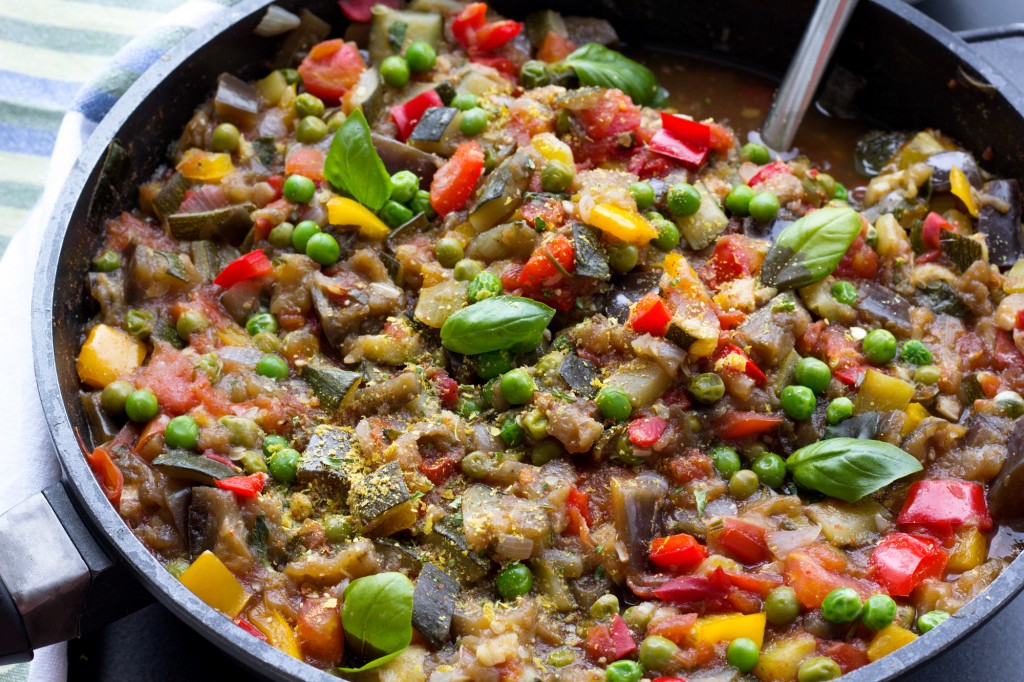 4-5 cloves garlic, diced
2 medium white onions, chopped
2 large eggplants, chopped into ½ inch (1 cm) cubes
3 medium zucchini, chopped
1 yellow bell pepper, chopped
1 red bell pepper, chopped
1 cup peas (frozen or fresh)
8 roma tomatoes, chopped
2 sprigs fresh rosemary, chopped
⅓ cup fresh basil, chopped
½ tsp paprika
pinch hot pepper flakes
sea salt and white pepper to taste
Vegan Parmesan
Fresh Basil
Over medium-high heat, in a large (and deep) pan, saute diced garlic and chopped white onions in a few splashes of vegetable broth for a couple of minutes until lightly cooked.
Add chopped eggplant and a pinch of sea salt. Stir and leave to simmer for a couple of minutes. Add a splash of vegetable broth if the eggplant is sticking to the pan.
Add the chopped zucchini, yellow and red bell pepper as well as peas and chopped tomatoes. Stir. Add a couple splashes of vegetable broth while cooking if the vegetables begin to stick to the bottom of the pan.
Add chopped fresh rosemary and basil, paprika and pinch of hot pepper flakes. Stir, turn down to a medium-low heat and leave the vegetable to simmer until lightly cooked. If there is too much water in the pan from the tomatoes, remove the cover and allow some of the water to evaporate while simmering and stirring every so often.
Cook for 20 - 25 minutes until the vegetables are well cooked and a thick, stew-like ratatouille is formed. Garnish with vegan parmesan (optional) and fresh basil. Serve over rice, potatoes or pasta.