Creamy Roasted Tomato Soup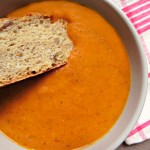 16 Roma tomatoes, cut in half lengthwise
2½ medium yellow onions, cut in half lengthwise
One garlic head (see directions - use 8 roasted peeled garlic cloves in soup)
1½ tbsp olive oil (for drizzling)
Salt & Pepper (for drizzling)
2 tsp paprika
2 tsp dried basil
1 tsp dried oregano
1 tbsp maple syrup
2½ cups water
1 cup light coconut/almond milk
Splash Hot Sauce
Bay Leaf
Preheat the oven to 400f or 200c.
Cut tomatoes and onions in half lengthwise. To prepare the garlic for roasting, peel the outer skin from the entire head of garlic. Cut the top of the garlic head off in order to expose the top of the garlic (making sure that the majority of the garlic is still intact).
Place the tomatoes (facing up), onions and garlic (exposed garlic side up) side-by-side on a parchment-lined baking sheet and drizzle with olive oil, salt and pepper.
Roast in the oven for 60 minutes. Check after thirty minutes to ensure that garlic and onions are not getting too dark. When perfectly roasted, the tomatoes, onions and garlic should begin to shrivel and begin to darken.
Let the vegetables cool down for 5 minutes after taking them out of the oven.
In a large pot using an immersion blender or large blender, blend the tomatoes (with the juices that accumulated in the pan while roasting), onions, 8 peeled garlic cloves, paprika, basil, oregano, water, coconut/almond milk and maple syrup until perfectly creamy smooth.
Simmer in large pot for 5 minutes with bay leaf to allow the flavors to come together. Season with a couple splashes of hot sauce to taste (optional).
Serve alongside a warm piece of crusty bread! Enjoy!
Serving size:
6
Calories:
192
Fat:
12g
Saturated fat:
8g
Unsaturated fat:
4g
Trans fat:
0g
Carbohydrates:
21g
Sugar:
12g
Sodium:
75mg
Fiber:
5g
Protein:
4g
Cholesterol:
0mg
Recipe by
Ceara's Kitchen
at https://www.cearaskitchen.com/vegan-creamy-roasted-tomato-soup/