Creamy Chickpea Avocado Salad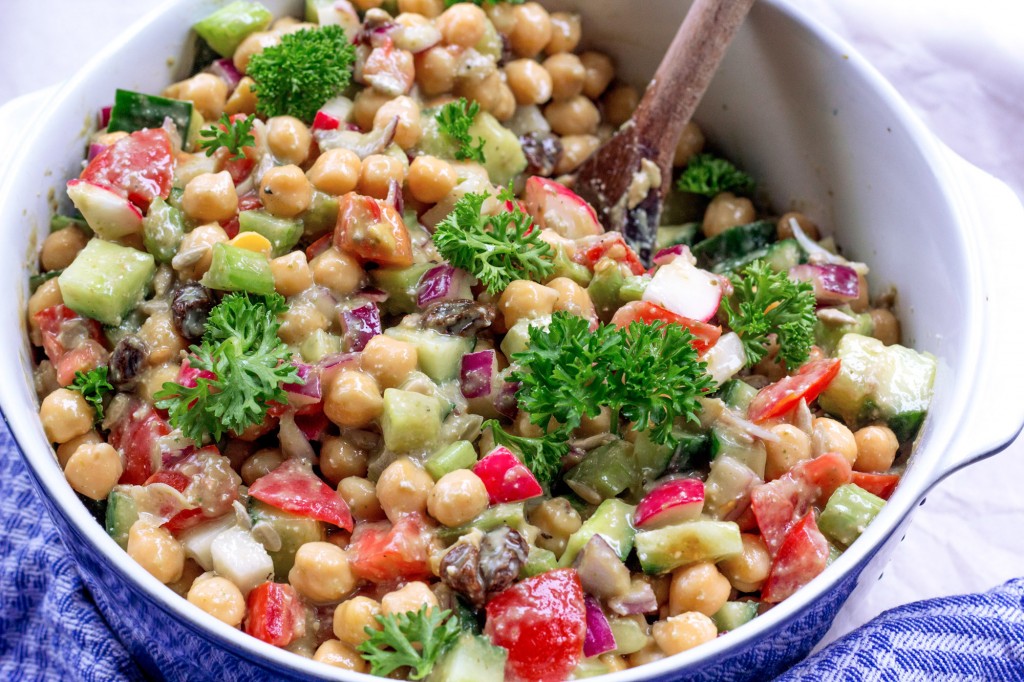 3 cups chickpeas (cooked or canned)
1 cup red onion, chopped
1 cup celery, chopped
2 cups cucumber, chopped
½ cup radishes, chopped
1 cup tomatoes, chopped
3 tbsp sunflower seeds
½ cup unsulfured raisins
1 avocado
½ lemon, juiced (2 heaping tbsp lemon juice)
½ tbsp apple cider vinegar
2 tbsp coconut sugar
¼ cup lightly packed basil
1 clove garlic
2 tbsp pine nuts/sunflower seeds
⅓ - ½ cup water OR unsweetened soy milk*
¼ tsp sea salt
¼ tsp cayenne pepper (optional), ¼ tsp oregano
dash black pepper
Fresh parley
Sunflower Seeds
½ lemon, juiced
Rinse your chickpeas if you are using canned. Chop and prepare all your vegetables (see photo for size). Toss the chickpeas and all the vegetables (red onion through to tomatoes), sunflower seeds and raisins into a large bowl.
Make the Creamy Avocado Dressing. Blend all the ingredients together until perfectly creamy. I used an immersion stick blender - a high speed blender will also work. Add an additional tbsp or 2 of water until desired consistency is reached.
Mix the dressing in with the chickpeas and vegetables. Garnish with sunflower seeds, fresh parsley and more lemon juice if desired. I like this salad with extra lemon juice, freshly juiced on top! Enjoy!
1) Use sunflower seeds in dressing for a nut free option.
2) Use unsweetened soy milk in dressing for an evening creamier dressing.
Recipe by
Ceara's Kitchen
at https://www.cearaskitchen.com/creamy-chickpea-avocado-salad-vegan-glutenfree/