Chocolate Chip Banana Bread Muffin Tops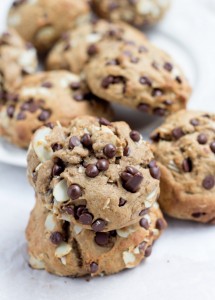 Serves:
11 large muffin tops
Pre-heat oven to 355F/180C. Line a baking sheet with a slipmat or parchment paper.
In a large mix, whisk together mashed banana, softened coconut butter (warm it up in the microwave for 30 seconds if it is hard), coconut sugar, vanilla extract and unsulfured molasses. Whisk together until creamy. Stir in sea salt, baking soda, nutmeg and cinnamon.
Fold half the light spelt flour into the wet ingredients. Fold the rest of the light spelt flour into the wet ingredients until fully combined. Fold in ⅓ cup of the mini chocolate chips and the slivered almonds into the banana bread batter.
Scoop the banana bread batter with an ice cream scoop onto the baking sheet. Press the dough lightly down with the palm of your hand. Sprinkle a few chocolate chips on each muffin top.
Bake for 13 - 16 minutes until the center of each muffin top is almost fully cooked. Leave to cool on the baking sheet for 5 minutes before devouring! Enjoy!
1) Leave out slivered almonds for a nut-free option.
Recipe by
Ceara's Kitchen
at https://www.cearaskitchen.com/chocolate-chip-banana-bread-muffin-tops-vegan-healthy/