Dark Chocolate Strawberry Scones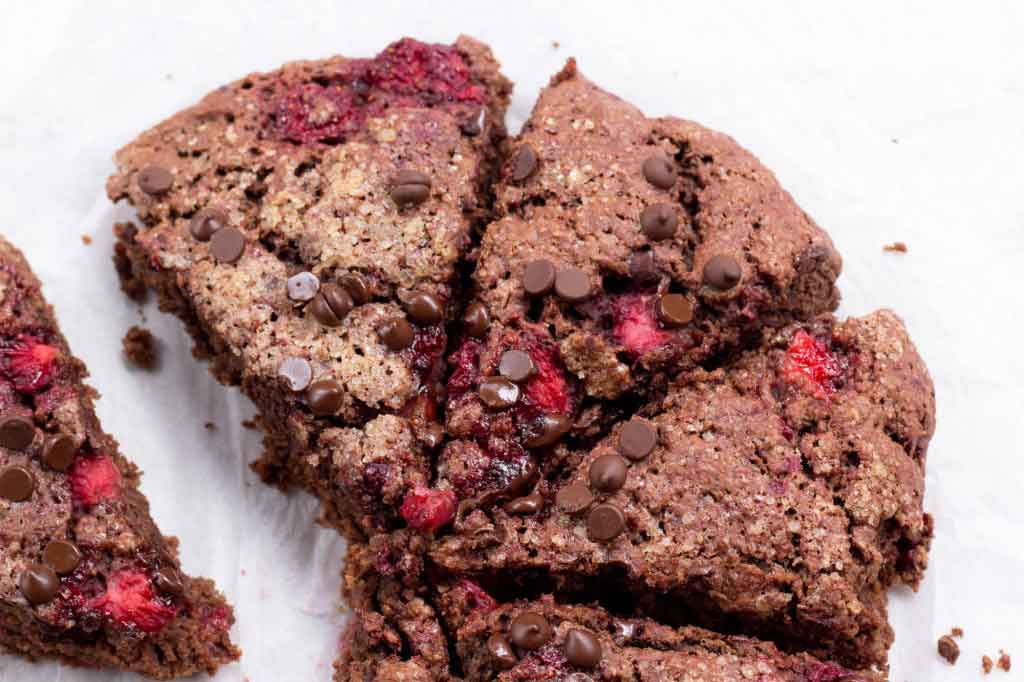 Pre-heat oven to 200C/390F. Line a pan with parchment paper and flour it or spray it with a non-stick cooking spray.
Place spelt flour, cacao powder, baking powder, sea salt and cane sugar (1/2 cup) in a large mixing bowl. Stir together..
With a spatula, make a well in the middle of the mixing bowl by moving the flour mixture to the edges. Add the vanilla extract and 3/4 cup of the coconut milk into the middle of the bowl. With the spatula (or clean hands) combine the flour into the wet ingredients. If the dough is too dry add a bit of the coconut milk by the ½ a tbsp until it is fully combined. Do not add too much liquid or the scones will not hold together and will get more muffin-like (I added an extra 2 tbsps). I like to do this part with my hands to get the dough fully combined. Try your best not to overwork the dough or your scones will be too dense. Gently fold in 1 cup of the chopped strawberries and ½ cup of chocolate chips.
With slightly damp hands (so the dough will not stick to your hands), place the dough onto the parchment paper. Shmoosh and shape the dough into a flat circle about 9.5 inches/24 centimeters wide. The dough will be a bit sticky, but that's okay.
Sprinkle the remaining strawberries (1 tbsp), cane sugar (2 tbsp) and chocolate chips (2 tbsp) onto the scones. With a share knife, cut down the middle of the scones on both sides of the circle, 4 times, until you have 8 equal slices (see photo).
On the middle rack of the oven, bake the scones for 18 - 25 minutes. They are ready when they are fully cooked in the middle. Leave them to cool fully before removing them from the pan. Cut into the 4 slices you made before baking so the scones will separate easily Enjoy!
1) Make sure your baking powder is aluminum free, this ensures that you don't have the baking powder after-taste.
2) Substitute Cane Sugar for Regular Sugar.
3) Leave the scones to cool fully on the pan before removing them.
4) Substitute Light Spelt Flour for All Purpose Flour or White Whole Wheat Flour.
5) Make sure your strawberries are fully dried off before using them in the scones. If using frozen strawberries, carefully chop the strawberries with a sharp knife while frozen. Do not defrost them before adding them into the scone batter.
Recipe by
Ceara's Kitchen
at https://www.cearaskitchen.com/dark-chocolate-strawberry-scones-vegan-healthy/