Baked Italian Rice Balls (Arancini) with Creamy Marinara Dipping Sauce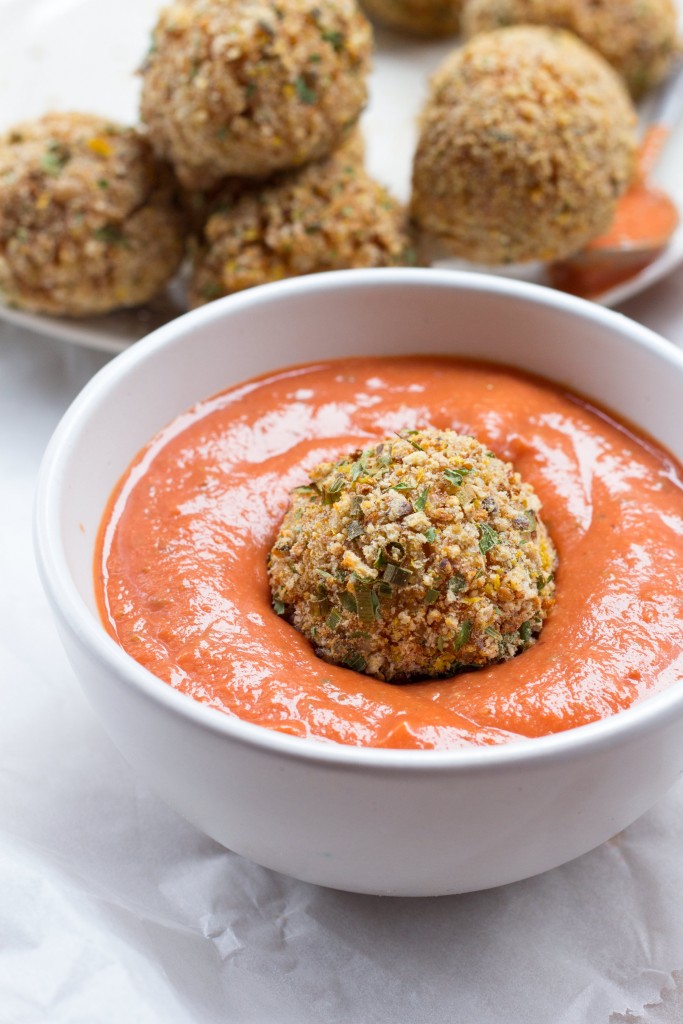 1 cup breadcrumbs
1 tbsp nutritional yeast
1 tbsp dried chives
1 tbsp dried parsley
½ tsp sea salt
pinch black pepper
⅛ tsp cayenne powder (optional)
1 cup plain tomato sauce
1 clove garlic
1 tbsp tahini
1 tsp herbes de provence
splash hot sauce
1 tsp coconut sugar
Simmer risotto rice in 1 cup of water + 1 cup of vegetable broth with tomato sauce, herbes de provence, sea salt and paprika.
While the rice is cooking, prepare the bread crumb mixture. Stir together all of the bread crumb ingredients in a medium size bowl (breadcrumbs through to optional cayenne powder). Set aside 3 tbsp of the bread crumb mixture (you will mix this in with the cooked rice).
Once the rice is cooked, add in the nutritional yeast and 3 tbsp of the bread crumb mixture to the warm rice. Stir together, cover and leave to cool in the fridge for 30 minutes.
Once rice is cool, pre-heat oven to 400F/200C. Line a baking sheet with parchment paper. With an ice cream scoop (or spoon), scoop rice mixture onto a lined baking sheet. You should have 11 equal sized balls on the baking sheet.
Prepare a small bowl of cold water to dampen your hands slightly before rolling the rice balls. This helps the breadcrumbs to stick to the rice balls and helps the rice to not stick to your hands. Roll the rice mixture into round balls. Dip them generously into the breadcrumbs and place again on the baking sheet. Do this with all the rice balls until they are all evenly round and coated with the breadcrumb mixture.
Bake for 25 minutes until crispy and brown. Broil for the final two minutes (but watch them closely not to burn the rice balls) to make them extra crispy. Leave to cool for 10 minutes before eating - they are hot!
Toss all the ingredients for the dipping sauce into a blender and blend until creamy (I used an immersion stick blender but any blender should do). Serve the warm rice balls fresh out of the oven with the cold creamy marinara dipping sauce.
1) Make sure ingredients (breadcrumbs, risotto rice) are certified gluten free if necessary.
2) Substitute herbes de provence with equal parts dried basil and oregano.
3) Substitute coconut sugar with plane white or light brown sugar or sweetener of choice.
Recipe by
Ceara's Kitchen
at https://www.cearaskitchen.com/baked-italian-rice-balls-arancini-healthy-vegan/