Not Your Mama's Mac and Cheese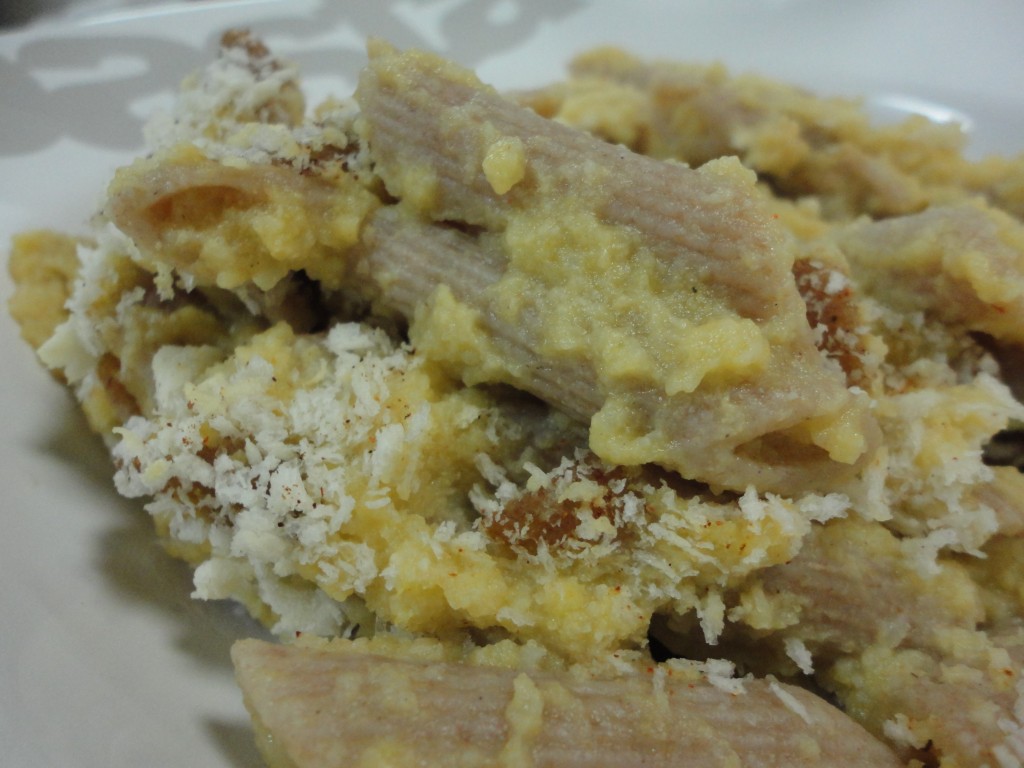 Author:
Ceara @ Ceara's Kitchen
1 Yellow onion, diced
3 Cloves garlic, diced
⅛ cup veggie broth/water Veggie broth/water
⅕ cup Milk of choice (I used soy)
1½ tsp Mutmeg
1 tbsp Dijon Mustard
1 tsp Cayenne Pepper
Dash Salt and Pepper
Splash Hot Sauce
1 Head of Cauliflower, roughly chopped up into small pieces
2 cups Pumpkin, diced (or 1 cup pumpkin puree)
1 tsbp olive oil (optional)
½ cup breadcrumbs/panko (optional)
In a medium size pot, sautee the garlic and onions, in the veggie broth or water, over medium-high heat, until slightly browned and most of the water is soaked up.
Add the soy milk to the onion and garlic mixture.
Add the spices and the cauliflower (add a splash more soy milk, if necessary for the cauliflower to be almost fully covered)
While your sauce is cooking, in a separate large pot, cook the pasta until it is al-dente.
Simmer the cauliflower over a medium-low heat until the cauliflower starts to get soft (around 10 minutes) *watch it closely! The milk quickly boils overs!
Add the pumpkin to the cauliflower mixture and cook for about five more minutes* (see note)
Take your cauliflower-and-pumpkin mixture off heat and puree with a blender until the sauce is creamy smooth (took me about 3 minutes with the hand blender!)
Add the sauce to your pasta.
Add one tbsp of olive oil, if desired, for an extra creamy taste to the pasta. (here, I tasted the pasta and added a few mores dashes of the spices above to taste!)
Voila! You can enjoy your mac and cheese like this...
Or, you can add it to a casserole dish, sprinkle it with breadcrumbs, and bake for about 20 minutes at 200ºc or 380ºf (watch it closely so it doesn't burn!)
Voila! Eat and enjoy your yummy, creamy, mac and cheese!
This Mac and Cheese is fantastic the next day! (who doesn't love left-over mac and cheese?) I sauteed onion, garlic, mushrooms, spinach and shredded carrot and added it in the next day to my serving of Mac and Cheese and it was delicious!
Serving size:
8
Calories:
79
Fat:
1g
Carbohydrates:
16g
Sugar:
5g
Sodium:
149mg
Fiber:
4g
Protein:
4g
Recipe by
Ceara's Kitchen
at https://www.cearaskitchen.com/not-your-mamas-mac-and-cheese/