Healthy Banana Carrot Muffins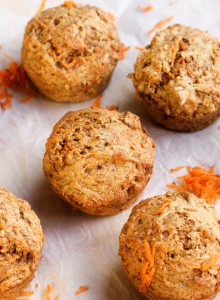 Pre-heat oven to 390F/200C. Prepare a muffin pan with coconut oil or non-stick cooking spray.
Add ground flax seed and water to a large size bowl, whisk together and leave to thicken up while preparing the dry ingredients.
In a medium sized bowl, add and mix dry ingredients (spelt flour through to optional nuts) together until evenly dispersed.
When the flax has reached an egg-like consistency add the rest of the wet ingredients (mashed banana through to finely grated carrots). Whisk together until well combined. Fold the dry ingredients into the wet ingredients until just combined, *Make sure not to over-mix the batter so your muffins will be super soft and fluffy!
Scoop the batter into the muffin pan using an ice cream scoop or a ¼ cup measuring cup. Bake for 4 minutes and then turn the oven down to 355F/180C. Bake until an inserted toothpick comes out clear. The amount of time the muffins take to bake will depend on your oven - mine took 17 minutes.
Remove the muffins from the oven and leave to cool in the pan for 5 minutes. Remove from the muffin pan and leave the muffins to cool on a cooling rack. Enjoy with my vegan cream cheese frosting for a real treat!
Recipe by
Ceara's Kitchen
at https://www.cearaskitchen.com/healthy-banana-carrot-muffins/