Healthy Rainbow Pasta Salad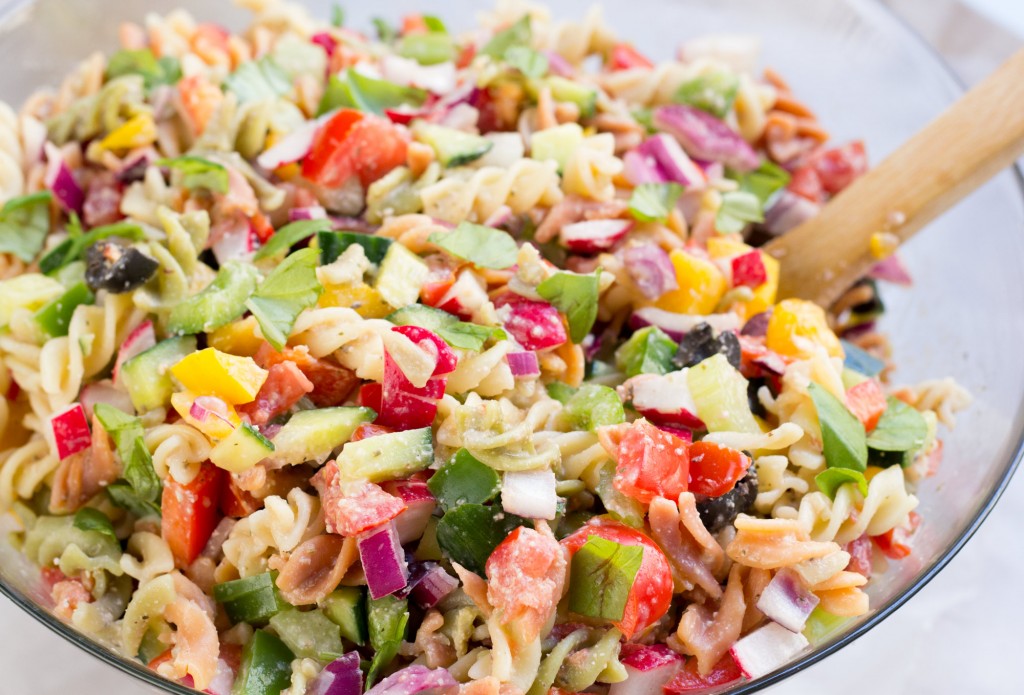 Serves:
10 servings (side)
500 grams/17.6 oz multicolored rotini (or pasta of choice)
1½ cups red onion
1 cup celery
2 cups tomatoes
3 bell peppers (1 red, 1 yellow, 1 green)
¾ cup radishes
½ cup black olives
Cook the pasta according to the directions on the box. While the pasta is cooking, chop and prepare all your vegetables (see photo for size).
Drain the pasta and reserve ⅓ cup of the starchy pasta water for the dressing. Rinse the pasta under cold water to cool it down.
Dressing: Add all the ingredients (sunflower seeds through to black black pepper) to a blender and blend until creamy. Taste test and add additional sea salt or black pepper to taste. Note: I don't pre-soak my sunflower seeds and use an immersion blender to blend the dressing (a high speed blender will work fine as well). Feel free to pre-soak your sunflower seeds if you don't have a strong blender.
Add the cool pasta and chopped vegetables to a large bowl and pour the dressing on top. Toss until everything is evenly coated with the dressing. Garnish with fresh basil. Pasta salad tastes even better the next day once the flavors have marinated. Serve cold.
1) Use gluten-free pasta if necessary. Make sure your multi-colored pasta is vegan. Some multicolored pastas are died using animal ingredients.
Recipe by
Ceara's Kitchen
at https://www.cearaskitchen.com/healthy-rainbow-pasta-salad/