Roasted Potato Pesto Salad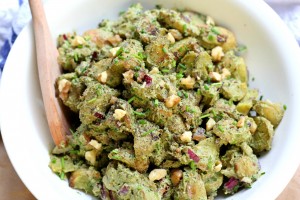 500 gr/17.6 oz little potatoes
Sea Salt + Black Pepepr
1 cup walnuts, chopped (1/2 cup pesto, ½ cup chopped up)
1 red onion, chopped
big handful fresh chives, chopped
2 cloves garlic
1 avocado
½ cup fresh basil (packed)
3 tbsp lemon juice (juice from half a lemon)
2 - 4 splashes hot sauce
2 tbsp nutritional yeast (optional)
Preheat oven to 480F/250C. Cut the potatoes in half (see photo for guide). Boil the potatoes in a large pot for 5-8 minutes until they are semi-soft when poked with a fork (but not fully soft, they will continue cooking in the oven). Top with salt and pepper and roast for 8 - 12 minutes in the oven until the they begin to turn golden brown.
Turn the oven down to 390F/200C. Place the walnuts on a large pan and roast for 5-8 minutes. *Check the walnuts about halfway through to give them a light toss and make sure they are not burning.
Prepare the pesto. Once the walnuts are roasted blend 1/2 cup of the walnuts, garlic, avocado, basil, lemon juice, hot sauce, and nutritional yeast (optional, but recommended) in the blender until creamy (I use an immersion/"stick" blender).
Toss the roasted potatoes in a large bowl with red onion, fresh chives and remaining ½ cup of walnuts. Add about ¾ of the creamy pesto to the roasted potato mixture. Note: I used about ¾ of the pesto mixture, you can use the rest of the pesto for pasta, sandwiches or whatever you please!).
Garnish with chives and additional black pepper if desired!
1) If servings this to a larger crowd (i.e. bringing it to a BBQ or potluck), DOUBLE the ingredients. You will have about ½ cup of pesto left over - use on sandwiches, pasta, pizza or however you please!!
2) Nut-free version: Substitute the walnuts for sunflower seeds.
Recipe by
Ceara's Kitchen
at https://www.cearaskitchen.com/roasted-potato-pesto-salad-healthy-vegan-glutenfree/