Pumpkin Spice Cinnamon Sugar Cookies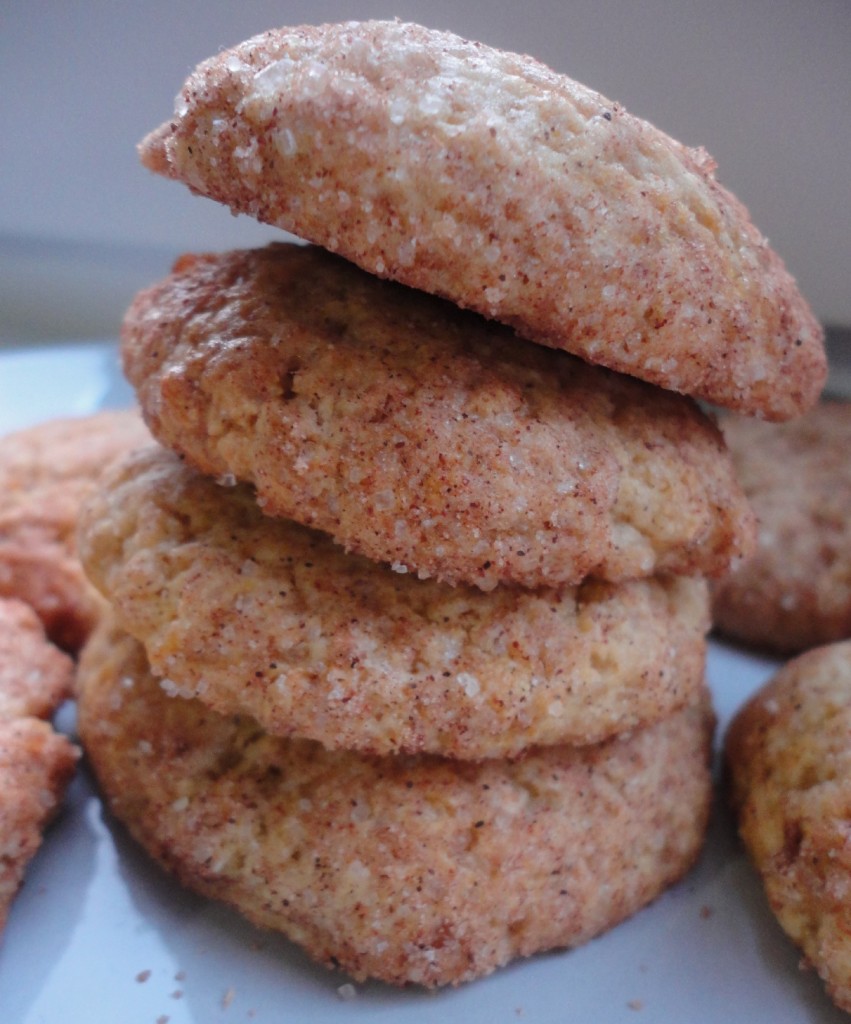 1 and ½ cup white whole wheat flour*
½ tsp baking soda
½ tsp baking powder
½ tsp salt
1 tsp cinnamon
½ tsp nutmeg
¼ tsp ginger
⅓ cup cane sugar*
3 tbsp honey or maple syrup
1 tsp vanilla
4.5 tbsp coconut oil (melted)*
3.5 tbsp pumpkin puree
3 tbsp milk of choice (or a touch more if your dough seems a bit dry)
Pre-heat oven to 325ºf or 160ºc.
Put dry ingredients in a medium size bowl. Mix until all the spices are nicely dispersed.
Put wet ingredients in a large bowl. Whisk together until very smooth and creamy.
Add flour mixture to the wet ingredients. Mix the dry and the wet together until you form a ball with the dough. I find working the dough with clean hands works the best!
Leave the dough to chill out in the fridge for at-least 30 minutes.
Put cinnamon and sugar in a small dish. Mix. Roll cookie dough into little balls (1 tbsp size for medium size or 1 tsp size for mini cookies). Roll the cookies around a bit in the dish until the "cookie balls" are lightly covered with cinnamon.
Place cookie dough balls onto lightly oiled cookie sheet.
Flatten cookies out slightly with your palm (they will puff up again!)
Bake for ten minutes.
Let sit for 10 minutes on the cookie sheet and Voila! Enjoy!
- These cookies work great with white whole wheat or all-purpose flour.
- If you don't have cane sugar on hand use white or a light brown sugar.
- If you don't have any coconut oil on hand you can also use walnut oil, canola oil, peanut oil...
- If you want to make these cookies lower in fat you can try subbing some of the coconut oil for pumpkin puree but this will result in a "cakier" cookie.
- Make sure to leave the cookies on the cookie sheet for ten minutes... they will continue cooking a little bit and will be much easier to transfer (hehe, I admit, I "tested" one when they came out of the oven ;) They pumpkin spice and cinnamon sugar smell soo good... it's almost impossible not to!)
Nutritional Benefits: High in Vitamin A and low in cholesterol :)
Calories:
1743
Fat:
65g
Saturated fat:
54g
Unsaturated fat:
6g
Carbohydrates:
274g
Sugar:
125g
Sodium:
1844mg
Fiber:
8g
Protein:
22g
Cholesterol:
4mg
Recipe by
Ceara's Kitchen
at https://www.cearaskitchen.com/vegan-pumpkin-snickerdoodles/