One Pot Cheesy Tomato Pasta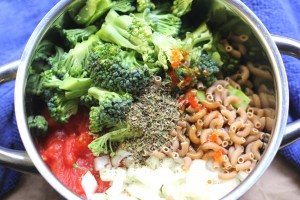 Serves:
3 large or 4 smaller servings
Dice the garlic, chop the onions and broccoli into bite size florets (see photo, or just use frozen). Add all of the ingredients except the nutritional yeast (macaroni through to vegetable broth) to a large pot (Use a pot larger than the one used in the photo so the pasta does no stick together!!).
Bring the pot to boil over medium high heat. Stir every few minutes until the macaroni is cooked through. Make sure not to overcook the macaroni. Once the macaroni is cooked to aldente add the nutritional yeast to the pasta and vegetables. Stir everything together. Season with addition herbs, salt and pepper to taste. Note: You should not have a lot of liquid left over, the macaroni should have soaked it up up during the cooking process. A bit of liquid is fine and adds to the creaminess of the pasta. If there happens to be a lot of liquid, just drain a little bit of it out before adding the nutritional yeast.
Serve warm, garnish with additional hot sauce, nutritional yeast and chives! Best served warm right away.
1) Substitute the herbes de provence with 1½ tsp basil, 1 tsp oregano. I like this pasta equally both ways!
2) Double this recipe if serving it for a larger family but be SURE to use a larger pot so the pasta does not stick together.
3) Replace up to half the vegetable broth with plain water.
Recipe by
Ceara's Kitchen
at https://www.cearaskitchen.com/one-pot-cheesy-tomato-pasta-vegan-healthy/