Healthy Chocolate Chip Muffins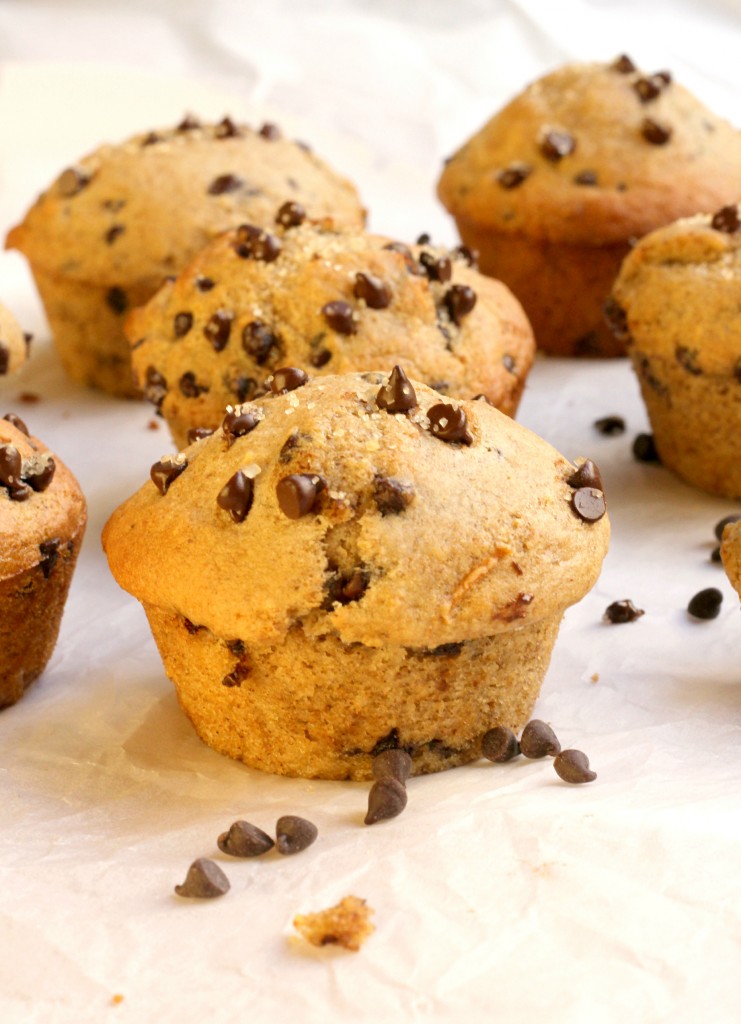 1 flax egg (1 tbsp ground flax seed + 3 tbsp water)
½ tbsp white or apple cider vinegar
1 cup almond or soy milk
1 tbsp vanilla extract
⅓ cup applesauce
½ cup cane sugar + 2 tbsp to sprinkle on top
2 cups white spelt flour
3 tsp baking powder
½ tsp sea salt
¼ tsp nutmeg
¾ cup mini chocolate chips + 2 tbsp to sprinkle on top
Pre-heat the oven to 425F/220C. Oil the muffin pan with coconut oil or cooking spray (so the muffins won't stick!).
Add flax and water to a large mixing bowl. Stir around and leave to sit for a couple minutes until it has thickened and formed an egg-like consistency. In a small bowl, while the flax egg is thickening, mix the almond milk and vinegar together and leave to sit for a couple minutes (this forms a vegan "buttermilk").
Once the flax egg is thickened, add the remainder of the "wet" ingredients (milk mixture, vanilla extract, applesauce and cane sugar) to the large bowl and whisk until fully combined.
In a medium size bowl, add the dry ingredients (spelt flour, baking powder, sea salt, nutmeg and chocolate chips) and mix together until the ingredients are evenly dispersed.
Whisk the wet ingredients into the dry ingredients in the large mixing bowl. Make sure to not over-mix - it's okay if there is a couple lumps in the batter like pancake battter.
Pour ⅓ cup of the muffin batter into each cup of the muffin pan (or to almost the top of each muffin cup). Sprinkle additional chocolate chips and cane sugar on top of each muffin and bake for 5 minutes at 425F/220C. Lower the heat to 375F/190C, leaving the muffins in the oven until they are fully baked (14 - 18 minutes). The muffins are fully baked when an inserted toothpick comes out clear. The amount of time your muffins will need to bake will depend on your oven, mine took a total of 20 minutes. Once baked, leave the muffins to cool in the pan for 5 minutes before removing to cool on a cool rack or plate! Enjoy!
1)Sub spelt flour for white whole wheat or all purpose flour
2) Replace cane sugar with coconut sugar or with normal/light brown sugar - recipe will no longer be refined sugar free if replacing with normal/light brown sugar.
Recipe by
Ceara's Kitchen
at https://www.cearaskitchen.com/healthy-chocolate-chip-muffins-bakery-style/