Spring Vegetable Couscous Stir Fry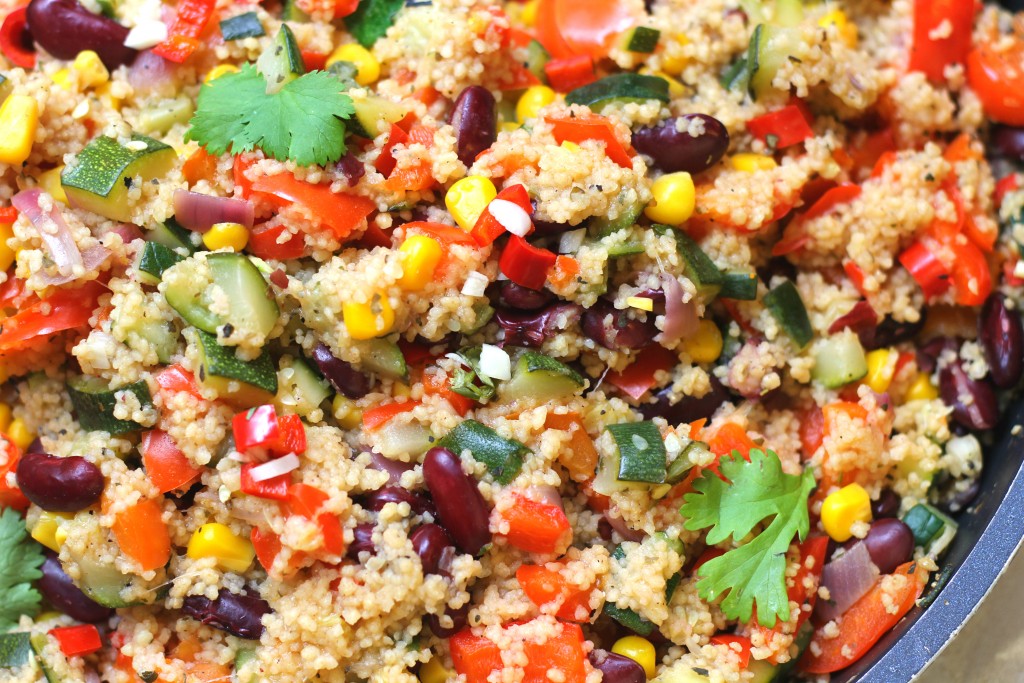 1 red onion, finely chopped
3 - 4 cloves garlic, diced
2 zucchinis, chopped
1 - 2 hot chili peppers*, finely chopped
3 red bell peppers*, chopped
1 cup corn
1 can kidney or black beans (1½ cups)
¼ tsp cumin
¼ tsp smoked paprila (optional)
2 tsp dried basil
1 cup couscous
1½ - 2 cups low sodium vegetable broth
½ lime, juice
Hot Sauce
Cilantro
Black Pepper
Over medium-high heat, saute the red onion and garlic in a ¼ cup of low sodium vegetable broth until soft. Add in and saute chopped zucchini, chili peppers and red bell peppers together. Add a dash more vegetable broth if necessary.
Once the vegetables are sauteed well (about 5 minutes) add in corn and beans. Saute. Add cumin, smoked paprika and dried basil. Saute for another 2 minutes.
Turn down heat to medium. Add the couscous to the vegetables and saute into the vegetable mixture. Add 1 cup of vegetable broth and leave covered until is is soaked up into the couscous. Stir and taste the couscous and add in an extra ½ cup of vegetable broth if necessary (I added in a total of 1½ cups of broth but the amount you use will depend on your brand of couscous + the amount of water left in your vegetables after cooking).
Squeeze half a lime on top of the couscous stir fry and garnish with cilantro. Fluffy the couscous with a fork and serve.
1) Use a mix of green and red bell peppers if you are sensitive to the sweetness of red peppers.
2) Remove the seeds of the chili peppers if you don't want an overly spicy dish or leave them out altogether.
3) Use quinoa for a gluten-free option instead of couscous but remember to allow for a bit of extra cooking time.
Recipe by
Ceara's Kitchen
at https://www.cearaskitchen.com/spring-vegetable-couscous-stir-fry/