Gluten Free Healthy Rhubarb Crisp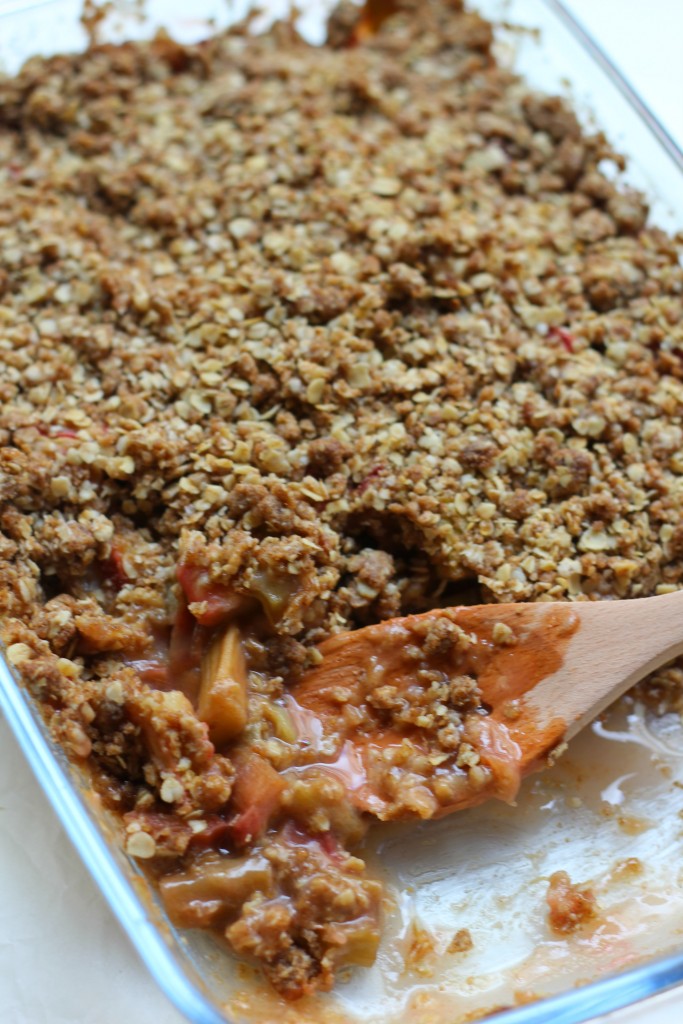 6½ heaping cups rhubarb
½ cup cane sugar*
1 tsp lemon zest
1 tbsp lemon juice
4 tbsp oat flour
Pre-heat oven to 350F/175F. Grease a 2 quart/1 liter baking dish with coconut oil or coconut butter.
Rhubarb layer: Place chopped rhubarb (see notes), cane sugar, lemon zest, lemon juice and oat flour in the baking dish. Mix around, level it out in the dish and leave to sit for 10 -15 minutes while you prepare the crumble layer.
Crisp topping: Add oat flour, oats, sea salt, cinnamon and brown sugar to a medium size mixing bowl. Mix together. Add 6 tbsp of coconut oil to the crisp mixture. Mash it in with a fork until a crumbly mixture forms. Add an extra tbsp of coconut oil if necessary. I like to do this part with clean hands, I find it gets the best "crumbly" texture.
With clean hands, crumble the crisp topping evenly over the rhubarb. Bake for 35 - 45 minutes until the rhubarb bottom is very soft. Test this by poking the rhubarb with a fork to see if the rhubarb is soft. The amount of time you bake the rhubarb crisp will depend on your baking dish and oven. I baked mine for 43 minutes.
1) Cut rhubarb into roughly 1 cm pieces (1/3 inch).
2) Replace cane sugar with light brown sugar
3) Replace coconut oil with coconut butter for an oil-free version.
4) Make coconut oil is at room temperature before adding it to the crumble and not rock hard.
5) If you are more accustomed to very sweet rhubarb dishes, add an extra ¼ cup of cane sugar to the rhubarb mixture.
6) Use dark brown sugar instead of dark brown cane sugar.
Recipe by
Ceara's Kitchen
at https://www.cearaskitchen.com/gluten-free-healthy-rhubarb-crisp/