The Oat Bar with Dark Chocolate Chunks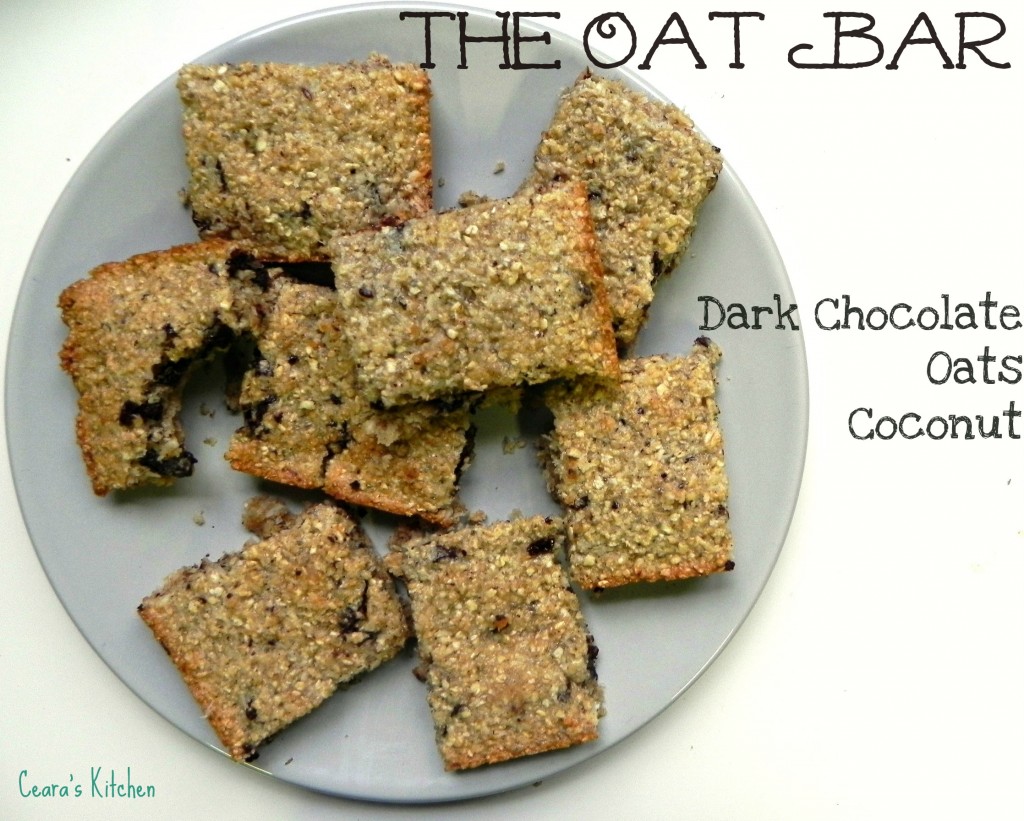 1½ cups roughly processed oat flour (2 cups oats)*
½ cup shredded unsweetened coconut
¼ cup cane sugar*
½ tsp sea salt
1 tsp baking powder
1 tsp cinnamon
1.5 tbsp chia seeds + 3 tbsp water (= Chia "egg")*
2 heaping tbsp unsweetened applesauce*
2 tbsp melted coconut oil*
¼ cup milk of choice (almond, coconut, cashew...)
1 tbsp maple syrup or honey
splash vanilla
45 grams dark chocolate (broken up into little pieces; usually one chocolate square = 10 grams) (or ⅓ cup chocolate chips)
Pre-heat oven to 350ºf or 180ºc.
Put Chia seeds in a small size bowl with water and mix.
Roughly process 2 cups of oats. Measure out 1½ cups of oats (you will have a bit left over).
Put dry ingredients in a medium size bowl (with oat "flour"). Mix.
Put wet ingredients in a large bowl (with chia egg - your chia seeds should have thickened up to a gooey egg like consistency). Whisk together until very smooth and creamy.
Add wet ingredients to the dry ingredients. Mix until moist dough forms.
Fold in dark chocolate "chips".
Put in fridge for 30 minutes of more.
Spread into a lightly greased baking pan. Smooth out with a metal spoon.
Bake for 15 -17 minutes (until the top of the bars are slightly golden brown.)
Let sit for 10 minutes and Voila! Enjoy!
Nutritional Benefits: High in healthy fats and low in cholesterol :)
Calories:
1925
Fat:
97g
Saturated fat:
64g
Unsaturated fat:
25g
Carbohydrates:
233g
Sugar:
86g
Sodium:
1277mg
Fiber:
30g
Protein:
38g
Cholesterol:
8mg
Recipe by
Ceara's Kitchen
at https://www.cearaskitchen.com/the-oat-bar/