Spring Vegetable Kitchen Sink Soup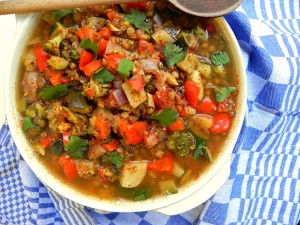 2 medium red onions
4 - 6 cloves garlic
1 tablespoon herbes de provence
2 red bell peppers
2 medium zucchini
5 roma tomatoes
4 cups white button mushrooms OR 1 head broccoli
5½ cups low sodium vegetable broth
2 large potatoes (with red skins)
1 cup lentils (green, brown or red)
½ lemon, juiced
½ tsp smoked paprika (optional)
¼ tsp ground cumin (optional)
¼ tsp cayenne pepper (optional)
Sea Salt & Pepper to taste
Fresh Cilantro
Fresh Parsley
Red Pepper Flakes
Cut all your vegetables into bite size soup pieces. Warm up a large pot over medium heat. Toss the chopped onion, garlic and herbes de provence into the pot with ¼ cup of the vegetable broth and sautee for a couple minutes until they start to brown and the liquid starts to evaporate.
Add in the chopped red bell peppers, zucchini, roma tomatoes, mushrooms (if using) and sautee in the pot with the garlic and onions, adding in a bit of extra vegetable broth to sautee when necessary.
Add the low sodium vegetable broth, chopped potatoes, broccoli (if using) and lentils into the pot. Season with the additional herbs (smoked papprika, ground cumin, cayenne) and leave to simmer until the lentils are soft. Taste test and add additional spices if necessary. Add the juice of half a lemon to the soup.
Serve warm and garnish with fresh herbs or spices. Soup tastes even better the next day!
1) You can switch up the vegetables based on whatever you have in your sink! That is what is so great about this soup - follow the base of the soup (lentils, potatoes etc.) and use whatever you have on hand.
2) Replace herbes de provence with 1 tsp basil, 1 tsp thyme, 1 tsp oregano
3) Can replace the tomatoes with caneed tomatoes but reduce the vegetable broth by a cup.
4) After making this soup with both broccoli and mushrooms, I prefer it with the mushrooms but both are delish.
Recipe by
Ceara's Kitchen
at https://www.cearaskitchen.com/spring-vegetable-kitchen-sink-soup/