Colorful Chopped Rice Salad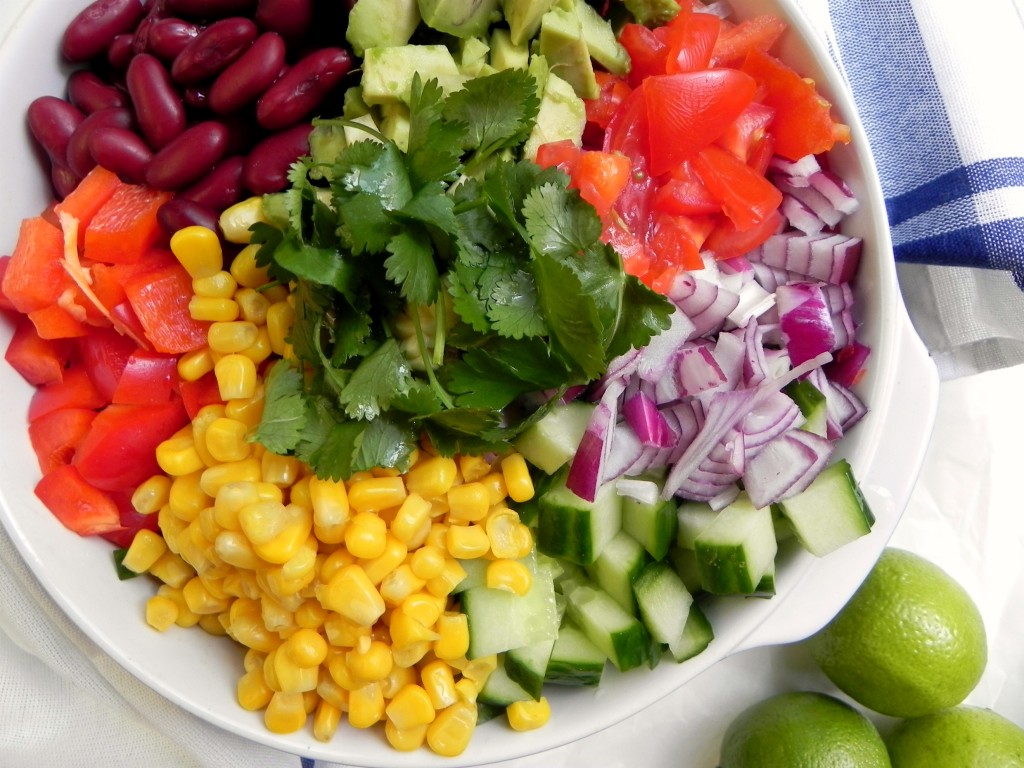 2 cups wild rice blend
3 tomatoes
1 red bell pepper
1 cucumber
1 avocado
¾ large red onion
2 cloves garlic, minced
1 can kidney beans
¾ cup corn
½ cup fresh cilantro (loosely packed)
½ cup lime juice (juice from 3 limes)
Sea Salt + Pepper to taste
Parsley
Cilantro
Red Pepper Flakes
Additional Avocado
Cook and Prepare: Cook wild rice blend in 3 cups of vegetable broth or water in a large pot (or as per the direction on the package). While the rice is cooking, chop all the vegetables (tomatoes, red bell pepper cucumber, avocado and red onion) into small pieces. Minse the garlic or cut into very small pieces. Chop the fresh cilantro. Rinse and drain the beans.
Assemble Salad: Once the rice is cooked leave it to cool for 20 minutes before transferring it to a large bowl and adding the vegetables. Add the chopped vegetables, kidney beans and corn to the large sized bowl with the rice. Add ¼ cup of fresh cilantro and lime juice to the bowl and combine all the ingredients together. Taste test and add the additional ¼ cup of cilantro if you are a cilantro fan. Add sea salt and pepper to taste.
Serve: To serve for a party, garnish with fresh parsley, cilantro, and red pepper flakes. I enjoy this during the week for lunches in lettuce of burrito wraps for a quick lunch.
1) If you are not serving this salad right away I recommend adding the avocado in right before eating it so it does not brown.
2) Salad tastes even better the next day.
3) Feel free to add in or substitute whatever vegetables you have on hand.
4) If you are not a cilantro fan add in fresh basil or chives instead.
5) I used a Wild Rice Blend in this recipe that is a mix of both brown and wild rice. Substitute with preferred rice of choice.
Recipe by
Ceara's Kitchen
at https://www.cearaskitchen.com/chopped-rice-salad/