Easy Whole Wheat Artisan Bread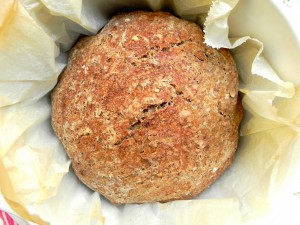 3 cups whole wheat flour
½ tsp active dry yeast
1 tsp sea salt
1½ tbsp dark brown cane sugar (OR dark brown sugar*)
2 tbsp oats
1½ tbsp pumpkin seeds/sunflower seeds
1½ tbsp chia seeds
1½ tbsp ground flax seeds
1½ cups water
Combine Dough: In a large bowl, combine the flour, yeast, sea salt, dark brown cane sugar, oats and seeds. Add the water and combine until the dough comes together. Do not overwork the dough - the less you work the dough the softer your bread will be. The dough will be sticky and shaggy looking but that is okay. Form it into a make shift ball, cover dish with plastic wrap and let sit for 12 - 20 hours (I let mine rise overnight).
Second Rise: The dough will have risen quite a bit and be covered in bubbles (see photo). Flour your work surface and transfer the dough to the floured area. Form the dough into a round shape with slightly dampened hands (making sure not to overwork the dough). It doesn't have to be perfectly shaped. Cover the dough with a clean kitchen towel and leave to rise for an hour.
Bake and Eat: Preheat the oven to 450F/230C. Place a Dutch oven or deep Pyrex-like casserole dish (without the lid) into the oven to preheat for 30 minutes while the dough is rising. Carefully remove the hot baking dish from the oven and place the dough ball into the ungreased baking dish. Cover the dish and bake for 30 minutes. Remove the lid and bake for 15 - 20 minutes until the top of the bread is golden brown. Remove the loaf from the oven and leave it to cool before slicing.
1) You can also use regular AP flour in this recipe.
2) Substitute dark brown cane sugar with regular (cane) sugar + 1 tsp molasses
3) You can really customize this bread with ANY seeds/nuts you like. Feel free to substitute in your own seeds with what you have on hand.
4) If you do not have a lid you can use aluminium foil instead.
Recipe by
Ceara's Kitchen
at https://www.cearaskitchen.com/easy-whole-wheat-artisan-bread-no-knead/