Vegetarian Broken Spaghetti Risotto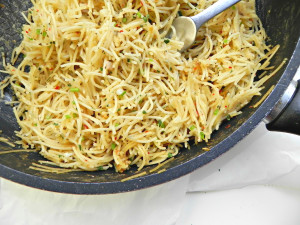 2 cups chopped mushrooms, red peppers (vegetable of choice)
In a large and deep pan, over medium-high heat, heat garlic in olive oil or a couple tablespoons of vegetable broth with herbes de provence. If you are using vegetables (mushrooms, red peppers) add them into the pan and sautee them for a couple of minutes until soft. Add in the broken spaghetti. Stir it around and toast it with the garlic for a couple minutes until it starts to turn a light golden brown color. *Make sure to not burn the spaghetti *Your spaghetti will get a bit more brown if using oil but it will still taste delicious with the vegetable broth.
By the ½ cup, add in the vegetable broth and nutritional yeast (optional), stirring constantly until the spaghetti soaks up the vegetable broth. Keep adding the vegetable broth by the ½ cup until the pasta is fully cooked (*you might need a bit more or less water depending on your brand of spaghetti). Add in the hot pepper flakes and parsley. Sprinkle with black pepper and sea salt to taste. Serve with fresh chives.
Enjoy right away. This risotto is not as good the next day because the pasta soaks up the sauce created in the cooking process.
*Your pasta will look much creamier than in these pictures. I had to wait for the spaghetti to cool down to take the photos and some of the sauce was absorbed.
Recipe by
Ceara's Kitchen
at https://www.cearaskitchen.com/vegetarian-broken-spaghetti-risotto/