Chocolate Chip Banana Oat Blender Pancakes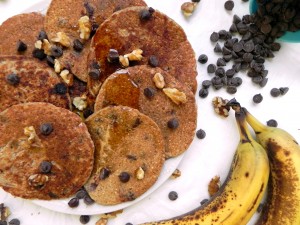 1 flax egg (1 tbsp ground flax seed + 3 tbsp water)
½ tbsp white or apple cider vinegar*
1 cup almond milk or non-dairy milk of choice*
½ cup mashed banana (about 1½ bananas)
1 tsp vanilla extract
1 heaping tbsp maple syrup or agave syrup*
1 tsp cinnamon
½ tsp nutmeg
3 tsp baking powder
½ tsp baking soda
½ tsp sea salt
2 cups oats
½ cup chocolate chips
Place ground flax seed and water in blender, swirl it around and let it sit for a couple minutes until it becomes a thick, goopy, egg-like texture. Add the rest of the ingredients (EXCEPT for the chocolate chips!). Blend in the blender until the oats are dissolved and a smooth pancake batter is formed. Add a bit of milk, by the tbsp, if the batter is too thick. If it is too thin, leave it to thicken for a couple of minutes. Stir in the chocolate chips.
Preheat stove to medium high heat and oil skillet with coconut oil spray or brush with cooking oil. Test the pan by dropping a couple drops of water on the skillet. When the water sizzles the pan is hot enough.
Using a tbsp, scoop and pour batter (2 tbsp for each pancake) onto the hot, oiled pan. Do not exceed two tbsp or your pancakes will not be as fluffy. Cook for a couple minutes on the first side. The pancakes are ready to be flipped by they begin to bubble around the edges. Flip and cook for just less than a minute on the other side.
Serve with crumbled walnuts and smother with maple syrup or toppings of choice!
These Banana-Oat Blender Pancakes can be made in a blender or in a large mixing bowl with an immersion blender.
Due to the oats, the pancake batter does thicken as it sits. While cooking the pancakes be sure to add a bit of milk, by the tbsp, to maintain a thick yet pour-able pancake batter.
These pancakes can be stored in the fridge for a couple of days in a sealed container or in the freezer for up to two weeks. Reheat pancakes in the toaster or in the microwave for 30 seconds.
Make sure your baking powder and oats are certified gluten free if necessary.
Recipe by
Ceara's Kitchen
at https://www.cearaskitchen.com/chocolate-chip-banana-oat-blender-pancakes/