Healthy Chocolate Chip Banana Bread Bars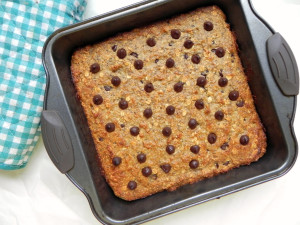 1¼ cups mashed banana (4 bananas)
½ cup brown cane sugar*
2 tbsp maple syrup
2 tsp vanilla extract
1 tbsp chia seeds
1 tbsp ground flax seeds
2 tsp baking powder
½ tsp sea salt
1½ cups oats (or scant 1½ cups oat flour)
1 cup almond flour/meal
½ cup + 2 tbsp chocolate chips
½ cups oats
Pre-heat the oven to 375F or 180F. Grease a square baking pan with coconut oil or non stick spray.
Blend the oats until a fine flour forms (using a blender or an immersion blender).
Add the banana to a large mixing bowl. Blend or mash the banana. Add the rest of the wet ingredients to the large bowl. Whisk them together until they are fluffy and fully combined.
Whisk and add the seeds, baking powder and sea salt, one by one, to the wet ingredients in the large bowl. Fold in the oat flour and almond meal until a thick and fully combined batter is formed.
Fold in the oats and chocolate chips (1/2 cup) to the batter until the oats and chocolate chips are evenly dispersed.
Pour the batter into the pan. Smooth out the top with the back of a spoon and sprinkle the extra 2 tbsp of chocolate chips on top. Bake for 20 - 25 minutes until the bars begin to golden and a toothpick inserted in the bars comes out almost clear. Leave the bars to cool in the pan for 15 minutes.
Cut and store the cooled bars in a sealed container in the freezer for a couple of weeks or in a sealed container for up to 4 days in the fridge. Enjoy!
* Substitute brown cane sugar with light brown sugar (Note: this recipe will no longer be refined sugar free)
* Ensure that all your products are certified gluten-free if necessary (oats, baking powder, almond meal)
* Ensure that all your chocolate chips are certified vegan if necessary
Recipe by
Ceara's Kitchen
at https://www.cearaskitchen.com/healthy-chocolate-chip-banana-bread-bars/