Chocolate Flourless Peanut Butter Cookies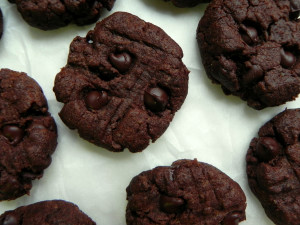 1 tbsp flax + 3 tbsp water (flax "egg")
¼ cup cocoa powder
¾ cup brown cane sugar
½ tsp sea salt
1 cup all natural peanut butter (stirred very well)
½ cup chocolate chips
Preheat oven to 355f/180c. Line cookie sheets with a slipmat or baking paper.
Mix together the flax and water in a large bowl. Leave to sit for five minutes to thicken - this is your "flax egg".
Add cocoa powder, brown cane sugar and sea salt to the flax "egg". Mix and cream ingredients together with a spatula.
Add peanut butter to the mixture. Stir in the peanut butter until the batter is well combined - the batter will be very thick. *Make sure that the peanut butter is well stirred before adding into the cookie batter; Warming it for a couple seconds in the microwave before adding it to the batter will make the cookie batter easier to stir.
Stir in chocolate chips, reserving 1 tbsp to press into the tops of the cookies.
By the tbsp, scoop cookie dough and roll into cookie dough balls with the palms of your hands. Place an inch apart on the lined baking sheet. Press a couple chocolate chips onto the tops of each cookie. Using a fork, flatten each cookie using a criss-cross pattern (*the cookies will not spread out).
Bake for 10 minutes. Remove from oven and leave the cookies to cool on the cookie sheet for 10 minutes before removing.
*Make sure that the peanut butter is well stirred - if the peanut butter is dry than your cookies will be too dry and if the peanut butter is oily the cookies will be too oily.
*Tip #1 -To measure peanut butter, stir it well and warm it up in the microwave for a couple seconds before measuring it and stirring it in the batter. This will also make it easy to stir the thick cookie batter.
*Tip #2 - Spray the measuring cup with non-stick spray before measuring your peanut butter - this will make for an easy clean up!
*Tip #3 - If your cookie dough feels really "sticky", stick your cookie dough in the fridge for 10 - 15 minutes before baking. This will depend on the type of all natural peanut butter used.
Recipe by
Ceara's Kitchen
at https://www.cearaskitchen.com/chocolate-flourless-peanut-butter-cookies/