Flour Free Almond Butter Chocolate Chunk Cookies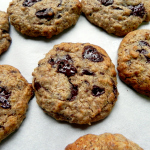 ½ cup + 1 tbsp oats*
½ cup almond butter (room temperature + stirred very well)
1 tsp vanilla extract
¼ cup maple syrup
1 tbsp ground flax seed
1 tsp baking powder*
½ tsp sea salt
½ tsp cinnamon (optional)
¼ cup + 2 tbsp dark chocolate chunks
Preheat oven to 360F/180C. Line a baking sheet with a slipmat or parchment paper.
Blend oats into a fine oat flour. Make sure your almond butter is stirred very well and there is no oil separating on top (if the almond butter is too oily it will result in an "oily" cookie and if the almond butter is too thick it will result in a cookies that's too thick).
Whisk together almond butter, vanilla extract and maple syrup in a large mixing bowl. One by one, add oat "flour", ground flax seed, baking powder, sea salt and optional cinnamon to to the wet mixture.Whisk together until a thick cookie dough is formed (*the dough will be very thick).
Fold in ¼ cup dark chocolate chunks.
Roll cookie dough into balls and place on cookie sheet and pat down with the palm of your hand (*leave an inch apart between cookies). Press a few chocolate chunks on top of each cookie.
Bake in the oven for 9 - 11 minutes until the cookies start to turn golden brown around the edges.
Leave to cool on the cookie sheet for 10 minutes before removing them from the pan. Enjoy the cookies dipped in some almond milk!
*Make sure all your ingredients are certified gluten-free if necessary
*Make sure to leave cookies to cool on the cookie sheet for 10 minutes to allow them to bind together!
Serving size:
9
Calories:
203
Fat:
13g
Saturated fat:
3g
Unsaturated fat:
9g
Trans fat:
0g
Carbohydrates:
19g
Sugar:
8g
Sodium:
134mg
Fiber:
4g
Protein:
5g
Cholesterol:
1mg
Recipe by
Ceara's Kitchen
at https://www.cearaskitchen.com/flourless-almond-butter-chocolate-chunk-cookies/