The Best Dairy Free Mac & Cheese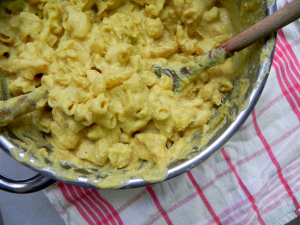 500 grams/ 17.6 ounces macaroni*
1 red onion, chopped
2-4 cloves garlic, chopped
¼ cup water or 2 tbsp olive/avocado oil (to "fry" garlic & onions)
½ head cauliflower, chopped into 1 inch pieces
⅓ cup cashews*
⅓ cup nutritional yeast OR Parmesan cheese*
3½ cups soya milk
⅔ cup pumpkin puree*
2 tbsp tahini
1 tbsp pine nuts (optional)
1 tbsp apple cider vinegar or lemon juice
½ tbsp Dijon mustard
½ tbsp Worcestershire sauce
½ tsp nutmeg
Salt & Pepper to taste
⅓ - ½ cup breadcrumbs
Chili Flakes (optional)
Boil and cook 500 grams (17 oz.) macaroni until very al dente. *If you are baking the Mac & Cheese in the oven under-cook the noodles for 1 - 2 minutes*
On medium heat, saute the chopped red onion and garlic in water or 2 tbsp avocado/olive oil in a large pot (I used water).
Once the onions and garlic are browned, add chopped cauliflower with soy milk, cashews and nutritional yeast to the pot. Boil and simmer until the cauliflower is soft.
Remove the cauliflower mixture off the element and blend the mixture with either an immersion (stick) or regular blender.
Once the sauce is creamy and smooth, add pumpkin puree, tahini, pine nuts, vinegar/lemon juice, Dijon mustard, Worcestershire sauce, and nutmeg to the creamy mixture. Blend until creamy. Add salt and pepper to taste and simmer for another 2 minutes on the stove-top.
Add the macaroni and mix until all the noodles are evenly coated with the sauce!
Eat now or..
Pre-heat oven to 430F or 220C.
Pour Mac & Cheese into a casserole dish (I used 2 liter/2 quart size). Cover with breadcrumbs and chili flakes.
Bake in the oven for 30 minutes.
Remove the lid and broil for an extra 5 - 10 minutes to get a nice and crispy top.
Allow to cool slightly, dig in & enjoy!
1) Make sure the macaroni is gluten free for a gluten-free version of this recipe. I used 2 boxes of "Ancient Harvest Quinoa-Corn Blend" (see photo underneath)
2) Nut-free/ lower fat version: Leave out the cashews & pine nuts. The sauce will be less creamy this way but still delicious. I always make it this way for my mom who has a nut allergy and she loves it!
3) Ensure the Parmesan cheese is vegan if necessary (if substituting for nutritional yeast.
4) Substitute pumpkin puree with sweet potato puree or any sweet squash puree
5) The Mac & Cheese will keep well in the fridge in a sealed container for up to a couple days.
Recipe by
Ceara's Kitchen
at https://www.cearaskitchen.com/healthy-dairy-free-mac-and-cheese/