Coconut Oat Banana Bread with Dark Chocolate Chunks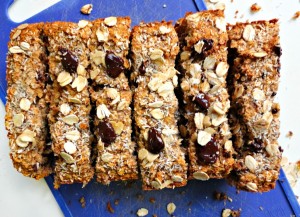 3 cups oats (for Oat Flour - 2 cups Oat Flour)
½ cup shredded coconut (unsweetened)
½ tsp sea salt
½ tsp baking soda
2 tsp baking powder
1½ tsp cinnamon (optional)
Flax egg (1 tbsp flax + 3 tbsp water)
3 ripe medium sized bananas
¼ cup agave syrup/honey
1 tbsp apple cider or white vinegar
½ cup applesauce (unsweetened is preferable)
1 tbsp melted coconut oil
40 grams dark chocolate or ⅓ cup dark chocolate chips
1 tbsp oats, shredded coconut, dark chocolate chunks for sprinkling on top
Pre-heat oven to 350f or 180c and grease a loaf pan with coconut oil or non-stick cooking spray.
Make flax egg by mixing 1 tbsp flax with three tbsp of water, stir, and leave to sit until the mixture turns into an egg like gel.
Make Oat Flour in blender by blending together 3 cups of oats until a fine oat flour is formed. Measure out 2 cups of Oat Flour (you will have a bit left over)
Add and mix Dry ingredients in a medium sized bowl,
Thoroughly mash bananas in a large sized bowl. Add and mix wet ingredients (mashed banana, flax egg, honey, vinegar, applesauce, coconut oil) altogether.
Add the dry ingredients into the wet ingredients. Mix and fold in dark chocolate chips until a consistent batter is formed.
Pour banana bread batter into pan. Decorate with oats, coconut, chocolate chunks.
Bake for 35 - 40 minutes until an inserted tooth pick comes out clear. Leave to cool in pan for 5 minutes before transferring to a cooling rack or plate. Leave to cool down before slicing.
A healthy dose of healthy fats, iron, manganese, and calcium, plus these treats contain absolutely no cholesterol!
Calories:
3161
Fat:
82g
Saturated fat:
43g
Unsaturated fat:
31g
Trans fat:
0g
Carbohydrates:
544g
Sugar:
164g
Sodium:
1979mg
Fiber:
73g
Protein:
90g
Cholesterol:
3mg
Recipe by
Ceara's Kitchen
at https://www.cearaskitchen.com/coconut-oat-banana-bread-with-dark-chocolate-chunks-healthy-just-oats-gluten-free-vegan-refined-sugar-free/