Roasted Tomato and Red Pepper Hummus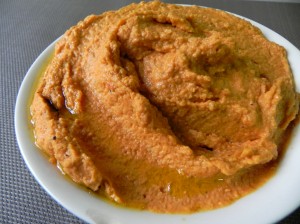 2 sweet red bell peppers
6 roma tomatoes
1 tbsp olive oil, Dash of Sea Salt and Pepper (for drizzling/sprinkling on tomatoes and red peppers)
⅓ cup tahini
1 tbsp olive oil
⅓ cup fresh lemon juice
¼ tsp ground cumin
2 - 3 cloves chopped garlic (if you loove garlic use 3, if not use 2)
2¾ cups chickpeas (peeled, if you have the time) or white beans
9 - 10 drops hot sauce (I like Frank's Red Hot Sauce)
Sea Salt and Pepper to taste
Olive Oil (to drizzle on top when serving)
Cut the roma tomatoes in half lengthwise. Slice the red peppers in half and remove the inside seeds and white bits. Place the tomatoes (face up) and the red peppers (skin up) on a lined cooking sheets. Drizzle with oil olive and sprinkle with sea salt and ground pepper. Roast for 45 - 60 minutes at 425F or 220C. You may have to turn the cooking sheet around halfway through if you have "hot spots" in your oven. Check at 35 minutes to ensure that the tomatoes and red peppers are not too dark.
Remove from the oven when the skin on the red peppers is almost blackened and the roma tomatoes are darkened (aka nicely roasted). Carefully place the hot roasted red peppers in a covered bowl or in a covered pot and leave to cool while you begin to prepare the hummus. The covered steam will peal the skin off the red peppers easily after leaving them covered for about ten minutes.
Place tahini, tbsp of olive oil and lemon juice in a food processor. Process for a couple of minutes until it begins to lighten and becomes 'fluffy'.
Add garlic and cumin and pulse until well combined.
After about 10 minutes, peel the skins off the red pepers. It should easily come off at this point. Add slightly cooled down roasted tomatoes and red peppers, one by one, until they are well combined.
Add the chickpeas (by half a cup) and process until the chickpeas and creamy smooth.
Serve with a drizzle of olive oil and dash of sea salt and pepper. Enjoy with vegetables, crackers, on pasta, and by the spoonful!
In order to get a super creamy hummus like the store bought variety be sure to peal your chickpeas (though you can skip this time if you are pressed for time, the hummus will still be tasty just not as creamy) and process the tahini, lemon juice and olive oil for a couple of minutes in the food processor until the tahini turns super creamy and a slightly lighter color before adding the other ingredients. The hummus will thicken while sitting and tastes even better the next day once the flavors have developed.
Calories:
2990
Fat:
106g
Saturated fat:
14g
Unsaturated fat:
81g
Trans fat:
0g
Carbohydrates:
412g
Sugar:
82g
Sodium:
2802mg
Fiber:
117g
Protein:
131g
Cholesterol:
0mg
Recipe by
Ceara's Kitchen
at https://www.cearaskitchen.com/life-changing-roasted-tomato-and-red-pepper-hummus-vegan-gluten-free-grain-free-cearas-kitchen-1-year-anniversary/