Vegan Maple Pecan Crumble Pumpkin Bread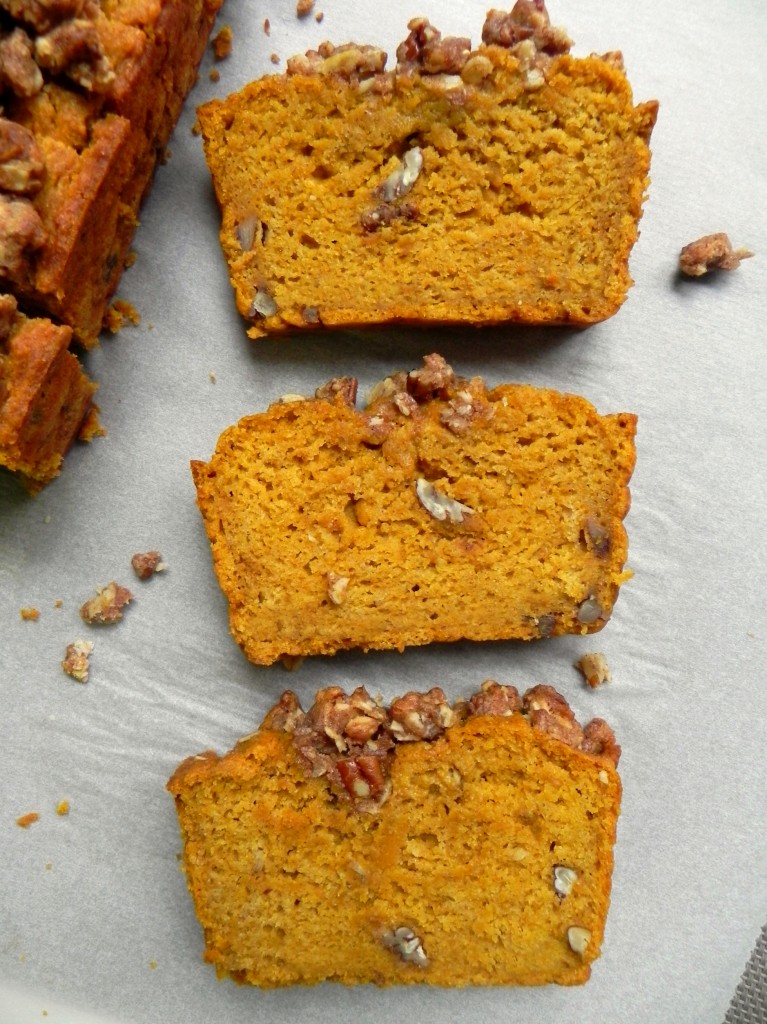 3 tbsp pecans, chopped
2 tbsp coconut oil (*solid state*) *see note for substitutions
2 tbsp maple syrup
1 tsp cinnamon
3 tbsp flour
3 tbsp oats
2 cups flour (white whole wheat or white spelt flour)
2 tsp baking powder
½ tsp baking soda
½ tsp sea salt or pink himalayan salt
1½ tsp cinnamon
1 tsp ginger
1 tsp nutmeg
3 tbsp pecans, chopped
1 tbsp apple cider vinegar (or white vinegar)
1 cup almond milk (or milk of choice)
1½ cups pumpkin puree
4 tbsp *melted* coconut oil
1 tsp vanilla extract
⅓ cup brown cane sugar (or brown sugar)
4 tbsp maple syrup
Preheat the oven to 350F/180C. Oil a standard loaf pan with non-stick cooking spray or coconut oil.
Make the crumble by adding the chopped pecans, coconut oil, maple syrup, cinnamon, oats and flour in a small bowl. Mash them together with a fork until a slightly wet crumbly mixture is formed. Add a bit more flour/oil if necessary.
In a medium size bowl add the dry ingredients (flour, baking powder, baking soda, salt, cinnamon, ginger, nutmeg). Mix the ingredients until the spices are evenly dispersed. Adjust the spices if you are sensitive to ginger, cinnamon or nutmeg.
Add the vinegar and milk to a large size bowl. Let it sit for a minute before adding the rest of the wet ingredients. This is a vegan 'buttermilk'. Add the rest of the wet ingredients (pumpkin puree, vanilla extract, melted coconut oil cane sugar and maple syrup) and whisk them together until fluffy.
Adding half the dry ingredients at a time, slowly fold in the dry ingredients to the wet pumpkin mixture until the dry ingredients are *just* combined. Do not over mix to ensure a fluffy loaf! Add a splash or two of extra of almond milk in necessary
Pour your pumpkin bread batter into a loaf pan and top it off by sprinkling the Maple Pecan Crumble mixture on top.
Bake for 40 - 45 mins. The amount of time this loaf spends in the oven depends on how well done you like your loaf (and on your oven, of course). Test the loaf at 40 minutes. The loaf is ready when an inserted toothpick comes out clear.
Substitute almond milk with another milk of choice and substitute pecans with pumpkin seeds in order to make this loaf nut free. If using brown sugar instead of the brown cane sugar this loaf will no longer be refined sugar free. Substitute coconut oil with buttery type spread, make sure it is vegan if necessary. Adjust spices to taste.
Serving size:
12
Calories:
229
Fat:
10g
Saturated fat:
6g
Unsaturated fat:
3g
Trans fat:
0g
Carbohydrates:
33g
Sugar:
11g
Sodium:
154mg
Fiber:
2g
Protein:
4g
Cholesterol:
0mg
Recipe by
Ceara's Kitchen
at https://www.cearaskitchen.com/maple-pecan-pumpkin-bread-with-maple-pecan-crumble-vegan-refined-sugar-free/