Dairy Free Queso (Vegan Queso)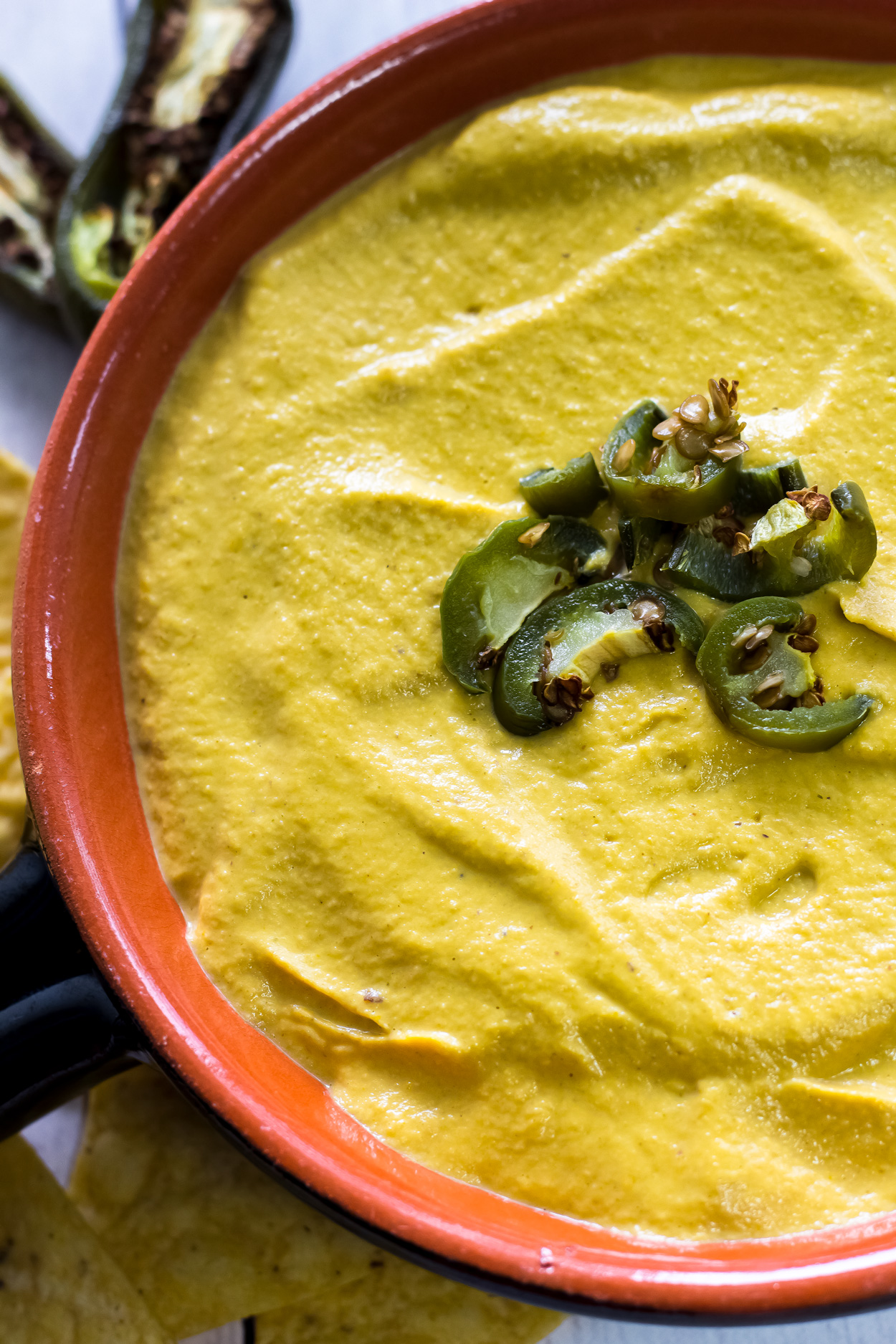 ¼ cup pumpkin seeds (roasted or raw, shelled, unsalted)
¼ cup cashews (raw, unsalted)
¼ cup pistachios (roasted, unsalted, shelled)
½ red onion, cut into chunks
3 jalapenos, cut in half
1 carrot, cut into chunks
1 medium yellow zucchini, halved and quartered
½ tbsp garlic, minced
1 vegetable bouillon cube
1 tbsp soy sauce or gluten free tamari sauce
2 tbsp lemon juice
1 tbsp apple cider vinegar
⅛ tsp liquid smoke (optional)
¼ cup nutritional yeast
⅓ cup water
salt and pepper to taste
Soak pumpkin seeds, cashews, and pistachios in a medium size bowl overnight (covered in the fridge) or in hot water for 30 minutes. Rinse and set aside.
Preheat oven to 475F.
Place red onion, jalapenos, carrot, and zucchini on a lined baking sheet. Roast for 20-25 minutes in the oven.
Add pumpkin seeds, cashews, pistachios, red onion, half of one jalapeno, carrot, and zucchini to the blender with garlic, bouillon, soya sauce, lemon juice, apple cider vinegar, (optional) liquid smoke), and water. Blend until super creamy and smooth. Add nutritional yeast. Blend.
Taste test and add salt and pepper as well as extra jalapeno to taste (I added two whole jalapenos). This is a good way to control how spicy your queso is. Chop and use the rest of the jalapenos for garnish. Enjoy!
1) If you cannot find yellow zucchini, use peeled green zucchini.
2) Use gluten free tamari sauce for this recipe to be gluten free.
Recipe by
Ceara's Kitchen
at https://www.cearaskitchen.com/dairy-free-queso-vegan-queso/