Vegan One Pot Fettuccine Alfredo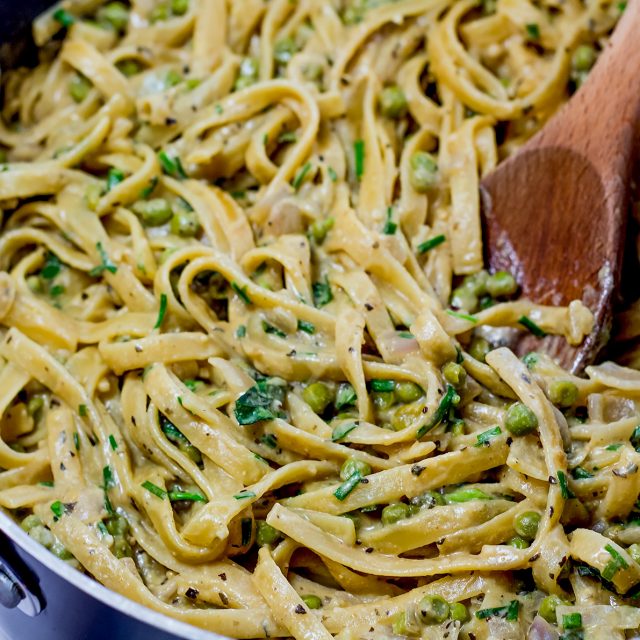 1 box fettuccine pasta
½ cup raw cashews (or ¼ cup raw cashews and ¼ cup unsalted pumpkin seeds)
5 - 6 shallots or 2 medium white onions, finely chopped
5 cloves garlic, minced
1 tbsp basil or herbes de provence
2 cups frozen peas (optional)
3 cups vegetable broth
2 tbsp lemon juice
¼ cup nutritional yeast
Sea salt and pepper
¼ cup fresh basil, chopped
¼ cup fresh chives, chopped
Soak cashews in hot water (or soak in cold water overnight in the fridge) while preparing the rest of the Alfredo sauce.
In a large deep and wide pot, over medium heat, saute shallots and garlic with a splash of water until translucent. Add the basil (or herbes de provence) and frozen peas to the pot. Continue to saute, adding a splash of water when necessary.
Rinse the cashews. Add the cashews, vegetable broth, and 3 cups of water, to a blender. Blend until creamy smooth.
Add the sauce to the pot. Add the Fettuccine to the pot, making sure that all the pasta is covered with the sauce. Cook on medium heat, stirring every couple minutes so the pasta does not stick to the bottom of the pan.
When the pasta is cooked to al dente and the sauce is mostly soaked up, stir in the lemon juice and nutritional yeast. Sprinke with sea salt and pepper to taste.
Garnish with fresh chives, fresh basil, and vegan parmesan.
1) The sauce may dry up a bit if you do not serve it right away. Stir in a splash of vegetable broth to keep the pasta creamy.
Recipe by
Ceara's Kitchen
at https://www.cearaskitchen.com/vegan-one-pot-fettuccine-alfredo/