Vegan Roasted Red Pepper Alfredo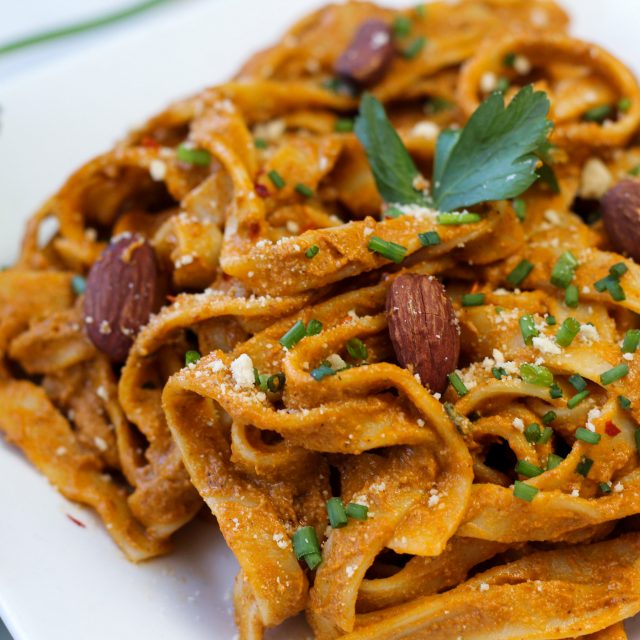 1 box Fettuccine pasta
1 - ½ cups water
½ cup roasted almonds
1 heaping cup roasted red peppers (I use ones bought in a jar, you can easily make your own too—see directions)
2-3 cloves garlic
1 cup fresh basil, packed
3 - 4 tbsp lemon juice
Pinch hot pepper flakes
Salt and pepper to taste
3 tbsp nutritional yeast (optional)
Chives
Parsley
Hot pepper flakes
Roasted almonds
Cook Fettuccine pasta with a pinch of salt in a big pot of boiling water until al dente.
Add 1 cup water, roasted almonds, roasted red peppers, 2 cloves garlic, basil, 3 tbsp lemon juice, hot pepper flakes, and (optional) nutritional yeast to a blender. Blend until creamy smooth.
Taste test and add the extra cloves garlic, tablespoon of lemon juice if it suits your taste. Add salt and pepper to taste.
Over medium high heat, warm the Alfredo sauce in the large pot where you cooked the pasta until the sauce is thickened and warm. Add additional water if the sauce gets too thick.
Toss the Fettuccine pasta with the roasted red pepper Alfredo. Garnish with hot pepper flakes, chives, vegan parmesan, roasted almonds, and fresh parsley. Enjoy!
1) If your red peppers are not preroasted. Roast your red peppers by preheating the oven to 450F.
Cut the peppers in half. Remove the stem, seeds, and membranes. Roast the peppers until the skin blisters and turns black (15 to 20 minutes). Remove from oven and place the red peppers in a bowl. Cover with plastic, or a tea towel. The skins will peel off of the peppers easily when cooled.
2) If your almonds are not pre-roasted, roast your almonds at 400F for 6-9 minutes.
3) The nutritional yeast is optional - it gives this Alfredo a delicious cheesy and savoury flavour.
4) Use jarred roasted red peppers in water and not oil for this recipe to be oil-free.
Recipe by
Ceara's Kitchen
at https://www.cearaskitchen.com/vegan-roasted-red-pepper-alfredo/