Vegan Fried Rice with Cashews and Portobello Steaks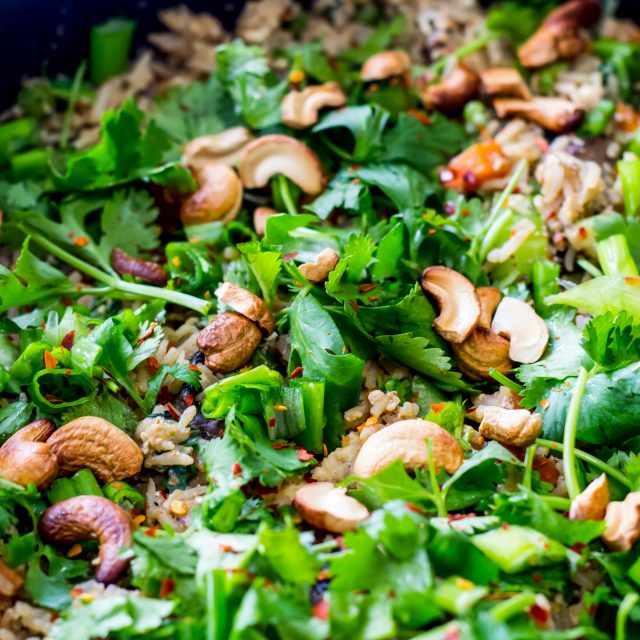 3 portobello mushrooms, halved and cut into thick slices
¼ cup tamari or soy sauce
2 tbsp maple syrup
½ tbsp garlic powder
pinch hot pepper flakes
1 tsp vegetable bouillon
1 white onion, finely chopped
4 cloves garlic, minced
1½ cups carrot, finely chopped
1½ cups frozen peas
1 cup fresh tofu, crumbled
5 cups basmati rice, cooked
4 cups bok choy, roughly chopped
½ cup unsalted roasted cashews*
Cilantro
Green onion
Portobello steaks: Preheat oven to 400F. Line a pan with parchment paper.
Add the tamari sauce, maple syrup, garlic powder, and hot pepper flakes to a large bowl. Toss the mushrooms in the marinade and leave to sit for 30 minutes (to make the mushrooms extra flavorful, you can marinate them in a sealed container overnight in the fridge).
Place the mushrooms flat on the pan, leaving a little bit of room between each mushroom slice. Roast the mushrooms in the oven for 20 - 25 minutes. Do not discard the marinade or the "juice" from the mushrooms roasting, you will use this in the fried rice.
Fried Rice: Over medium-high heat, in a large deep pot, saute the onions and garlic with bouillon and a splash of water until the onions are soft. Add the carrots and frozen peas to the pan, adding a splash of extra water when necessary to keep the vegetables from sticking to the pan.
Add the crumbled fresh tofu, cooked basmati rice, portobello mushrooms, bok choy, marinade from the mushrooms, and any mushroom juices from roasting to the pan. Stir all the ingredients together and saute for another 5 minutes. Cover the fried rice for the last two minutes to help all the flavors come together.
Garnish with cashews, cilantro, green onion, and hot pepper flakes. Enjoy!
1) If your cashews are raw and not pre-roasted. Roast them in the oven with a pinch of salt at 400F for 3-5 minutes.
2) Replace cashews with roasted pumpkin seeds or sunflower seeds for a nut-free option.
Recipe by
Ceara's Kitchen
at https://www.cearaskitchen.com/vegan-fried-rice-cashews-portobello/