Vegan Lemon Blueberry Cake with Lemon Glaze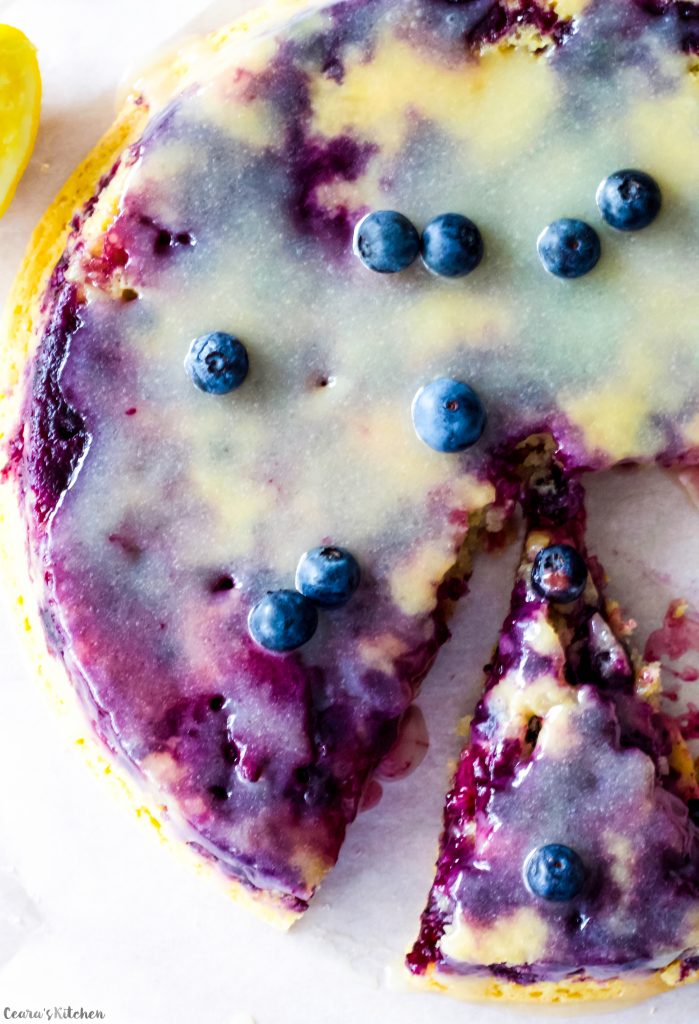 ⅓ cup lemon juice
1 tsp lemon zest
1½ cups coconut cream (from a can, I used Trader Joe's)
1 tsp vanilla extract
Preheat the oven to 350F. Line a 9 inch round baking pan with coconut oil spray.
Mix the dry ingredients (flour, sugar, baking powder, and sea salt) together in a large bowl. Stir in blueberries until they are covered with the flour mixture.
If your coconut cream is separated, take it out of the can and blend it so it is combines into a creamy mixture. Whisk the wet ingredients (lemon juice, zest, coconut cream, and vanilla extract) together in a medium bowl until creamy.
Create a well in the middle of the dry ingredients. Pour the wet ingredients into the well. Fold the wet ingredients into the dry ingredients until just combined.
Pour the cake batter into the pan. Smooth out the top with a wooden spoon. Bake for 35-40 minutes until an inserted toothpick comes out clear.
For the lemon glaze, while the cake is baking in the oven, whisk the lemon glaze, cane sugar, and melted coconut butter together until creamy and smooth.
Leave the cake to cool for 20 minutes before removing from the pan. To remove the cake from the pan, carve around the cake with a knife to remove any cake sticking to the side of the pan. Place a large plate on top of the cake. Quickly flip the cake over and tap the back of the pan to release the cake from the pan. Leave the cake to cool for 10 more minutes before topping with the lemon glaze. Sprinkle cane sugar and blueberries on top.
1) Sub whole wheat pastry flour for organic all purpose flour.
Recipe by
Ceara's Kitchen
at https://www.cearaskitchen.com/vegan-lemon-blueberry-cake-lemon-glaze/